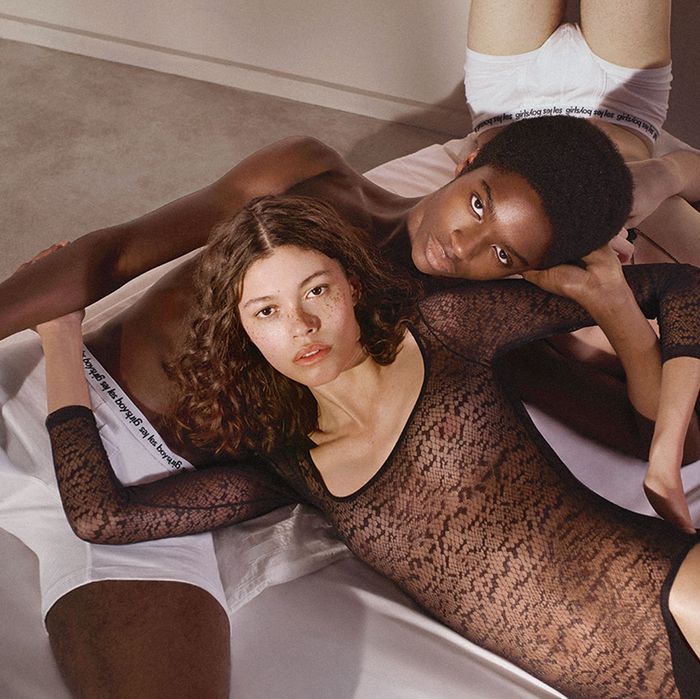 Photo: Courtesy Les Girls Les Boys
Seven years after selling Agent Provocateur, lingerie maven Serena Rees is reentering the market with a modern take on intimates.
Inspired by the way her daughter, stepsons, and their friends all shared clothes, Rees decided that what was missing was a gender-fluid intimates line. On September 1, she will debut Les Girls Les Boys.
"I looked at what the market was currently offering them, and it felt like there was a big disconnect," Rees said of her kids to the New York Times. "Victoria's Secret and Agent Provocateur are just not relevant to them anymore."
Ranging in price from $25 to $150, the 100-piece Les Girls Les Boys collection will feature "Bed to Street" intimates, underwear, and streetwear designed to be worn by men and women. It also includes briefs that blatantly riff off the now-iconic Calvin Klein logo.
In truth, most of the styles don't look much different from other intimates out there, with pink bras and form-fitting briefs, but perhaps that's the point. In the end, Rees is a wildly successful entrepreneur. She knows what people (millennials) want to see and hear.