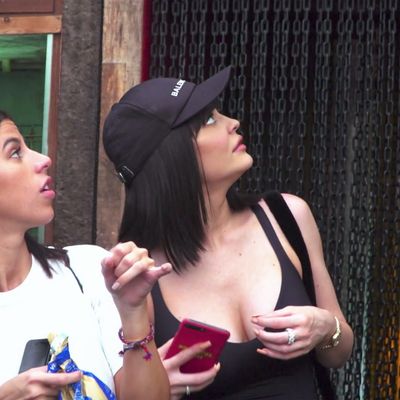 In this week's episode of Life of Kylie, Kylie does more things in 30 minutes than most of us have done in our entire lives — all while treating us to even less of her personal life than she has in weeks prior. I've got a second plate to fill at my barbecue, so #LEGGO.
Scene 1
The show opens on a possibly sick Kylie Jenner requesting the immediate care of a medic. She gets what she asks for, and within seconds a nurse with an overly familiar manner is setting up an IV station in Kylie's living room and feeding her drugs out of his medical bag that happens to be Louis Vuitton. While Kylie gets poked with needles full of fluids that will hopefully make her well, she looks to her permanent houseguest Jordyn, and then to the cameras, with a shocked face. Kylie's medical moment was filmed on April 7, 2017.
What she should have filmed: On April 7 it was rumored that Kylie and her ex-boyfriend Tyga had been separated for just a week, and during that week Kylie was eager for her ex–Hefty Bag boyfriend to come "crawling back." If this is true, instead of just seeing Kylie luxuriate in high-end at-home medical services, I would have kept my eyes glued to the screen to see what other physical and mental exercises Kylie was partaking in to get her mind, body, and spirit prepared for a Tyga return. Perhaps she cleared her home of trash bags so he wouldn't get jealous? Maybe she applied for a job at Arthur George so that she'd have enough extra income to fully support Tyga's dream of becoming a rapper, and show that she's cool being around Rob Kardashian and Blac Chyna. Or it's possible she just flushed money down the toilet to practice supporting him for the rest of her life. The options are endless!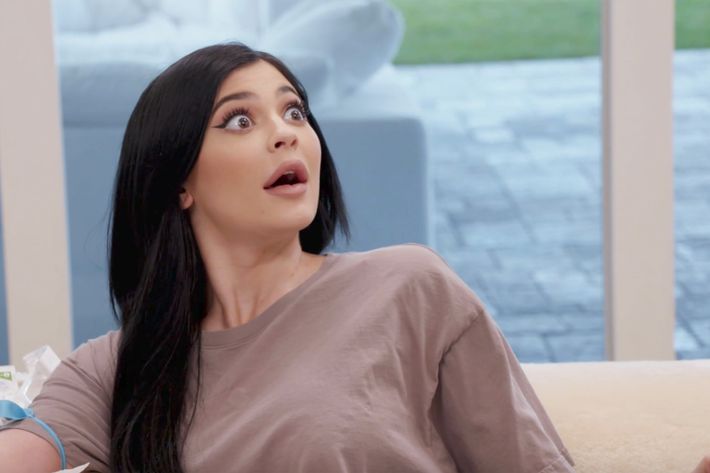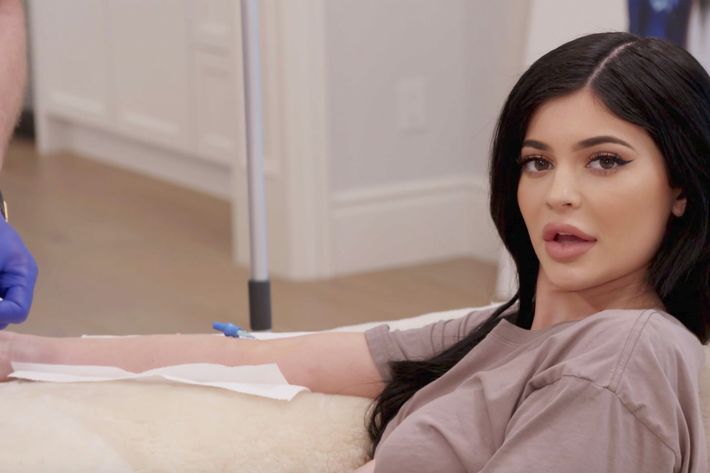 Scenes 3 and 4
Kylie and her serf Jordyn drive around Los Angeles chatting about upcoming spray tans. This leads them to the topic of deciding to visit Kris Jenner's friend's (Heather McDonald of the Juicy Scoop podcast) daughter, Ari, who has cystic fibrosis. Ari is 15, and a huge fan of Kylie's. Since it's a surprise, Kylie and her production team decide to only take one small camera inside, and give Kylie the opportunity to shut down filming should it seem too invasive. When they tell this plan to Ari's mom, she assures them that Ari would love to be filmed. She also says that this has been an especially hard year for Ari, health-wise, so this is just the pick-me-up she needs! Ari is, of course, super-shocked by Kylie and Jordyn, but the three of them get along great! Kylie notices Ari's butterfly decorations in her room, and shows Ari her butterfly tattoo on her leg. Kylie failed to explain to Ari that her new boyfriend Travis Scott got a matching tattoo (which could possibly represent his song "The Butterfly Effect"). Plus, since this scene was filmed on May 17, 2017, Kylie had the tattoo for at least a month before going public with it on June 12.
Before leaving, the girls take some selfies with Ari, exchange phone numbers, and look through Ari's upcoming Etsy page of pins with her art on them. It's all very sweet and Kylie seems to connect very much with the "innocent" Ari. Back in the car, immediately after their doors shut, both Kylie and Jordyn start to cry. They're touched by Ari's spirit, but comment on how "unfair" life is when it comes to health and dying, especially in the case of Jordyn's recently passed father. Jordyn is emotional, and talks about still wanting to ask her dad for advice, then having to remember all over again that he's no longer there. But she's comforted because she thinks that she, along with everyone else, already has all the answers she'll ever need "within herself." Someone, anyone, get her out of California STAT!!
What she should have filmed: Honestly, this was a fantastic use of production time. Unlike most teens around their faves, or even our dear old Albert around his prom date Kylie, Ari was actually chill and seemed to behave like herself around the superstar. Plus, I'm happy to see that Kylie put some respect on the situation and covered up her day-night-to-night bike outfit that she was wearing under that insane camo sweatshirt!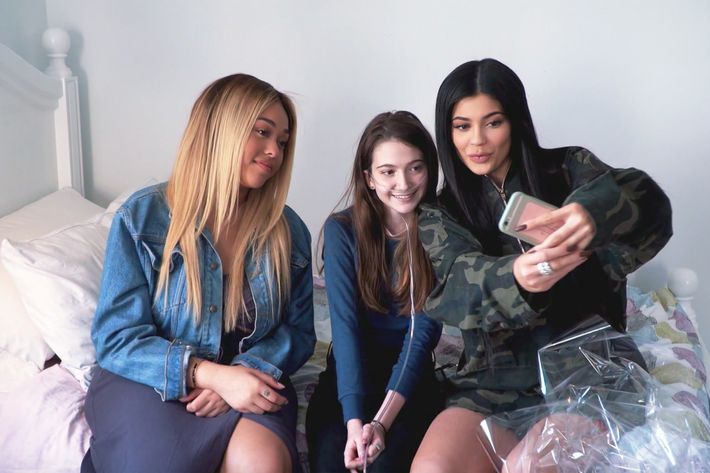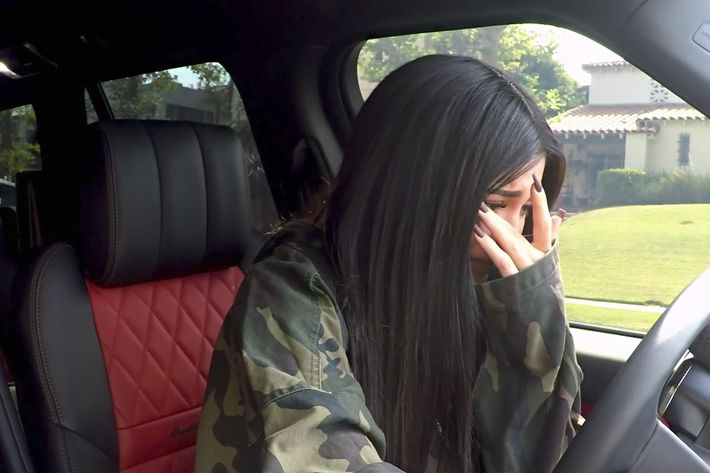 Scene 5
In what was surely a last-minute addition to the program, Kylie visits her Madame Tussauds wax figure in Hollywood. For once, it looks like she's finally alone, without a team of paid friends forced to enjoy her life alongside her. Kylie loves her waxed self, and even FaceTimes Kendall to give her sister a little shock. As we know from Instagram, Kendall isn't the sole family member Kylie called — she apparently FaceTimed everyone but Khloé. This scene was filmed on July 18, 2017.
What she should have filmed: Kylie wasn't the only person having a big day in L.A. on the 18th of July! Funny enough, her ex-boyfriend Tyga was cast in MTV's Scream on that very same day! Wow! What an honor for a man who has about as much talent as he has decorum when it comes to dating a minor. Kylie and Tyga have both alluded to there being no bad blood between the two of them, but I'm sure even after landing an MTV job, Kylie's wax figure is rubbing elbows with more famous names than Tyga will in his entire life. I'm sure a little FaceTime to remind him of that wouldn't hurt. I mean, her wax figure is in the A-List party room after all.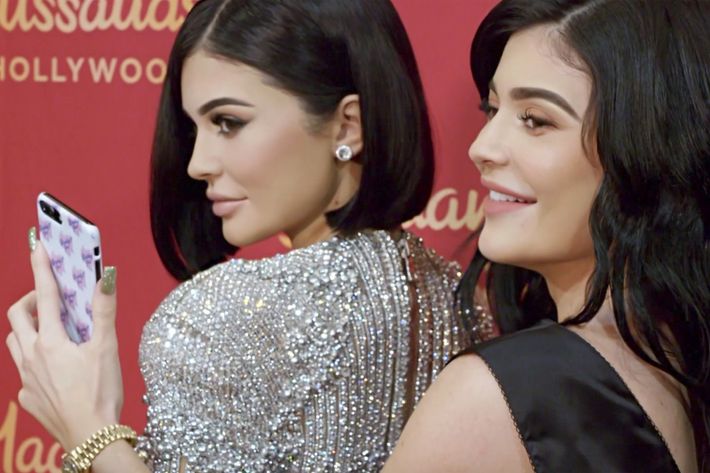 Scene 7
Kylie, Jordyn, and assistant Victoria touch down in London. Kylie, seeking a different London experience than she's had before, takes her paid pals to the London Zoo for a private tour. Neither Victoria nor Jordyn seem excited to be romping with and around animals when they could be doing literally anything else, but since Kylie's name is signed on the dotted line of the private jet that will take them home, they oblige. One of the highlights of the zoo is the butterfly sanctuary in which Kylie, the woman with a butterfly tattoo, ducks and dives to avoid any interaction with one. In her confessional, Kylie explains that her tattoo is "ironic" because she doesn't like butterflies. She believes, like most people do, that if you remove the wings they're just bugs, which makes them something she's not into. Following the sanctuary, Kylie and her friends feed a giraffe branches, and one licks her boob. This scene was filmed on July 6, 2017.
What she should have filmed: Kylie's trip to the zoo happened just one day after Rob Kardashian's revenge porn and cyberbullying tirade against Blac Chyna on July 5. Throughout that week, and even up until now, the family has remained silent on that embarrassing and horrifying moment. In fact, Kylie's zoo Instagram on July 6 was her first post on social media after her brother's online breakdown. Instead of learning why Kylie thinks butterflies are actually bugs, our time would have been better spent showing her texting or calling her Kardashian sisters asking if it was "okay" to post anything at all on social media, given what's happening with their brother.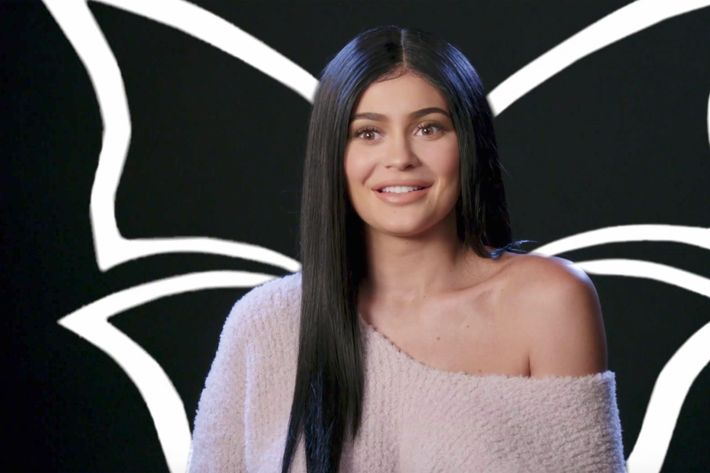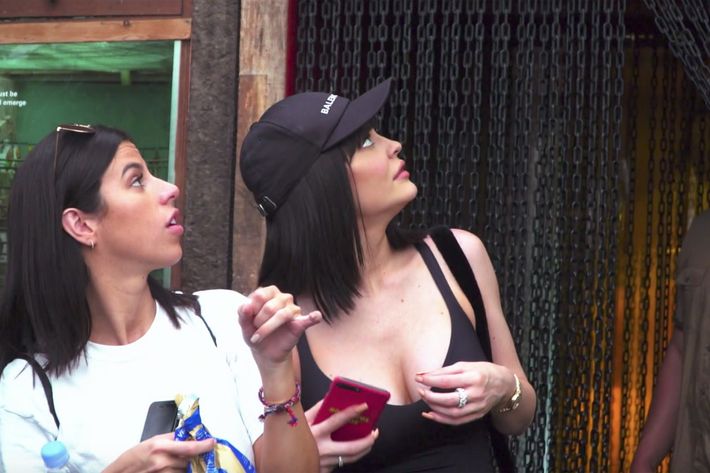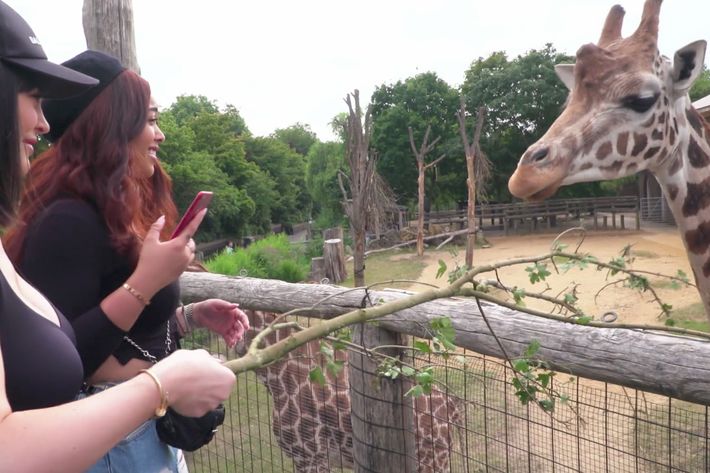 Scene 8 and Scene 9
While in London, Kylie gets a visit from her sister and business partner Kendall Jenner. Kendall and Jordyn lovingly chat with one another, and in her confessional, Jordyn explains that she and Kendall have only recently become friends. In the first couple of years that she knew Kylie, Jordyn says that she stayed away from the older Jenner because Kendall and Kylie didn't get along. Now that they're older everything is chill, for the most part. The unchill portion is Kylie openly admitting to the viewing audience that she and Kendall would not be friends if they weren't sisters because they disagree on "everything" and are "different people."
The Jenners and Jordyn hang out in a hotel room, and Kendall and Jordyn tell Kylie how dark she is post–spray tan. Kendall actually thinks the look works on Kylie, and thinks that Kylie gets so dark from tanning because she has "big body pores." The sweet relief from this conversation comes in the form of a double-decker bus tour through London. Kylie set this tour up for Jordyn, who absolutely loves London. The group enjoys the tour, and Jordyn's super-hyped that Kylie's found something she's never done before.
What she should have filmed: Unfortunately for Kendall and Kylie, they probably weren't able to fully enjoy their tour of London, because they were being sued on July 7 for copyright infringement. If you'll remember, the young entrepreneurs used photos of legendary artists like Tupac and Biggie on fake vintage T-shirts for their clothing line, Kendall + Kylie. Not only did they use the images, but they also overlaid their faces and Instagrams on the tees as well. Consequently, they were sued by one of the original photographers, Michael Miller. You can take the girls out of Calabasas, but you can't take the out-of-touch behavior leading to legal action out of the girls.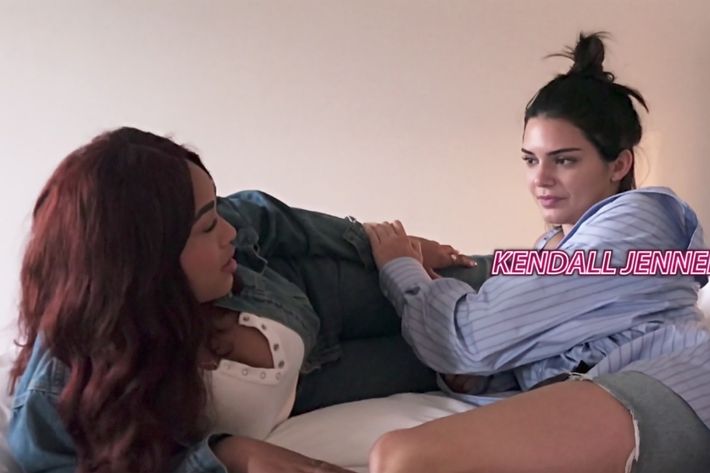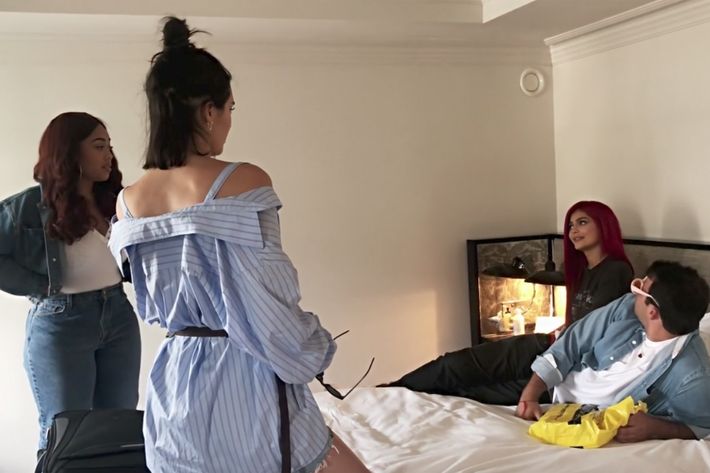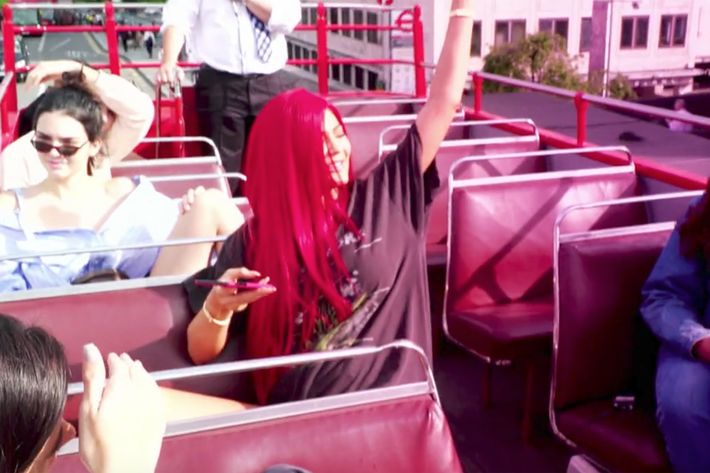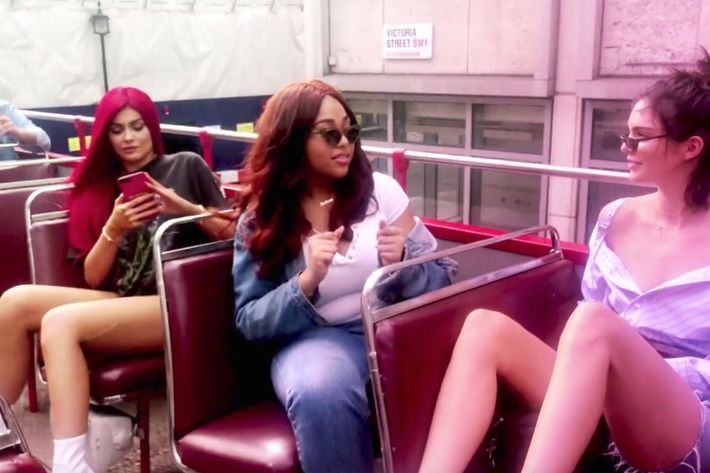 Scene 11
Back in Los Angeles, Kylie and Jordyn ride motorcycles with Kylie's parent, Caitlyn Jenner. Jordyn's loss has been weighing heavily on Kylie, which makes her appreciate Caitlyn and circumstances more. Plus, she knows that Jordyn's dad loved motorcycles, making this day of bonding perfect for all involved. The only issue they run into is Kylie's inability to get the helmet over her bun. When the instructor asks if she can just take her hair down, she says "no" and explains that the hair in the bun isn't hers. Once Jordyn successfully takes out Kylie's weave, they're ready to ride. Jordyn's in a motorcycle vest that she got her father for Christmas in 2016, but since he was sick during the holidays he never got to wear it. Because of Kylie's bun and Jordyn's nails, we know that this scene was filmed on July 16, 2017. Both Jordyn and Kylie were absent from social media on that day, but their overlapping aesthetics make it clear that their motorcycle romp was on the 16th.
What they should have filmed: On the 16th of July, riding motorcycles with her daughter was the least dangerous thing that Caitlyn Jenner did. That same morning, Caitlyn told a California radio show that she was considering a run for Senate, in hopes of making a difference and bettering the name of the Republican Party. As touching as it is to see children connect with their parents, what we needed from Kylie was for her to put in the work for her country and do whatever was in her power to stop Caitlyn from even considering taking a political office.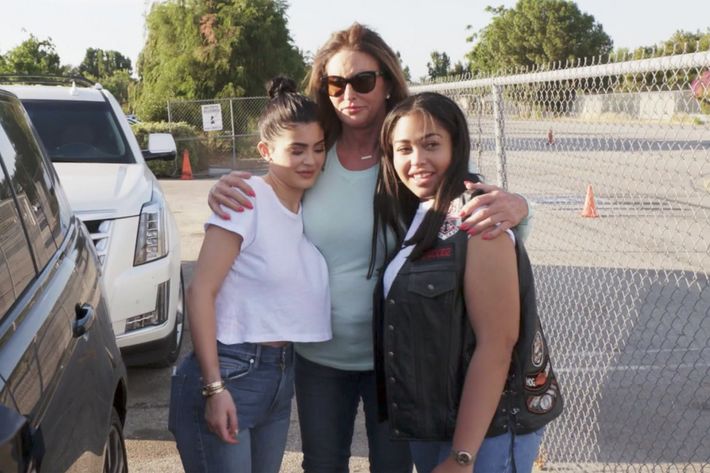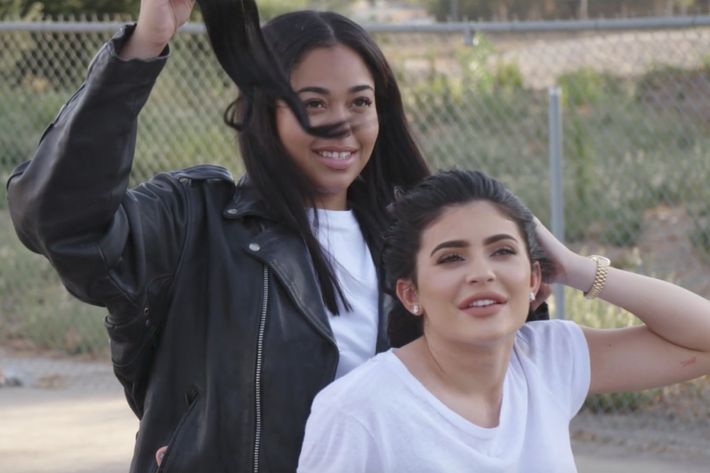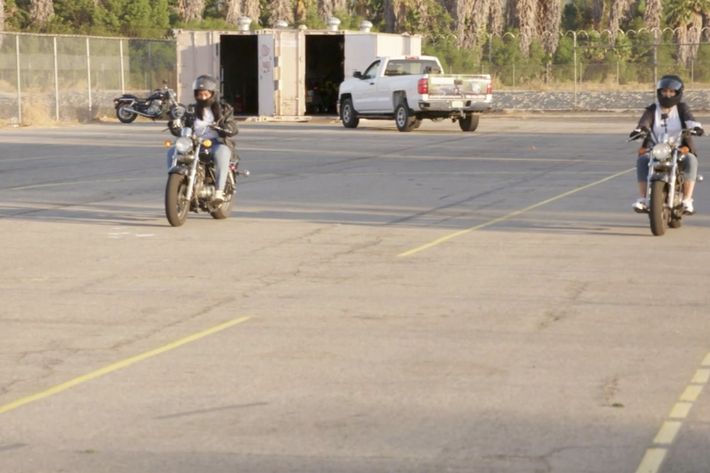 Dolls, thanks for celebrating Labor Day with me and Kylie! As a thank you, I'm promising you yet another Is This Really the Life of Kylie recap next week! Until then, eat up! #SUEME