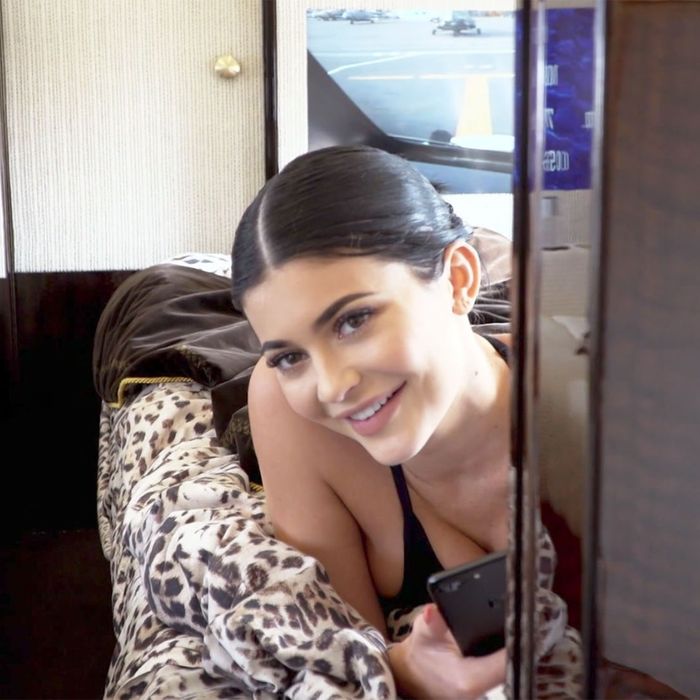 Her reality show has done next to nothing to show us the real Kylie Jenner.
Dolls, we made it! Last night was the final week of hazing before the powers that be at E! deem us fit enough to enjoy the tenth year of Keeping Up With the Kardashians. We made it! Be proud of yourself and thank your loved ones for their unwavering support during these most difficult of times. In the Life of Kylie finale, Kylie remains stuck in Peru and possibly a friendship. Let's take one last look at what could have been — #LEGGO!
Scene 1:
Still in Peru, Kylie, her mom Kris Jenner, Hostage in Rich Girl's Clothing Jordyn, and Overpaid Assistant Victoria enjoy a night with a shaman. Kris is skeptical of going at first, even asking the girls to define "shaman" (basically a psychic, the girls explain). During the encounter, Kris calls the practices cute, and keeps her eyes open during a spiritual moment like an atheist at a Christian dinner table.
Kylie sits down first for her reading, during which the shaman tells her that love is around and "inside of her." Finally showing some excitement, Kris asks if this person's name starts with a "T" (note: both Kylie's ex and current boo have names that start with "T"). Kylie is less concerned; she repeats that love is "inside her" in a sexual and joking way to Jordyn. When it's Jordyn's turn, she learns that her love is busy with other things, and she is mentally elsewhere, which makes it impossible for love to manifest in her life. Kylie says that's fine, because Jordyn has her. This scene was filmed on May 9, 2017.
What she should have filmed: Kylie was a busy bee in Peru, from visiting the Smile Train to learning that she's most likely preventing her dearest friend from finding love, but she still had time to suffer from altitude sickness! On May 9, Kylie had yet another private doctor visit her. This professional administered oxygen after Kylie struggled with altitude sickness due to being 11,000 feet above sea level. The only excuse I'll accept from the Life of Kylie team for omitting this from the show is that all of their A-, B-, and C-level crew members were out sick. And because they're not Kylie Jenner, they had to travel to a local hospital and miss this moment. Nothing else will do, for me.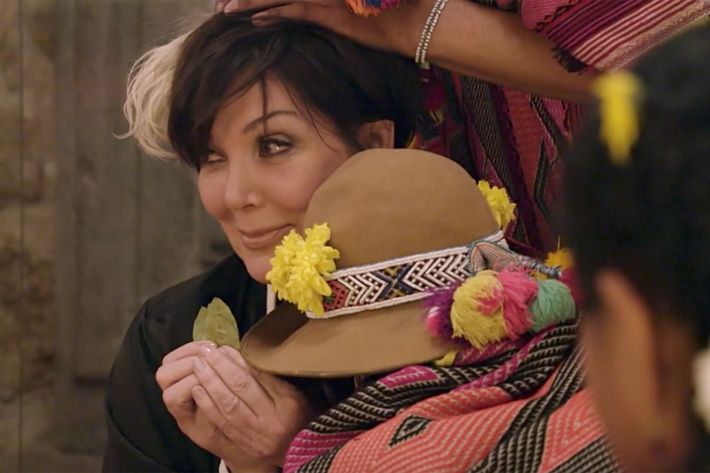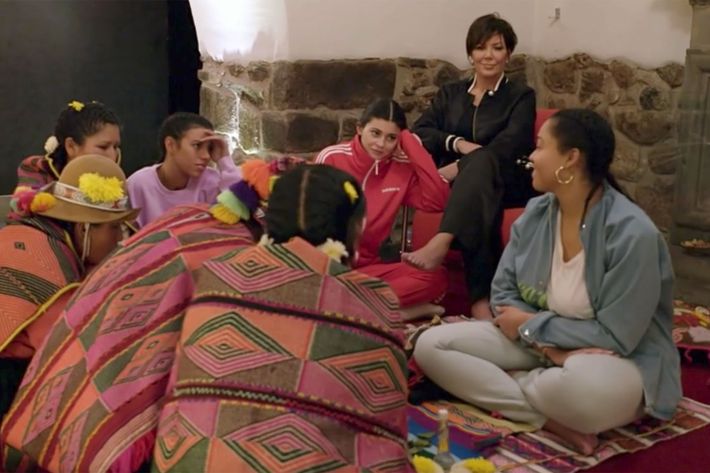 Scene 3:
In a twist I frankly was not ready for, Kris Jenner and Jordyn Woods share a scene together, without Kylie in sight. Showing more calm composure than I ever will while talking to the parent of a friend, Jordyn listens to Kris kindly telling her to get a life. Kris believes that Jordyn has undue pressures inflicted on her from Kylie's world, which, in her opinion, is not for the faint of heart. Jordyn agrees, mentioning that she hasn't been home for three weeks because she's been traveling with Kylie, only dipping out once, to Canada for a few days to work. Kris isn't a fan of what she's hearing, and asks Jordyn if there's maybe a bit of co-dependency happening between the girls.
Jordyn acknowledges that this is a possibility, so Kris pushes her to start saying "no" to Kylie. Kris says she knows from personal experience how hard that is, but at a certain point you have to live life for yourself. Kris's words have an immediate effect on Jordyn: In her confessional, she calls her jet-setting behavior fun and excusable at 19, but notes that once you hit your 20s you have to "figure shit out." Oh, baby, good luck and please tell me at what exact age in your 20s that happens because many of us are still waiting! This scene was filmed on May 10, 2017.
What she should have filmed: It's super refreshing not to have Kylie in a scene from her own show, because it reminds me of the blessed series Keeping Up With the Kardashians. Still, I'd love to harken back to the good old KUWTK days in a different way. On May 10, it was reported that the home the famed series formerly used for exterior shots was being sold. Ideally, Kris would have used her screen time to show Kylie the nearly $9 million home, forcing Kylie to make the purchase because it would be so meta.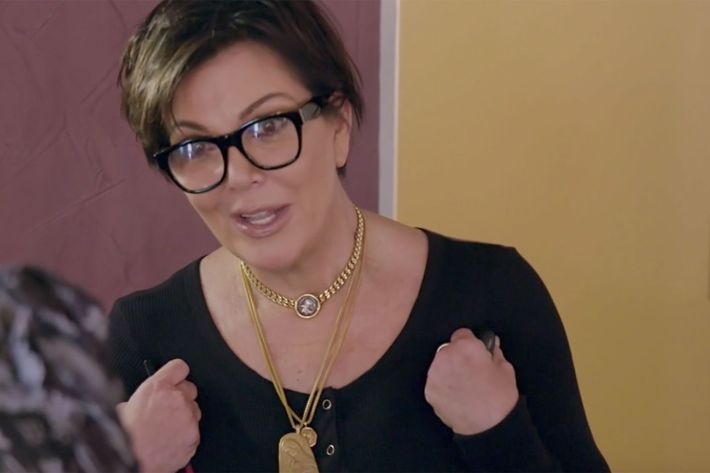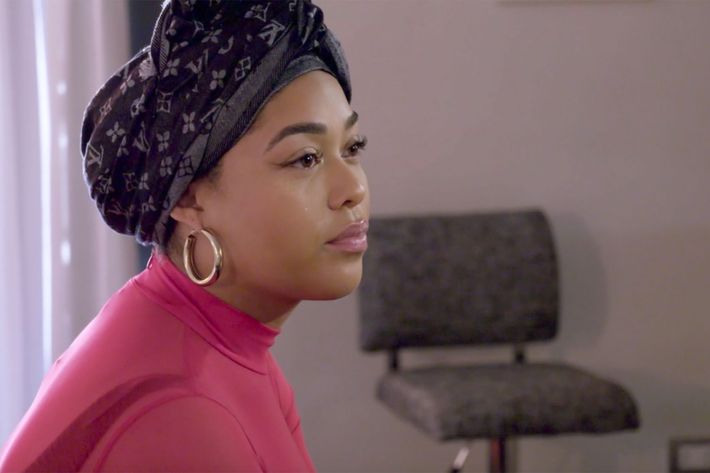 Scene 4/Scene 5:
After her talk with Kris, Jordyn "I Can Do Glam All by Myself" Woods is bold enough to talk to Kylie about the state of their friendship. In a car on the way to yet-another production field trip designed make Kylie seem relatable, Jordyn mentions her conversation with Kris. She also raises concerns about missed opportunities for herself because she's always with Kylie. Calling this moment the "pinnacle" of her life, Jordyn continues to confess that she feels as though she's always with Kylie and doesn't have time for her own life.
She does make a point to tell Miss Jenner that she doesn't feel like she's being dragged along places, but sometimes feels left out. Most recently in Miami, Jordyn recalls waiting two hours for Kylie while she was shacked up with Travis Scott in a hotel room. She remembers knocking on the door and just hearing Kylie shout "no!" Kylie gets defensive, and thinks of that moment differently, saying she was just doing her makeup and wanted to do her makeup with Jordyn but couldn't get in touch with her. Kylie's clearly agitated, and tells Jordyn not to make it seem like she's "forcing" her "to do shit."
Jordyn doesn't have much more to say after that, and after missing some steps of normal conversation where both parties try to understand each other's point of view, the two girls just profess their love and remind one another that they'll always be there for support. Still, Jordyn tries to revive the conversation of the state of their relationship by thinking about their future, telling Kylie that one day "they'll be married." Kylie agrees but jokes that sure, they'll be married — to each other. Following the chat, the ladies decide to go for it, and stop at a local market to pick up secret rings for their ceremony.
After their big talk, we get a look at Kris Jenner in her car with Kylie's assistant Victoria and an unnamed man who seems to not have missed a day at Epione in Beverly Hills. Kris feels like they've been en route too long, and when she learns that they have 45 more minutes to go — all on very steep and windy hills — she forces production to stop the cars and abort their mission.
This isn't as easily done as it is said, because Kris's producer can't get a hold of Kylie's due to the walkie talkies experiencing a signal issue. Kris screams about what they'd do in case of an emergency, and finally resorts to texting Kylie to have her driver stop the car. Once everyone is stopped, Kris gets out of her car, with Victoria following because she's "not missing this." Kris is heard yelling for people to "stop this fucking nonsense," and more about not being able to get a hold of anyone for 15 minutes. In Kylie's car, she is unfazed and mumbles that Kris yells at "everyone." Finally, she too exits her car, asks her mom to chill and for someone to just step up and apologize so they can actually get this show on the road. The beauty of this moment is that everyone is just heard and not seen, since the cameras stayed where they were set up, in the cars. Like the scene before, these scenes were filmed on May 10.
What she should have filmed: In addition to Kylie being sold on buying an iconic home, maybe we could have seen the world's most meh friend talk a little bit more about her life and struggles to Jordyn. On this day in history, it was reported that the Kylie and MuchMusic Video Award Winner Tyga's spilt caused some controversy in Calabasas. Since he's friends with Scott Disick and co-workers with Kanye, the ladies of the family apparently chose to side with Kylie, while the men picked Tyga. Even in Peru, the sting of betrayal is sure to run wild through Kylie's bones; plus, she's nearly incapable of talking about anything but herself in times of a friend's distress.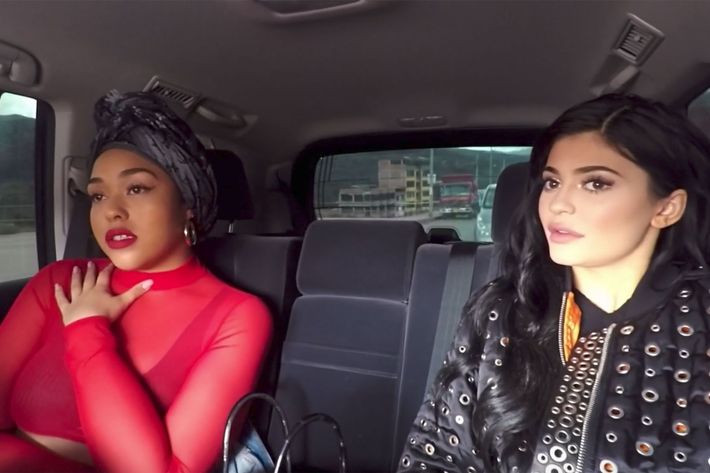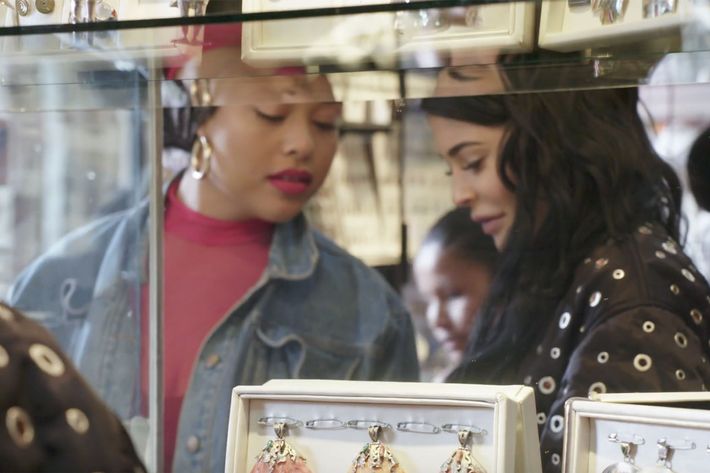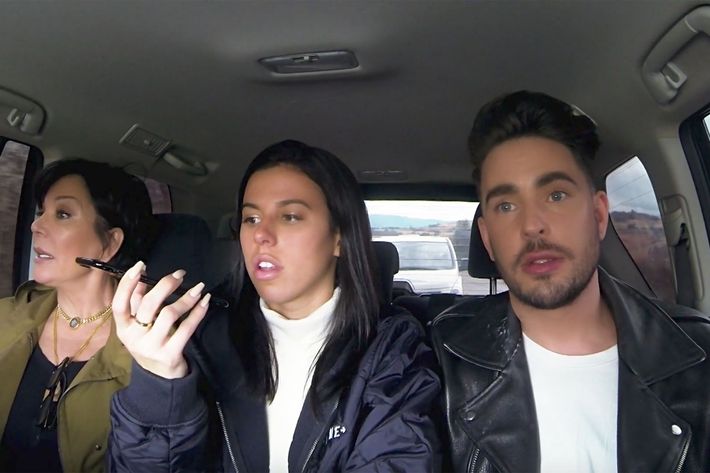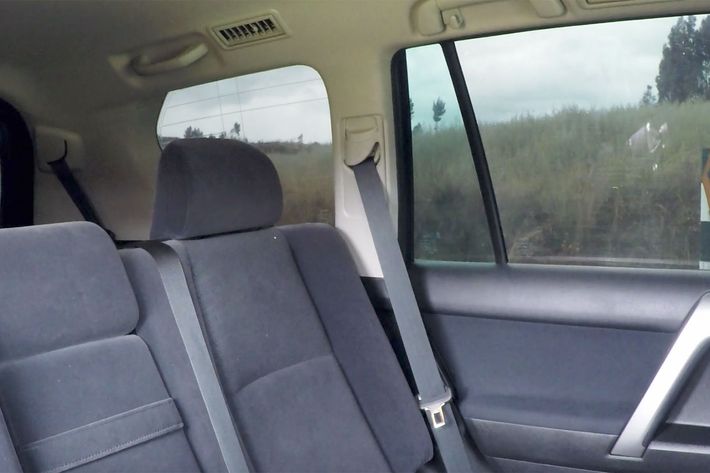 Scene 6:
Staying true to their word, Kylie and Jordyn plan one last shenanigan in Peru — getting married. When Kylie and Jordyn first told Kris that they were getting married Kris asked if the girls were gay. Kylie told her mom that it "wasn't about that" — they just want to celebrate their love for one another. In a commitment ceremony that no one can quite determine as being legal or not, the two BFFs dress like perfect snowbunnies to profess their love and devotion to one another. Kylie walks down the aisle carrying a baby alpaca, while Jordyn gets basic roses. After vows (shockingly well written and performed ones on Kylie's part), and comedic quips about prenups and annulments from Kris Jenner, the two friends are wed. Like over half of this episode, this scene was filmed on May 10, 2017.
What she should have filmed: It was also reported on the 10th of May that Kylie wanted to get back together with Tyga. These feelings would no doubt drive any 19-year-old into severe confusion, so all I'm asking for is a moment where we see Kylie unpack her feelings for all the loves of her life — Jordyn, Travis, and Tyga.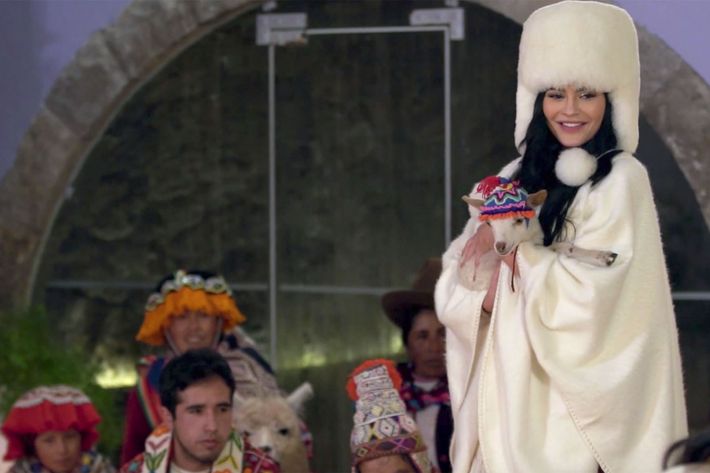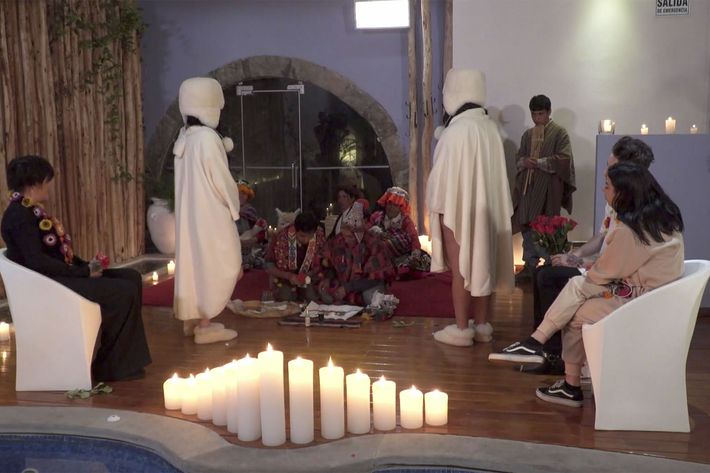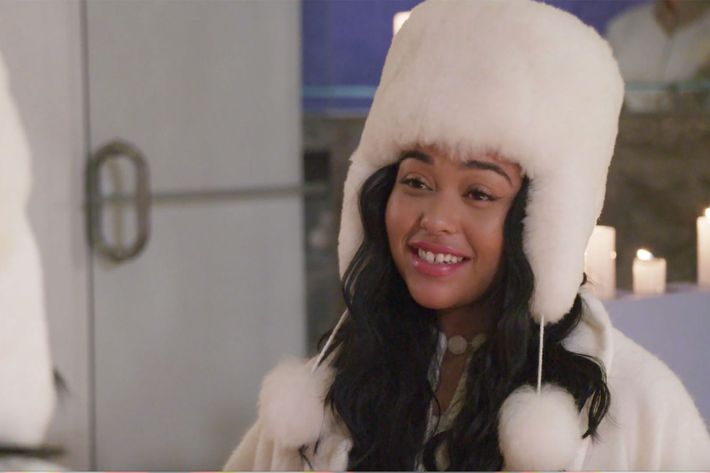 Scene 8:
In the final scene of the season (and hopefully the series, please Blessed Lord hear my cry!), Kylie, Kris, Jordyn, and Victoria finally head back to Los Angeles. Or, some of them do. You see, just like when she traveled to Peru, Kylie wants the plane to make a pit stop in Houston so she can see Travis perform. Taking a stand, Jordyn says she won't be joining Kylie, even after Kris says "yes" to Kylie's demands. She says she can't help saying yes to her plumped-lip baby, but thinks that Kylie, her youngest child, will surely be the end of her. The scene ends on a smiling Kylie, getting her way once again. Oddly enough, this scene was filmed on May 9, 2017, two days before the Jenners and their help left Peru on May 11.
What she should have filmed: Obviously I would have loved for Kylie to have filmed her departure from Peru on the day she actually left, but since she didn't, I would have easily taken the overworked Kris Jenner referencing this completely Zen photo of North West, posted on that day, when asking for a break from own child.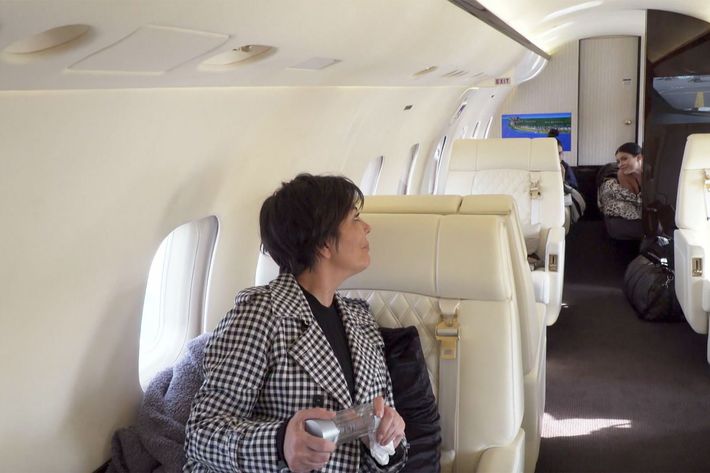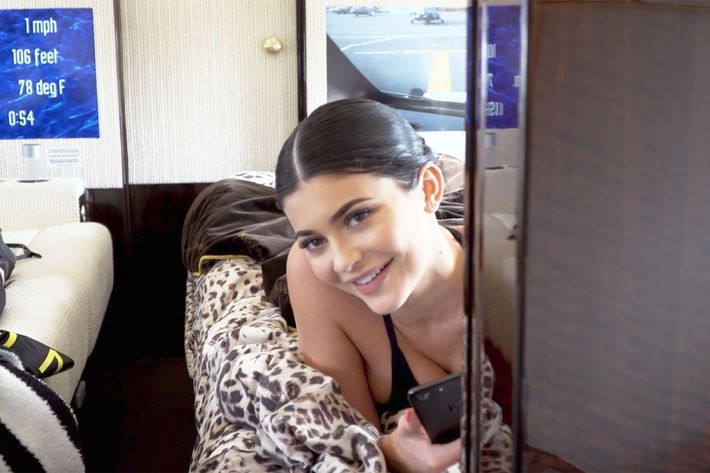 My sweet Dolls and Lip Kittens, thank you for riding right next to me after we discovered that the Life of Kylie does not exist. It's been an honor, and I hope you continue to join me on my next mission, when Keeping Up With the Kardashians finally returns next month. See you soon!