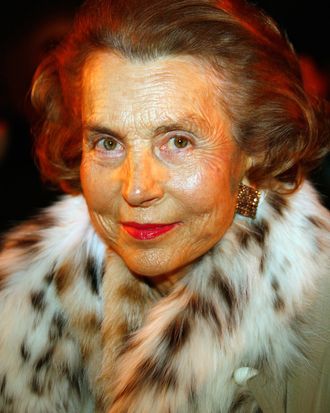 Liliane Bettencourt.
Photo: Julien Hekimian/WireImage
Liliane Bettencourt, heiress to the L'Oréal fortune, has died at the age of 94. At the time of her death, Bettencourt was the 14th richest person in the world — and the richest woman, with an estimated net worth of $39.5 billion, according to Forbes.
Bettencourt, whose father founded the beauty giant, had rarely been seen in public since leaving the company's board in 2012, Agence France-Presse reports. But the heiress made headlines in recent years because of disputes over her ability to handle her finances — and one of the biggest trials in French history. In May 2015, eight men — including a photographer whom she reportedly gave an estimated 1 billion euros' worth of goods and money, including artworks of Matisse, Picasso, and Man Ray — were found guilty of taking advantage of Bettencourt, who suffered from dementia and Alzheimer's disease.
Her daughter Françoise Bettencourt Meyers said in a Thursday statement, "Liliane Bettencourt died last night at home. My mother left peacefully." L'Oréal chairman and CEO Jean-Paul Agon also issued a statement about the loss: "We all had a deep admiration for Liliane Bettencourt who has always watched over L'Oréal, the company and its employees, and who was very attached to its success and development. She personally contributed a lot to its success for very many years. A great woman of beauty has left us and we will never forget her."