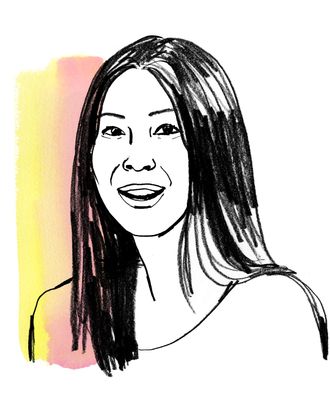 Lisa Ling.
Illustration: Lauren Tamaki
Lisa Ling is an award-winning journalist, a former co-host of The View, and the host of the CNN investigative docu-series This Is Life. In the new season, which premieres on October 1, Ling goes on the road with right-wing militia groups in Arizona, searches for sexual healing through tantra, and attends one of the world's largest transgender beauty pageants. She lives in Los Angeles with her husband, Paul, and two young daughters. Here, she shares how she gets it all done.
On her morning routine: When I'm home, I'm usually awakened by one or both of my daughters — my mornings in L.A. consist of trying to get my 4-year-old off to school and my 1-year-old fed. But I travel at least ten days a month. When I'm on the road, no matter what hotel I'm in, as soon as I wake up, I throw a denim jacket over my Star Wars pajamas, put my flip-flops on, and I go down to grab a cup of coffee. I need to have coffee before I do anything. I also bring an ab roller with me wherever I go, because I can take it apart — it consists of two wheels and a handle. So I'll do 50 ab rolls. If I don't have access to a newspaper, I'll watch CNN in the morning. But I generally have access to a local paper and a USA Today or a New York Times, and I try to peruse those in the morning.
On her "go-bags": Each episode of our show requires about ten days of production in the field, so I'm very organized. In fact, I have a couple of bags that always have work clothes, underwear, and socks packed in them. I don't really have to hop on a plane at the last minute much anymore, but just because travel is a consistent thing that I do have to do as part of my job, it's easier for me to keep the staples in a bag. If you watch my shows, you'll see I always dress pretty similarly. Since I'm on the road right now for nine days, I have four or five pairs of the same cargo pants in khaki and army-green colors. I always wear denim jackets and similar neutral tones. They're easy to pack and, as a journalist, I don't really want to draw attention to what I look like that much.
On eating on the road: I've never been a really big breakfast eater, but when I'm in the field, I always have scrambled eggs in the morning if I can. Often in some of the hotels we stay in, I'm not sure if they're real eggs or not, but I will eat whatever passes for scrambled eggs. I love my bacon and I try to get as much fruit as I can. I always have beef jerky on hand, because beef jerky is a lean protein source, and a bag of tangerines. I'm someone who needs to have protein in my system, otherwise I lose energy and I get very lightheaded. I also try to drink a lot of water.
On paying it forward:  I started working in this business when I was 16 years old. I started reporting when I was 18 years old. A lot of people gave me a chance. Now we bring in these young, smart, hungry people to work for us. If you've been with me for a while, if you bust your ass, if you have put your time in, I'm someone who loves to give people an opportunity to flex their muscles. I would say many of the people who are bonafide producers on our show started at the lowest level of the production company. The two producers I'm out in the field with now came to us as production assistants, and they worked their way up.
On her time off: On my rare days off, I'm always with the kids. I will allow myself a mani-pedi after I'm on the road for a long time, because I usually come back unkempt and disheveled. I try to allow a very, very deep massage every few weeks. I like to exercise. In Santa Monica where we live, we have what's known as the Santa Monica Stairs and I'm pretty devout to doing them when I'm home.
On stress: I feel like my life is very stressful – but no more stressful than other people. It's very stressful to juggle a family life and a work life. But what helps me keep things in perspective is just knowing how many other women are having to struggle a lot harder than I am because childcare is not as readily accessible. I'm lucky that I have a full-time nanny who helps me, as well as a mother and a mother-in-law who are always at my house. I know a lot of really smart, talented women who don't have the luxury of having their family members around, so they're constantly having to figure out childcare while really pumping on the job at the same time.
On color-coded calendars: My husband and I both travel a lot, so we print out calendars every month and distribute them to my mom, our nanny, my sister-in-law, and my mother-in-law. It's an 8 x 10 schedule that everyone gets, and it's fully color-coded with highlighters — each kid has a different color of highlighter, my elderly father has a color of highlighter, Paul has a highlighter color. I've always been this way. I do a lot of things digitally, but I always have a pocket calendar in my bag (and I color-code it, too).
On how her kids deal with her travels: My 1-year-old's a little young so she doesn't quite get it yet, but it's really hard for my 4-year-old. I always communicate with her and tell her when I have to leave, and often she'll really become very clingy and get very emotional the night before, but I tell her about it. I've just recently given her a calendar to tick off the days that I'm gone. My husband and I try to make sure that when one of us is traveling, the other one isn't, so that one of us is home. We aren't always successful at that, but we try really hard.
On how her work life has changed: When I worked as a news journalist — I worked for Channel One News for a long time, then I contributed to Nightline on ABC, and even when I worked for National Geographic — things were a lot more unpredictable. I had less time to prepare before I'd have to leave than I do now. Back when I first started my journalism career, we also didn't have things like FaceTime. We didn't even have email. I talked on the phone a lot more — and I do miss those days — but it makes life a lot easier to be able to communicate using these devices.
Her advice for young people starting out: The best advice I can give is to be a good listener and try to travel out of your comfort zone as much as you can, because I really think traveling — even if it's not overseas — makes you become a smarter person. Your ability to expand the dialogue increases so much more.