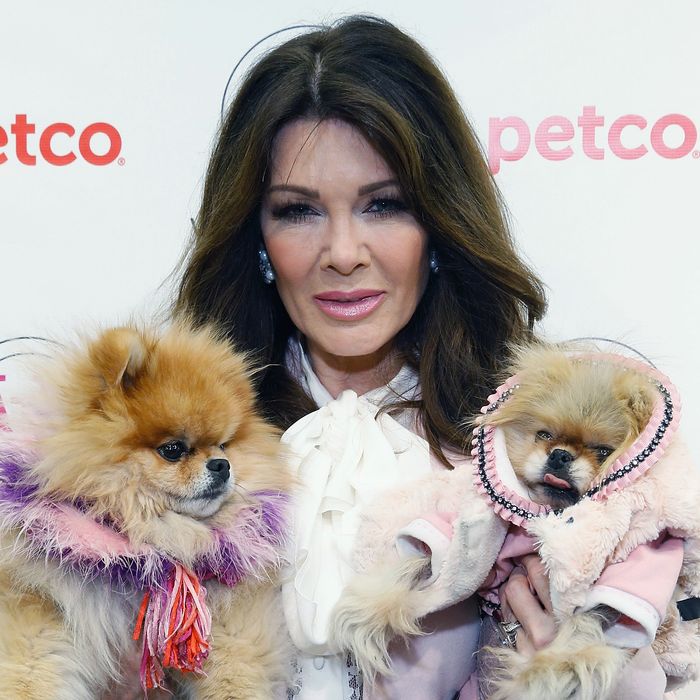 Lisa Vanderpump with dogs Hansen and Giggy.
Photo: John Lamparski/Getty Images
Bad news for Lisa Vanderpump, good news for those of us captivated by the rapidly expanding field of celebrity dog dramas. According to TMZ, luxury dog boutique Fifi & Romeo has reportedly sued the Real Housewife for failing to properly promote the company after they outfitted her Pomeranian, Giggy, for several red-carpet events and photo shoots.
The boutique reportedly claims that it agreed to dress Giggy for free, in exchange for which Vanderpump would promote them on her social media and television appearances. But while Giggy got outfitted in their high-end attire (their cashmere dog sweaters sell for between $200 and $1200), the company allegedly believes Vanderpump did not hold up her end of the deal, and is claiming fraud.
Fifi & Romeo is the latest dog-related company to allegedly file a lawsuit against Vanderpump. Earlier this summer, Lisa Scherer of Saving Spot dog rescue claimed Vanderpump and her husband, Ken Todd, failed to pay the agreed-upon amount for leasing Scherer's space, and that Todd threw her against a wall when she wouldn't provide dogs for a gala they were sponsoring. Saving Spot was found to be a less-than-reputable business, however, and Vanderpump, Todd, and Giggy denied all of the allegations.
Vanderpump and her dogs have yet to comment on Fifi & Romeo's claims or whether Giggy is in fact a freeloader.