In this week's issue of New York, Stephen Hall explores the new developments that could help thousands of women who thought they'd hit an IVF dead end. But the magazine has a long history of covering reproductive news, with stories that stoke hope, and anxiety.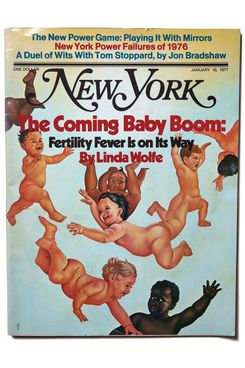 January 10, 1977
Demographers predict the millennial baby-boom.
"The baby bust has, of course, affected all segments of American society and it has been in progress since 1957, the year that is considered the official climax of the post–World War II baby-boom. From that date forward, family size began to shrink, as did the national birthrate, which fell from 25.3 in 1957 to 17.5 in 1968 to 14.8 in 1975. Thus, given the precedents, one might predict that the future of babies in America is dim … But according to the boom theorists, this is far from what is going to happen. Demographer Richard Easterlin, professor of economics at the University of Pennsylvania and father of today's most accepted baby-boom theory, says, 'The trend is now going to reverse itself.' " —Linda Wolfe
August 12, 1985
In vitro fertilization comes into view.
"Nothing about IVF is easy. Even getting to the starting line is sometimes difficult. A woman begins her treatment at Norfolk on Cycle Day 3 at 8 a.m. No exceptions. Cycle Day 1 is the day a woman's period begins. If menses occurs in the evening, it is still Day 1. Recently at Norfolk, much of the world was represented — women from Europe, Africa, and Asia, as well as the United States. Some of the wealthy had come by private plane. Others had taken a second mortgage on their home to meet the expense ($5,000 for each try, just for the medical bill)." —Michael Kramer
July 17, 1989
Babies after 40 are no longer freaks of nature.
"There has always been an unspoken understanding that most of them would probably stop trying once they hit 42, or 43 at the most. Now obstetricians say that it is not unusual for them to have a few 44-year-olds under their care at the same time. And it seems that everyone you ask can tell you at least one story of a woman over 45 who is having a baby. They are part of the first wave of baby-boomers, and they are intent on pushing old age back as far as they can push it … Every woman knows a story of someone in her family, her mother or her grandmother or her aunt on her father's side, who was surprised by a 'change-of-life baby.' The difference between those women and the early baby-boomers is that these new mothers are planning their late pregnancies. They are women who, at 45 or 47 or even 49, are setting out, often for the first time, to have a baby." —Jeanie Kasindorf
October 17, 2005
Another new reproductive-life-extension technology.
"Egg freezing is decidedly a luxury product. The women who are beginning to line up for the new procedure are the overachievers, the aspiring law-firm partners, the ambitious actresses, the medical-school residents. These are women who are acutely aware of feminism's cruel catch: the narrow fertility window that's been narrowed even further through years of schooling, serial dating, and career advancement … 'I think a lot of decisions women make will change because of egg freezing,' says Nette. 'I could forget the whole thing' — kids, love — 'and just be a high-powered exec. But for what? I'd like to have my own child,' says Sofia, also 37 and another patient of Noyes's. Sofia is in sales at a Fortune 500 company, owns real estate, and has plenty of purchasing power (she calls the freezing fee 'a year's cost' in handbags, shoes, and hair). 'My life is pretty good,' she says. 'What's the next thing to do? Replicate yourself. Have mini-me's.' " —Sarah Wildman
October 3, 2011
And why stop at 50?
"Donor eggs result in live births about 60 percent of the time, no matter how old the mother-to-be is. But clinics set various age cutoffs, and when Maloney and Ross were attempting to conceive, she was 48, which represented the outer limit. Even after NYU raised concerns about her age, Maloney says she never wondered if she was too old to have children.
"Eventually, Columbia University took the couple on … Ann Maloney gave birth to Isabella in February 2001, a blissful event followed by severe postpartum depression followed by the hormonal rages that accompany the onset of menopause. A townhouse was purchased, two flourishing practices shuffled and reshuffled to accommodate newly complicated priorities. Lily was born when her mother was 52. This time, Maloney had to be brought out of menopause with hormones before she could get pregnant.
"Today, Maloney and Ross, 60 and 66, inhabit their home with a rotating crew of housekeepers, a couple of fish tanks, a cockatiel, two bearded dragons, two dogs, two cats, and a dwarf hamster. Lily and Isabella are 7 and 10." —Lisa Miller
*This article appears in the September 18, 2017, issue of New York Magazine.