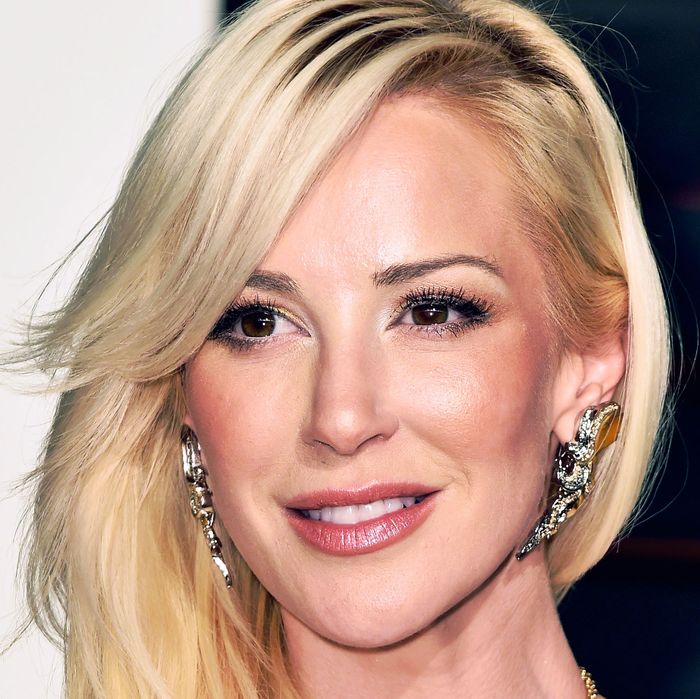 Louise Linton.
Photo: Pascal Le Segretain / Staff/2015 Getty Images
Steve Mnuchin's wife, Louise Linton, who is known for an Instagram meltdown, told her side of the story in an exclusive interview with Washington Life magazine. While she issued a statement through her publicist after the #HermesScarf incident, this is her first interview since.
Among many other things, she said the post was a "moment of weakness" when she was "trying to portray a certain public image," and she wishes she hadn't "spoken in such a patronizing tone." Linton's attempt at convincing people she's One of Us is only slightly tainted by the fact that the interview is with a luxury magazine that bills itself as an "insider's guide to power, philanthropy and society" and that she's wearing a ball gown worth thousands of dollars on its cover.
The saga began when Linton, a Scottish-born actress who was married by none other than Mike Pence, tagged every brand she was wearing in an Instagram post of her, her husband, and Mitch McConnell descending a government plane.
Jenni Miller, a mother from Oregon, commented, calling Linton "#deplorable." Linton in turn called her "adorably out of touch" and asked what sacrifices Miller had made for her country. Linton is sorry about that now.
"My post itself and the following response were indefensible. Period. I don't have any excuses, nor do I feel any self-pity for the backlash I experienced," Linton said in the new interview. "I sincerely take ownership of my mistake. It's clear that I was the one who was truly out of touch and my response was reactionary and condescending."
"I feel like I deserved the criticism and my reaction is 'thanks for waking me up quickly and for turning me in the right direction.'"
So who is the real Louise Linton? Don't be fooled by the Instagram post or the Town and Country article about her many wedding jewels: She's just a girl in a sweatshirt and leggings.
WL: Were you trying to be boastful and materialistic?

LL: I was just trying to portray what I thought was a public image that isn't me. This is me. [Pointing to herself in a sweatshirt and leggings] This is me every day. I'm this girl. I'm a no makeup girl. I was trying to create this public image that was elegant and stylish, but that was just so clueless because I should have focused on who I really am instead.
Perhaps she was emulating a certain Washington wife.