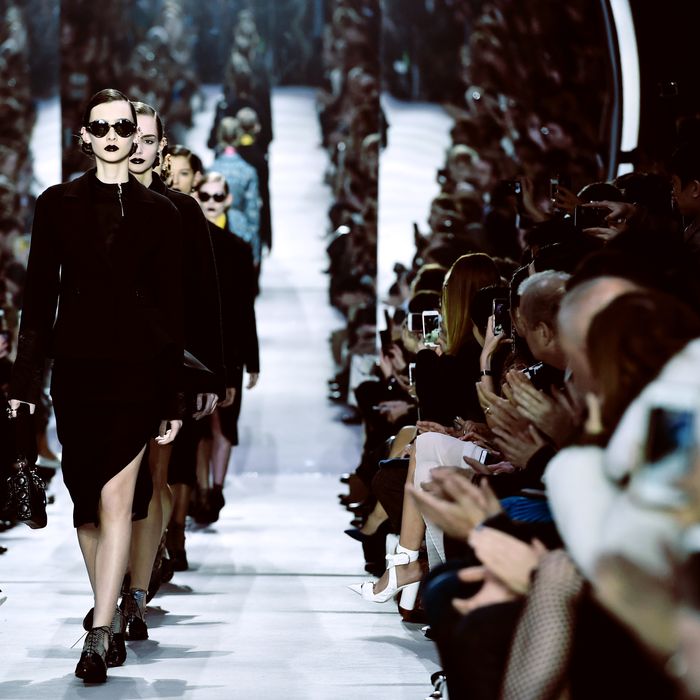 Christian Dior runway.
Photo: Pascal Le Segretain / Staff
French fashion conglomerates LVMH and Kering announced on Wednesday morning (the first day of New York Fashion Week) that they will not allow underage or underweight models to walk in their runway shows across the world.
The charter is a long overdue response to criticism that the fashion industry promotes unattainable body standards and eating disorders. In December, casting director James Scully gave a talk on cruelty and discrimination in the fashion industry. In February, still fed up, he decided to name names and specifically called out Balenciaga (owned by Kering) and Lanvin on Instagram.
Fast-forward six months, and the two giants announced that they jointly created and signed a charter titled "The Charter on Working Relations With Fashion Models and Their Well-Being." The charter says they will not cast models under 16 or use models below a size 2 for women and size 34 for men.
The Health and Care section of the charter, exclusively obtained by the Cut, reads:
— The brands commit to working solely with models who are able to present a valid medical certificate, provided by the agencies and obtained less than six months before the shooting or the fashion show, attesting to their good health and ability to work

— The brands commit to ban size 32 for women and size 42 for men (French measurement) from their casting requirements, and will thereby require casting agencies to present women and men models who are respectively size 34 or over, and 44 or over

— The brands agree to put a dedicated psychologist/therapist at the models' disposal during their working time
While the Young Models section reads:
— The brands must not hire models under the age of 16 to participate in shows and shootings representing an adult

— Models between 16 and 18 years old are not allowed to work between 10pm and 6am

— Nudity or semi-nudity for models under 18 is only allowed through an agreement signed by both the model and her/his legal representative

— The presence of a chaperon/guardian appointed by their agencies, and who can also be one of the model's parents, is mandatory for models from 16 to 18 years of age

— Any model under the age of 18 must be housed in the same accommodation as her/his chaperon/guardian

— The brands must require agencies to ensure that models meet their school attendance obligations

— Alcohol shall not be served to models under the age of 18
The other six sections of the charter outline more stipulations for model's well-being, including providing access to food and drink throughout the day, code of conduct for nude shoots, and requirements for a private place to change.
The two companies own many of the biggest, most prestigious fashion houses. LVMH owns Christian Dior, Louis Vuitton, Marc Jacobs, and 11 other luxury fashion brands. Kering owns Alexander McQueen, Balenciaga, Saint Laurent, and 16 other luxury and sportswear brands.
In a statement, François-Henri Pinault, chairman and CEO of Kering, said, "Respecting the dignity of all women has always been both a personal commitment for me and a priority for Kering as a Group. Through the establishment of this charter and our commitment to abide by its terms, we are once again manifesting the importance of this core value in a very concrete manner."
And Antoine Arnault, member of LVMH Board of Directors, chairman of Loro Piana, and chief executive officer of Berluti, said, "We have the responsibility of building new standards for fashion and we hope to be followed by other players in our sector."
France had passed a "skinny model" law in 2015, which went into effect this year, that required new models to provide a doctors note that they are in good health and a BMI of 18 or over, and fines brands 75,000 euro for using underweight models.