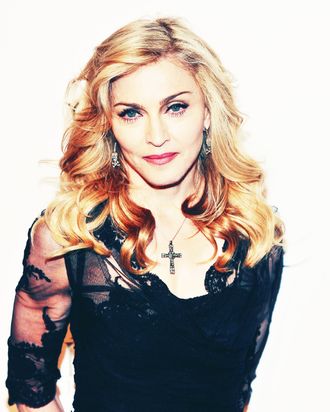 Madonna, skin-care guru.
Photo: Stephen Lovekin/Getty Images
Rihanna isn't the only pop star to release a beauty line stateside this month. Yesterday, Madonna's skin-care line MDNA SKIN finally launched in the United States as part of an exclusive partnership with Barneys. (It's been available in Japan since 2014.)
Madonna enlisted Japanese beauty-tech company MTG to help develop the products. Dr. Paul Jarrod Frank, a fancy Fifth Avenue dermatologist, assisted with the formulas. The result is seven products, including an eye mask and a serum that fades dark spots.
There's also a $600 magnetic clay face mask that Madonna uses on her butt. Is it weird to use a $600 mask on your butt? Madonna doesn't think so. "Don't you want soft skin on your butt?" she asked at yesterday's press event. "Don't other people look at your butt? The butt has an audience! At least one!"
According to that logic, perhaps you should use all seven products on your butt. Read on for the full run-down.
A Cleanser That Doubles as a Mask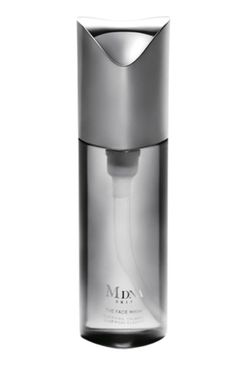 You can use The Face Wash three different ways. Squirt three pumps onto a dry face to remove makeup. Mix a pump or two with water for a basic wash. Or, for a more intense cleanse, let the cleanser sit on your face for a few minutes before rinsing. Fruit acids, including malic acid, lightly exfoliate skin, while olive oil, vitamin E, and jojoba oil offset any dryness. The Face Wash smells faintly of mint, like fresh breath, but for your skin.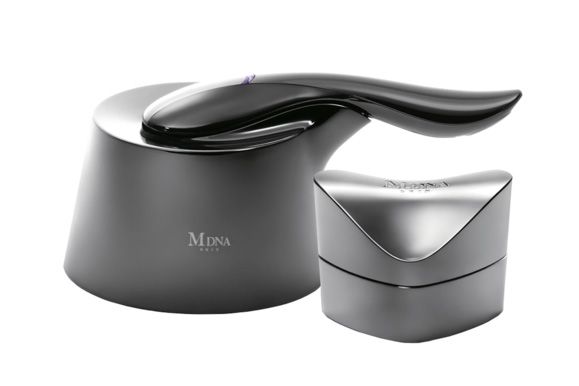 MDNA SKIN's Chrome Clay is a pore-clearing, skin-softening mask that doesn't harden. It is also magnetic. To use, you hover MDNA SKIN's magnetized "Skin Rejuvenator" over your face to remove the clay in a few clean swipes. The child in you might coo at how the clay leaps onto Skin Rejuvenator's magnetized tip, but remember: this is science. The charged magnet stimulates skin cells like a jolt of caffeine, so your face appears refreshed, like you've just come from the spa. Speaking of spas, Madonna waxed poetic about a phenomenal Lower East Side facialist she liked to visit when she was young and broke. "I know this is weird, but she was a heroin addict. She gave amazing facials! I would go to her and we would somehow do trades." That's Madonna for you.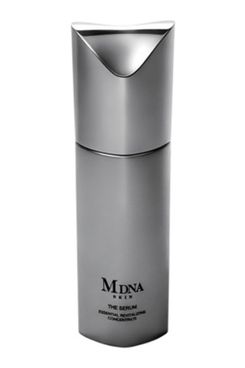 The Serum is so moisturizing that Madonna rubs it all over her knees. It's made with glycerin, squalane, and hyaluronic acid — the most potent hydrators around. A stable version of vitamin C in the serum works to dissolve age spots and acne scars. The Serum's texture is more like a light lotion and is scented like a delicious orange soda. Try not to eat it.
An Eye Serum That Won't Pill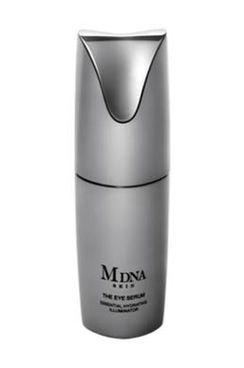 "One of the biggest problems I have is finding products for my face that I can put makeup on over and then go out on stage and sweat insanely under lights," Madonna explained yesterday. "My makeup kept coming off of my face and I kept thinking that I need to create something that will stand up to all of the elements and challenges."
The Eye Serum fully delivers on that promise. It dries quickly and — miraculously — doesn't pill under makeup. It's packed with a lot of the same ingredients in The Serum, including hyaluronic acid, though its texture is more akin to traditional serum textures, which are light and slimy.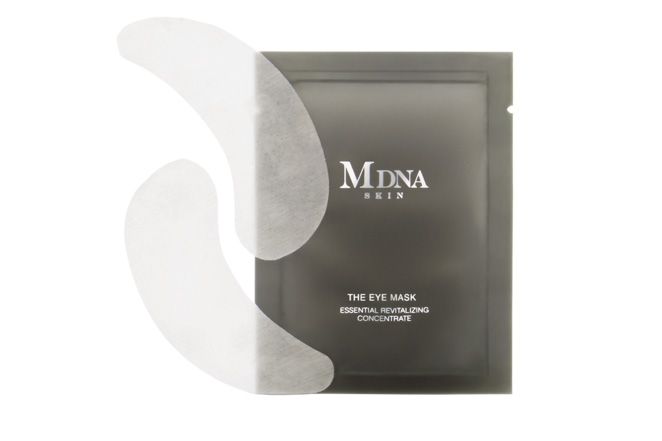 While MDNA SKIN is designed with all ages in mind, The Eye Mask definitely skews older. The mask promises to soften those little lines that appear sometime around your fortieth birthday. One way it prevents crows feet is with T. Thermophilus, a water-dwelling bacteria that's intended to moisturize. If you'd rather not rely on 2,000 microbes for adequate skin hydration, The Eye Mask is also fueled with glycerin and hyaluronic acid. Madonna uses the excess goo from the masks to soften her elbows.
The Fanciest Water on the Planet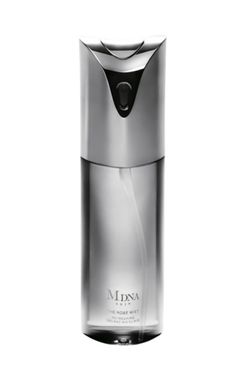 There's some debate about whether toners are worth the effort, but Madonna is a believer. She sniffed 50 iterations of rose to land the perfect fragrance accord for The Rose Mist, which is a toner attached to a very steep price. You're meant to spray the mist after a face wash, or throughout the day, as needed. Those who call Madonna "mom" are intimately familiar with the product. "The rose mist goes everywhere; I attack my children with it," Madonna confessed with a toothy smile.
If you buy something through our links, New York may earn an affiliate commission.