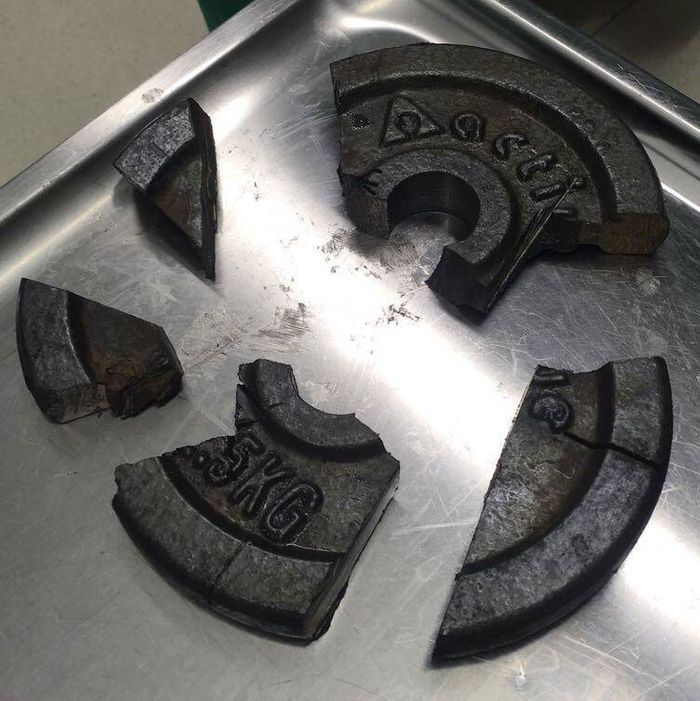 The weight in question.
Photo: Feuerwehr Worms/Facebook
If you've been thinking about lifting weights, here's an important warning for you: Don't stick any body parts inside the round holes of the weights at your gym. On Friday, a man in Worms, Germany, reportedly put his penis inside one and, well, it got stuck.
The Feuerwehr Worms Fire Department posted an image of a 5.5 pound weight broken into five pieces on Friday, which they wrote was removed from a man's "sensitive body part" (hmmm) during a three-hour ordeal. As Metro reports, the man in question apparently stuck his penis inside of the hole before quickly realizing that he could not remove it.
The man was taken to the hospital that morning to see if a doctor could remove the metal plate. When that didn't work, firefighters were called to the scene. Metro notes that the man was sedated as the team used angle grinders, a saw, and a hydraulic rescue device to break the weight.
The firefighters urged people on Facebook, "Bitte solche Aktionen nicht nachmachen!," which means, "Please do not imitate such actions!" But we're sure someone else will try to recreate this magic in no time.