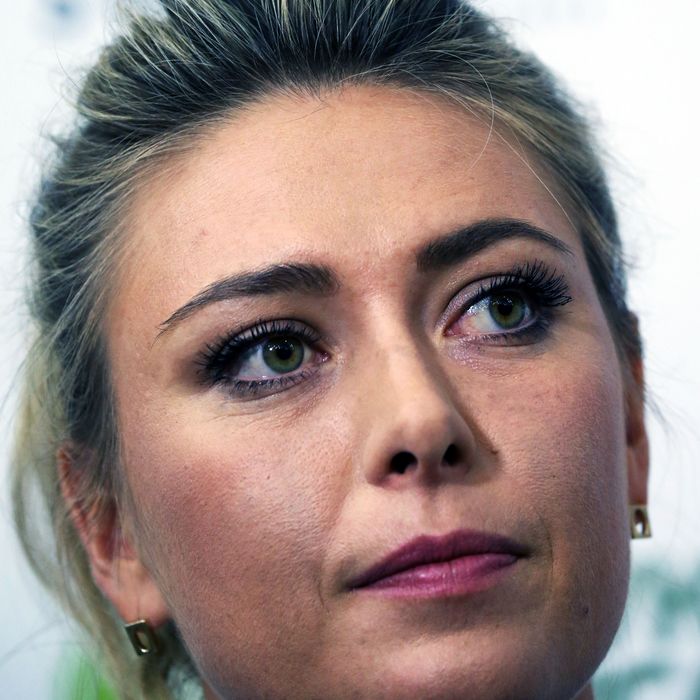 Maria Sharapova.
Photo: Artyom Geodakyan/Artyom Geodakyan/TASS
How much of your autobiography would be devoted to your grudges? If you're Maria Sharapova, the answer is quite a bit. In her new memoir, the disgraced tennis star spends a significant amount of time writing disparagingly about her rival Serena Williams.
In the less than aptly named Unstoppable: My Life So Far, which will be released September 12, Sharapova — whose career was in fact stopped when she was found to be doping at the Australian Open in June 2016, and was subsequently suspended from tennis for two years — writes extensively about her lifelong, though largely one-sided, rivalry with Williams, who has beaten Sharapova in the last 18 of their 20 matches against each other.
Her aggressive fixation with Williams seems to have begun when she was 12, and she refused to watch Venus and Serena play at the academy in Florida where she trained. "I'd never put myself in the position of worshiping them, looking up, being a fan," she writes.
Sharapova goes on to repeatedly and obliquely reference Williams's race, and describe her in what Daily Beast columnist Ira Madison III called "the type of imagery that is often cast upon black bodies in contrast with white ones":
First of all her physical presence is much stronger and bigger than you realize watching TV. She has thick arms and thick legs and is so intimidating and strong. It's the whole thing — her presence, her confidence, her personality
Ever the sore loser, Sharapova also claims that the only reason Williams keeps beating her is because she's still angry that Sharapova heard her cry in the locker room once. "I think Serena hated me for being the skinny kid who beat her, against all odds, at Wimbledon."
Given that Serena Williams has welcomed a new baby girl, been lauded as one of the greatest athletes of all time, and become so wildly wealthy that she can't keep track of all the property she buys, something tells me she doesn't care that Sharapova heard her cry one time.