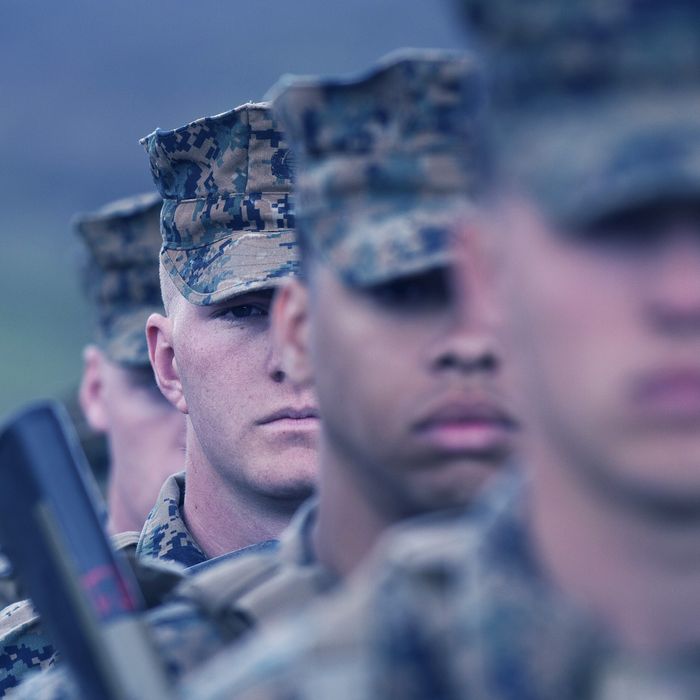 U.S. Marines in Bulgaria.
Photo: NIKOLAY DOYCHINOV/AFP/Getty Images
For the first time in its 241-year history, the U.S. Marine Corps has plans to assign a female officer to the infantry following her expected graduation from its intensive 13-week training program, the Washington Post reports.
The woman — who is a lieutenant and whose name has not been disclosed — is the first female officer to complete the Infantry Officer Course (IOC), a grueling program that involves combat exercises, endurance tests, and carrying up to 152 pounds of equipment. Generally, 10 percent of trainees drop out on the first day, and 25 percent drop out over the course of the program. Since 2012, 36 women have attempted the course, and all have failed.
After the lieutenant officially graduates from IOC on Monday, she is expected to head a platoon of 40 Marines, a position in which she will likely face challenges even greater than lugging around 152 pounds of equipment. As Kyleanne Hunter, a member of the Pentagon's Defense Advisory Committee for Women in the Services and former Marine Corps helicopter pilot, told the Post, the woman will have to win over those in her platoon, and cope with the attention from those who "want her to fail."
Indeed, this woman is ascending within a military culture that is in flux. In December 2015, the Pentagon opened all jobs to women. That same year, three women completed the Army's grueling Ranger School and one of them, Army Capt. Kristen Griest, was assigned as the Army's first female infantry officer. Since January, enlisted female Marines have begun joining the infantry.
Despite these advances, there remains a deeply entrenched culture of misogyny in the military, and in the Marine Corps, as evidenced by events earlier this year, when over 1,000 current and former Marines were investigated for sharing hundreds of nude photos of female service members and civilians in a Facebook group called Marines United.
As the Post reported at the time of the scandal, the Commandant of the Marine Corps, General Robert B. Neller, told Marines: "I need you to ask yourselves — how much more do the females of our corps have to do to be accepted?"