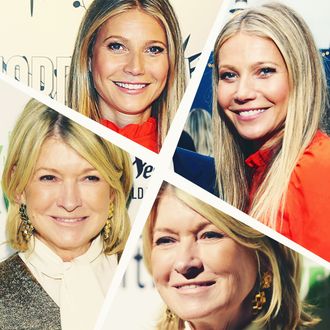 Gwyneth Paltrow, Martha Stewart.
Photo: Getty Images
The world descended into chaos last week when Martha Stewart proclaimed on Watch What Happens Live that pumpkin spice is for basic bitches only. So amid the mayhem, it's no surprise that we missed a far more important moment from her appearance on the program: at one point, Martha Stewart asks host Andy Cohen, "Who's Goop?"
As Us Weekly reports, a WWHL viewer called in with a question about a watchdog's deceptive health claims investigation into Gwyneth Paltrow's lifestyle website and new mud-appreciation print magazine, Goop. The viewer asked, "Are the rumors true that you are happy that Goop is having deceptive health issue claims?" Stewart then politely asked Cohen who this Goop person might be.
The host explained that Goop is Paltrow's company, and Stewart then replied (per Us Weekly), "Right. No, that's not true. She's a good girl."
As Bravo's the Daily Dish points out, Paltrow and Stewart have apparently been feuding since at least 2013, when Stewart said of the actress to Bloomberg Television, "She really wants to be part of the lifestyle business. She's a charming, pretty person who has a feeling for lifestyle. She wants to be a lifestyle arbiter. Fine. Good. I think I started this whole category of lifestyle."
From there, Stewart apparently went on to tell Porter that Paltrow "needs to be quiet. She's just a movie star. If she were confident in her acting, she wouldn't be trying to be Martha Stewart." The lifestyle guru then referenced Paltrow's "conscious uncoupling" in her magazine. Goop apparently responded with by posting a "jailbird cake" recipe, which Us Weekly reports seemed to make fun of Stewart's five-month jail sentence for fraud.
We're sure Goop is coping with the new diss by walking barefoot outdoors.