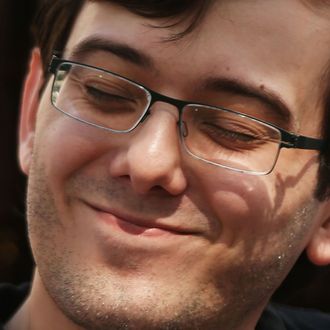 Martin Shkreli is headed to jail.
Photo: Spencer Platt/Getty Images
Earlier this month, Martin Shkreli — the guy you remember for jacking up prices on HIV drug Daraprim by 5,000 percent — shared a Facebook post offering a bounty to anybody who could bring him some of Hillary Clinton's hair. Shkreli said he'd pay $5,000 per strand. Today, a federal judge revoked Shkreli's bail and sent him to jail over the now-deleted post.
Shkreli was found guilty of fraud earlier this summer and is facing up to 20 years in prison. He was out on a $5,000,000 bond while awaiting sentencing. Or he was until a Brooklyn federal judge deemed him a "danger to the community" and had him taken into custody Wednesday. "The Clinton Foundation is willing to KILL to protect its secrets. So on HRC's book tour, try to grab a hair from her. I must confirm the sequences I have. Will pay $5,000 per hair obtained from Hillary Clinton," read Shkreli's Facebook post before it was removed. He later said the post was meant to be a joke and "not an endorsement of violence against a truly wonderful public servant." Earlier on Wednesday, prior to the whole jail thing, Shkreli posted about a fidget spinner he's selling on eBay.