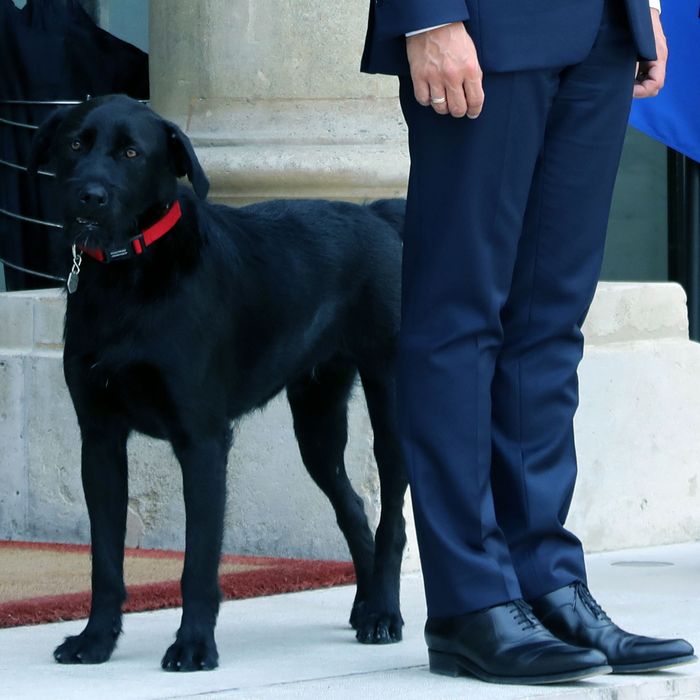 Nemo Macron.
Photo: LUDOVIC MARIN/AFP/Getty Images
When President Mahamadou Issoufou of Niger arrived at the steps of the Elysée Palace in Paris this week, he was greeted by French president Emmanuel Macron, and Nemo, a two-year-old black Lab mix.
According to the BBC, Macron and his wife spent two hours and nearly $300 for the dog, who was adopted from a shelter outside of Paris last weekend. With his adoption, Nemo became the newest member of the First Pets Club, an elite group of animals whose job it is to offer their illustrious human owners loyalty, companionship, and, of course, good publicity.
The group's members have included some of history's most famous pets, including the Obamas' dogs, Bo and Sunny, the Clintons' cat, Socks, and Winston Churchill's poodle, Rufus. But for the first time in 150 years, there is no sitting U.S. representative of the First Pets Club. President Trump has no pets whatsoever, and when asked whether this would change, a spokesperson for Melania Trump told CBS News: "The first family is still getting settled so there are no plans at this time."
So, as leaders around the globe are preparing for "a world without America," so, too, it seems, are their pets. Here are some of the cats and dogs shaping our geopolitical future:
Justin Trudeau's dog, Kenzie, who may or may not exist
In April 2016, handsome boxer and Canadian prime minister Justin Trudeau claimed in a #tbt tweet that his extremely photogenic family had adopted an extremely photogenic puppy. Like Bo and Sunny Obama, Kenzie is supposedly a Portuguese Water Dog, but unlike Bo and Sunny, she has not been seen in public since her introductory tweet. Is Kenzie real? Was she another Trudeau PR stunt? Did he feed her to those pandas he cuddled? We may never know.
Vladimir Putin's many dogs (and tiger)
As you may have surmised from his topless equestrian pics, Vladimir Putin is quite the animal lover. His pets even have their own Wikipedia page. Currently, the Russian president has two dogs, an Akita named Yume and and a Bulgarian shepherd named Buffy. But perhaps his most famous pet was Konni, a black Labrador whom he had fitted for a satellite navigation system collar in 2007, and whom he once used to intimidate German chancellor Angela Merkel, who is famously afraid of dogs (Putin denies this).
For three days in 2008, Putin was also the owner of Mashenka, a 20-pound tiger cub he received as a gift. He eventually gave her to a zoo in southern Russia, but in 2009, he made sure she got a ten-pound meat cake to ring in the New Year. (Coincidentally, that is also how I enjoy ringing in the New Year.)
Theresa May's inherited cat, Larry
Technically, British prime minister Theresa May did not adopt Larry the cat — he came with the house. Larry's title is Chief Mouser of the Cabinet Office, and the tabby moved into the prime minister's residence at 10 Downing St. under May's predecessor, David Cameron. May and Larry's relationship got off to a rough start, however, after May told the Times that although she was "very happy to see Larry," "we always had a dog at home rather than cats." (Rude.)
But Larry isn't letting himself get pushed around by this newcomer. In the same Times interview, May added, "There are certain parts of Number 10 where Larry rules the roost, seats that he expects to be able to sit on."
Malcolm Turnbull's blogger dogs
Based on his savage roasting of Trump in June, it's clear Malcolm Turnbull has a way with words. And not just his own words. The Australian prime minister runs a dog blog written in the voice of his dog, JoJo, as well as other guest-blogger dogs. While most of the posts have been removed, I cannot recommend enough that you take some time to enjoy the few that remain. The prose is honest and thought-provoking, like this intro from "JoJo the Dog returns to Blogging":
Okay I know its been a long time since I wrote a dog blog. But I have stuff to do. Lots of thinking which is what I do when you think I am sleeping. I mean, how pathetic humans are thinking they KNOW what we dogs are thinking. "Fluffy is thinking she would like to go for a walk." That might be right. "Fido wants a cuddle." Yeah, right.
Really makes you think.
Sauli Niinistö's very happy dog, Lennu
Shortly after patiently differentiating blonde women for President Trump, Finnish President Sauli Niinistö was photographed holding his dog, the 5-year-old Boston Terrier Lennu. Unlike the French First Dog, Nemo, Lennu has been described as "not fully media trained," which seems inaccurate given how good he is at working the cameras.
Nothing but respect for my first pets.