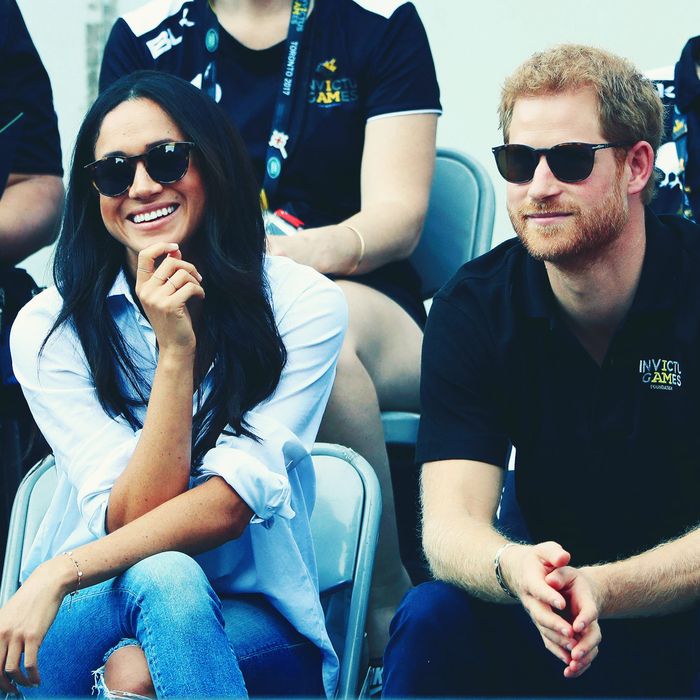 Together (in public) at last.
Photo: Danny Lawson/PA Images via Getty Images
On Saturday, Prince Harry and Meghan Markle publicly appeared in the same general vicinity (well, four rows and 18 seats apart) for the first time during the opening ceremony for the Invictus Games in Toronto. But on Monday, the couple took things to the next level when they held hands (finally) and sat next to each other at a wheelchair tennis match.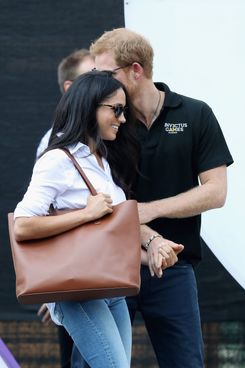 Though Markle confirmed that she and the royal ginger are "really happy and in love" in a recent interview with Vanity Fair, the Invictus Games — the third annual multi-sport international event Prince Harry created for wounded armed-servicemembers — marks the first time the couple has appeared together in an official capacity. As People reports, the pair walked hand in hand into the wheelchair tennis event on Monday, sat together during the whole match, and turned around in their seats to happily chat with other spectators.
Since Markle's Vanity Fair interview, many have speculated that the pair are either already engaged or will be soon. But don't expect any engagement announcement until at least after the games are over, though. Markle may have given up her Audi lease in Canada, but as Lainey Gossip points out, it's highly unlikely Prince Harry would want to do anything to detract attention from the event.