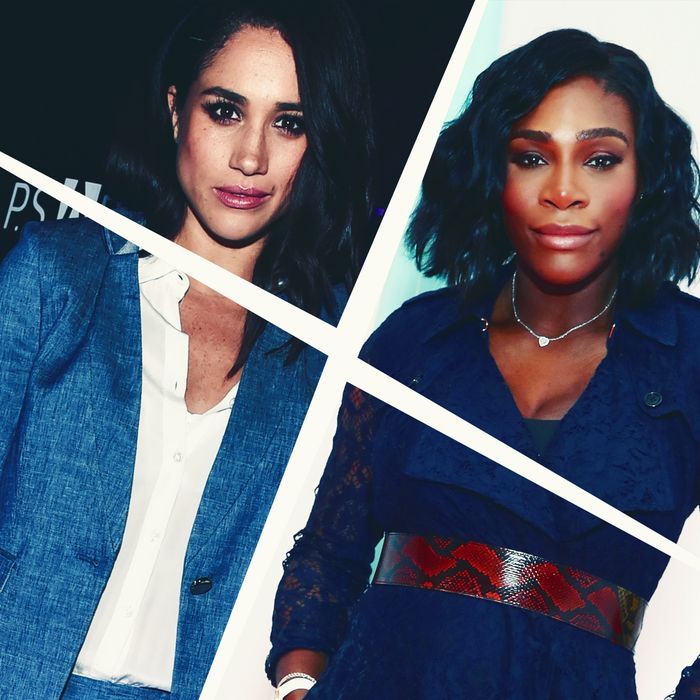 Meghan Markle, Serena Williams.
Photo: Getty Images
In Vanity Fair's new cover story on Meghan Markle, the actress not only speaks out about her relationship with Prince Harry for the first time — they met in July 2016 and are "really happy and in love," good to know — but we also get a glimpse into her friendship with tennis queen (and new mom) Serena Williams.
Markle met Williams, one of the greatest athletes of all time, seven years ago at the Super Bowl, according to Vanity Fair. The pair have since gone on to become close friends — so close, in fact, that Markle credits Williams with being someone who has supported her as she deals with the newfound notoriety that comes with dating a prince.
Per Vanity Fair:
"Her personality just shines," Serena said about Markle, who asked her advice on how to handle some of the more extreme results of fame, such as paparazzi showing up at her house and chasing her. "I told her, 'You've got to be who you are, Meghan. You can't hide.'"
Likewise, Markle also spoke warmly of Williams in a recent Vogue profile on the star athlete, saying, "She will be an amazing mom. The very best, because she is so attuned to balancing strength and sensitivity. Plus, given that she is pretty epic at karaoke, I think she'll put her signature Serena spin on singing lullabies for the baby. I can't wait for that!"
Can't wait to see pictures of Williams at the hypothetical royal wedding.