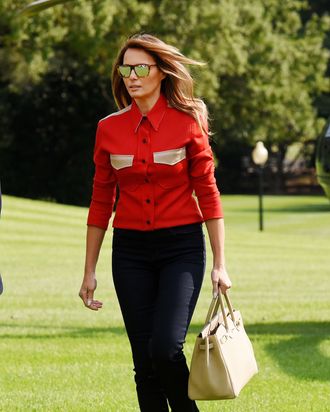 Melania Trump.
Photo: Olivier Douliery/Pool/Getty Images
This week's street style has been full of people wearing their newly purchased Calvin Klein 205W39NYC gear. But the First Lady was with the President at Camp David this weekend, rather than front row at New York Fashion Week with her step-daughter Tiffany Trump. She returned to the White House on Sunday though in a buttoned-up, red "Marching Band" shirt from Raf Simons's debut collection, which showed in February. (She paired the look with Saint Laurent sunglasses, Louboutin flats, and an Hermès Birkin bag, like a hipster Louise Linton.)
Melania has a knack for unintended irony in her outfit choices (remember the pink pussy bow?). She seems capable of understanding the top-level references of an item of clothing, but has little interest in context — evidenced most recently by her choice to wear a fashion-version of an army jacket and heels to a hurricane-flooded Texas. In this case, her shirt telegraphs Americana, but Raf Simons's version of America may not be the one she really wants to represent.
As Simons demonstrated with his fall 2017 collection, his version of Americana is not a simple patriotic salute; rather, with the help of artist Sterling Ruby, the American flag is literally and figuratively cut up and pieced back together. David Bowie's "This Is Not America" was in the soundtrack to the fall 2017 show, which took place about a month after Trump was inaugurated. It wasn't necessarily a staunch stance from Simons — unlike the endless graphic T-shirts paraded down the runway that week — but certainly raised questions.
"This is not a satirical view of America, but neither is it wholly sweet," wrote the Cut's critic, Cathy Horyn, in her review of the fall 2017 collection. "It is expansive, though, and engaging and real."
Simons is far too sophisticated a designer to simply present classic symbols of Americana like cowboy boots and denim and call it a day. Instead, he lets the clothes and their references speak for themselves, from your grandmother's antiseptic plastic-couch-covering to David Lynch to Elvis Presley by way of Andy Warhol. His spring 2018 collection also went even deeper (and darker), with Warhol's violent, gory car-crash images mixed in with body-bag dresses and splatters of bloody spots.
As Horyn wrote of Simons's latest collection, instead of falling for easy political messages, he is one of the few designers willing to show the complex beauty and horror of American culture, "with its festering racism and homophobia, its toxic political climate, and weird mixture of killers and superheroes."
Ironically, both Simons and Trump might agree that we shouldn't read too much into the symbolism of this look. At the end of the day, Melania Trump is all surface — all "artifice" — and at face value, this shirt is simply a good-looking, trendy shirt. In fact, small sizes of the blue women's shirt are sold out on the Calvin Klein website.
And Melania, if you're reading this, even though you weren't invited, you can watch the Calvin Klein spring 2018 livestream here.