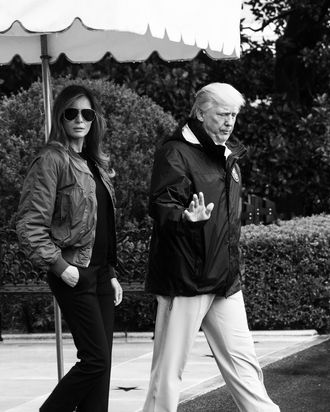 Melania Trump.
Photo: NICHOLAS KAMM/AFP/Getty Images
In August, Melania Trump kicked up some controversy when she chose to wear Manolo Blahnik heels on the way to visit Houston, Texas with the President following Hurricane Harvey. Although she got off the plane in sneakers, many saw her initial shoe choice as a sign of insensitivity. On Monday, however, the shoe's designer himself offered a differing opinion on the matter.
"I don't think she's insensitive," Blahnik told Harper's Bazaar UK. "I think she's working non-stop to make it work — possibly she was just wearing the shoes she left New York in. Yes, I think probably she could have worn Hunter boots but she was wearing what she was wearing."
Blahnik, who is currently out and about promoting a new documentary entitled Manolo: the Boy Who Made Shoes for Lizards, went on to say that he'd been dressing the First Lady "long before all this nonsense," and has no plans to stop anytime soon.
"They should just get rid of everybody and keep her," he concluded. "Aesthetically I mean, I'm not talking about politics — I don't give a damn about that and I don't know much about it. But in terms of fashion and beauty — well, I love her, she's a beauty and that's all there is to it."