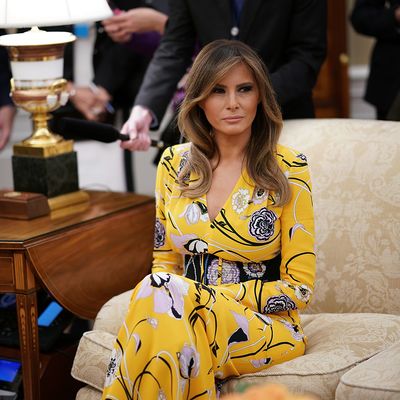 On Wednesday, Vanity Fair released its 2017 International Best-Dressed List, which featured a number of familiar fashion icons, as well as political stylish people Barack and Michelle Obama, Emmanuel and Brigitte Macron, and Justin Trudeau. But First Lady Melania Trump was not included on the list, and conservatives are pissed.
The 2017 list included Solange Knowles, Roger Federer, Rihanna, Harry Styles, LeBron James, Charlotte Gainsbourg, and JFK grandson and Cut contributor Jack Schlossberg, to name a few. However, the Daily Caller was very upset by Melania's exclusion from those stylish ranks, and slammed what it called Vanity Fair's "extremely bizarre" decision.
The conservative publication claimed the snub must have stemmed from Vanity Fair editor Graydon Carter's long-standing feud with Donald Trump, and defended Melania's fashion by claiming she dresses quite similarly to Michelle Obama. Breitbart even went so far as to claim Melania "upstaged" Brigitte Macron on her recent trip to Paris. A number of right-wing pundits also took to Twitter to call out what they appear to view as an egregious crime of fashion listing.
However, as the Washington Post points out, while the list doesn't include any Trump family members, it does include Melania's go-to stylist Hervé Pierre, who dressed the First Lady for her husband's inaugural ball and several other high-profile events. Furthermore, while the Obamas and Macrons made the list, they were included in the couples section, rather than listed as individuals. So who knows if the First Lady would have been included if her husband dressed differently.