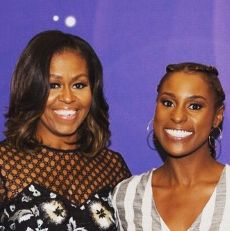 Michelle Obama (L) and Issa Rae (R).
Photo: Instagram/@issarae
Don't let the smiles fool you, Michelle Obama had a bone to pick with Issa Rae when the pair met in Boston on Wednesday at the annual marketing event INBOUND. According to an Instagram post shared by Rae, Insecure's co-creator and star, Michelle Obama, like most viewers, felt betrayed by the season-two finale's bait-and-switch ending (the details of which I will not go into because the emotions are still too raw, but feel free to read up on it here).
Below her series of three photos with the former First Lady, Rae wrote: "A) Me and My President. B) Me after my President told me she was mad about the #InsecureHBO finale fake out. C) Me hugging My President with eternal gratefulness. #INBOUND17"
In an Instagram story from the event, which she attended with Girl's Trip star Tiffany Haddish, Rae said, "We met Michelle Obama! She knew us! She had watched all of Insecure — that Sasha and Malia put her on, so shout out to them!"
As frustrated as we may still feel about Insecure's finale, there is some consolation in seeing two of our country's leaders embracing.