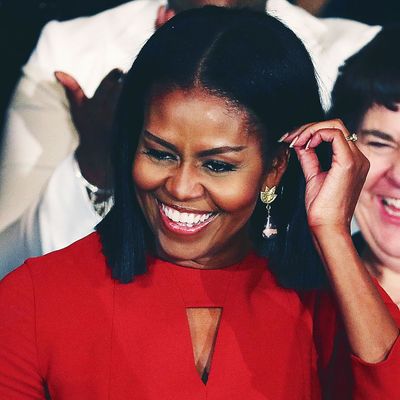 Michelle Obama.
Photo: Chip Somodevilla/Getty Images
Michelle Obama was spotted on Tuesday night in Virginia at the opening of a new hair salon owned by a member of her longtime White House glam squad.
As the Washington Post reports, the former First Lady donned a floral top and curls at the Aesthetics Salon in Arlington, just outside of D.C. The noted Beyoncé friend was there to toast Yene Damtew, who worked alongside Obama's hair stylist Johnny Wright for years. According to the Post, Damtew's glam squad duties had her working primarily with Malia and Sasha, as well as Obama's mother Marian Robinson.
In front of 40 VIPs — including Wright — Obama told Damtew, who used to hand-paint her hair color, "It has been such a joy to have you in our lives." The Post notes that she added Damtew was "not just my hairstylist and my children's."
Obama apparently chatted with guests but only took pictures with Damtew and her family during the gathering, before heading out in a pair of silver SUVs. If only the cars were taking her back to the White House …