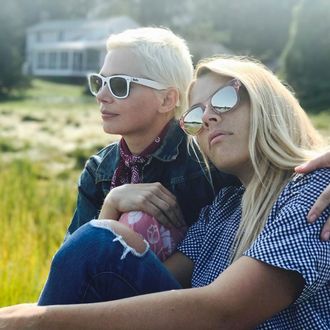 Michelle Williams and Busy Philipps.
Photo: busyphilipps/Instagram
In the early aughts, while you were screaming at your television about the Dawson-Joey-Pacey love triangle, Dawson's Creek's greatest love was growing behind the scenes: the relationship between Michelle Williams and Busy Philipps. In honor of Williams's birthday, the best friends got cozy on a porch in Massachusetts, blasted Frank Ocean on a speaker, and dished about all the different guys they kissed during their time on the WB series. And by "they kissed" we mean Williams kissed, since Phillips was relegated to only smooching Joshua Jackson.
They also found a dock in the Bay State to sit on and stare wistfully off into the distance from, as they presumably thought about how great it would be if they got their own Dawson's Creek spinoff series Jen and Audrey's New England Adulthood Filled With Steamy Make Out Sessions. (The CW should get on this series pronto).
Also, if you need further proof of the purity of their friendship, just look at this gram: