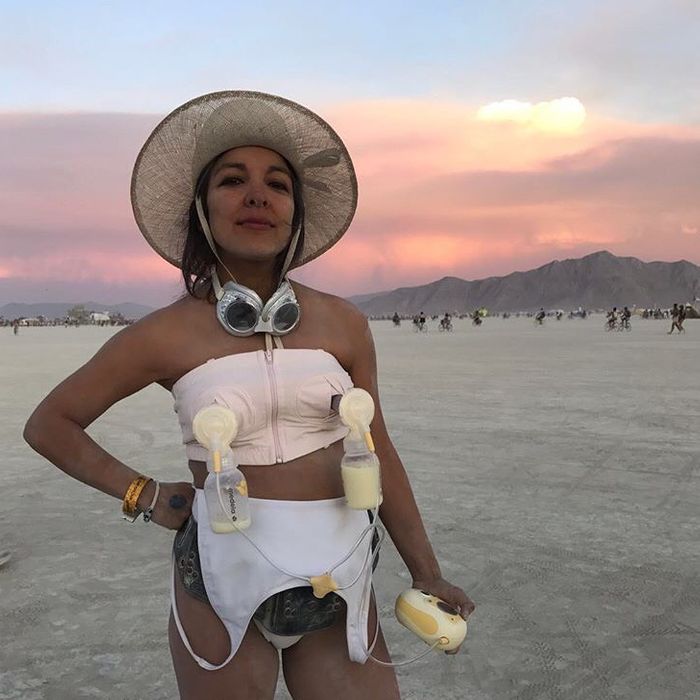 Miki Agrawal.
Photo: Instagram/@mikiagrawal
The cool thing about Burning Man is that even if you don't go, it's still exhausting. Among the overwhelming sites at this year's Burn was Miki Agrawal, controversial co-founder and former self-proclaimed "She-E-O" of period-underwear brand Thinx, giving away her breast milk, which some used as a hangover cure, and others used to make lattes.
Adhering to Burning Man's strict but unofficial rule that participants must talk endlessly about their experience at Burning Man, Agrawal wrote a lengthy Instagram post about sharing her breast milk with wannabe baristas:
I pumped my breasts every three hours at @burningman and gave away most of my milk. Some people downed a whole four ounces hoping for a hangover cure. Some wanted it for their coffee to make lattes. So many were excited and curious to try it. I drank some too when I ran out of water, it tastes like sweet coconut milk! 
Mmm. Nothing like some fresh, dusty breast milk in the middle of the desert to perk you up for some "radical self-expression" in the Orgy Dome (but no glitter!)
I am so tired.