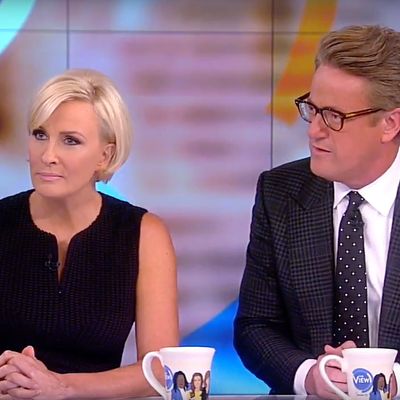 Mika and Joe on
The View
.
Photo: Courtesy of The View
While Joe Scarborough was once routinely criticized for his overly friendly relationship with then-candidate Donald Trump, he and Morning Joe co-host/fiancée Mika Brzezinski are now firmly on his bad side. (Case in point: Trump's vindictive tweet about seeing Brzezinski "bleeding badly" from an alleged face-lift.) The pair appeared on The View on Thursday morning to discuss the president, namely how their relationship has changed with him over time.
Host Whoopi Goldberg asked the big question early on: "Can we just say that there is an obsession with Mika? Can we just say it?"
"It's been that way from the very beginning," Scarborough replied. "And people are like 'why is he always so mean to Mika?'" (At this point host Joy Behar helpfully interjected with: "He's attracted to you maybe.")
Joe continued, "Even before he ran for president, I won't show you but he would walk up onto set and he'd walk past me and be like uhhhh [pantomiming grabbing for Mika]."
"You can't actually do it, it's pornographic," Brzezinski jumped in.
"I can't actually show you how he hugged her," Scarborough said, though he added it was "not pornographic" but a "funny way to hug."
"It was handsy … handsy," Brzezinski clarified.
Watch the segment below: