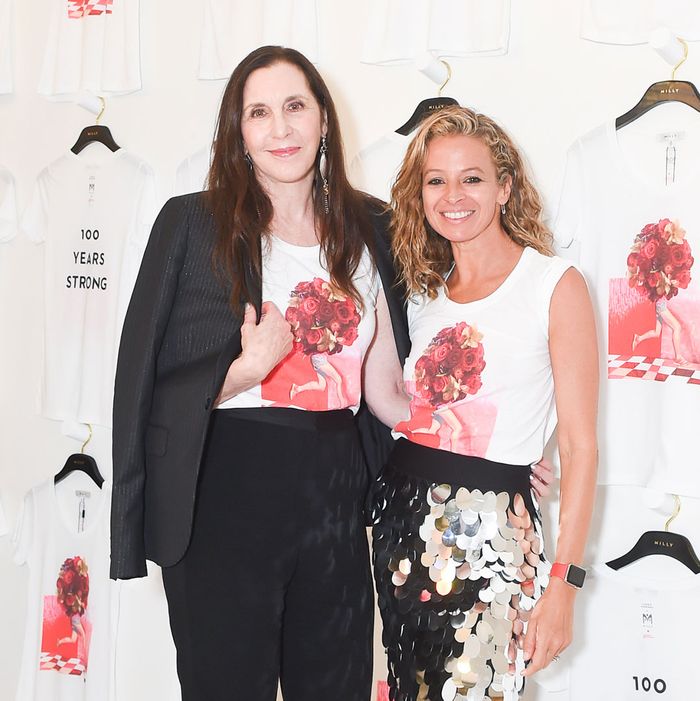 Laurie Simmons and Michelle Smith.
Photo: Joe Schildhorn /BFA.com/Joe Schildhorn /BFA.com
Milly creative director Michelle Smith and artist Laurie Simmons have paired up to release a limited-edition T-shirt in honor of Planned Parenthood's 100-year anniversary.
The front of the shirt is covered with one of Simmons's images showing a pair of strong athletic legs and a large bouquet of flowers. The back reads: "100 Years Strong." The image was one of several photographs Simmons made for Planned Parenthood earlier this year, and is an extension of her "Walking & Lying objects" series. All profits from the T-shirt sales go to Planned Parenthood.
Smith told the Cut she has been involved with Planned Parenthood for many years. She became complacent during the Obama administration, she said, but the 2016 election was a wake up call.
"When Trump was elected, it was very frightening and a call to arms to stand up and support Planned Parenthood in a very big way, and I'm a lousy public speaker so I can speak through my designs," Smith told the Cut last night at an event celebrating the release of the T-shirt at Milly's downtown pop-up store.
Simmons has also been involved with Planned Parenthood for many years, and feels the T-shirt is just one more thing she can do to help.
"Without Planned Parenthood, many women in underserved communities, many women in rural places, many women who don't have the funds lose all of their reproductive care," Simmons said. "We can all do caricatures of Trump on Instagram but I feel like money, support, phone calls — this is all the stuff that makes a difference."
Simmons said she is currently on a campaign to get "anyone who will listen" to give money.
"I have this joke where I say, 'Say no to the dress, take all of that money and figure out something to donate to,'" Simmons said. "We've had three hurricanes, an earthquake, we've got everything from the people that have lost their homes to the entire country of Puerto Rico to the animals that need shelter and support."
But buying the T-shirt for $75 makes the process of giving automatic, she explains. "I feel like people are happy when they can give and get a little gift for it, and it is kind of the best part of being an artist is to be able to raise this kind of money that in my normal life I couldn't do."