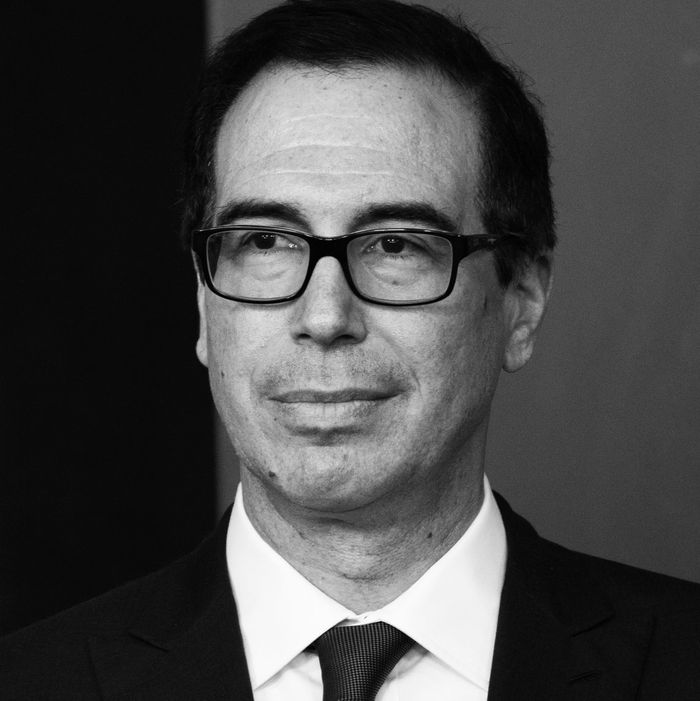 Steve Mnuchin.
Photo: Cheriss May/NurPhoto via Getty Images
Steve Mnuchin and Louise Linton's August visit to Kentucky is the minor political scandal that keeps on giving. First, there was Linton's shameless bragging on Instagram about her head-to-toe designer outfit. Then, Linton wrote a disproportionately lengthy and angry response to the citizen commenter — @jennimiller29 — who dared to criticize her. Finally, theories emerged that the Treasury Secretary's trip, which involved the use of a government plane, was actually just a jaunt to view the great 2017 solar eclipse: Kentucky was in the path of totality, and Mnuchin and Linton watched it from Fort Knox.
Mnuchin was asked about this on Thursday, following new reports that he requested a government jet for his European honeymoon over the summer. He dismissed the claim, saying that he was in fact there to visit Fort Knox. Also, he's a sophisticated New Yorker who couldn't care less about something so insignificant and plebeian as the eclipse. (Pssst, Trump fans: the coastal elites are coming from inside the administration.)
"People in Kentucky took this stuff very seriously," Mnuchin told the Washington Post. "Being a New Yorker, I don't have any interest in watching the eclipse."
Sure, that checks out.