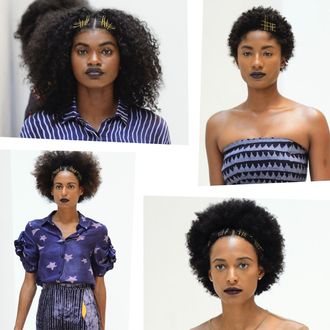 Models at Maki Oh.
Photo: Imaxtree
Fashion plucks inspiration from black and brown cultures often, and yet it hardly incorporates the people who embody these cultures into shows. Seeing models, stylists, makeup artists, and hairstylists of color behind the scenes at a fashion show is rare. Fashion is very bad at diversity, something the Fashion Spot reports with sobering insight each season.
Since her 2016 stateside debut, Nigerian designer Maki Osakwe of Maki Oh has presented her collections with black women specifically in mind. This was more than apparent at her show today, where every model she cast was a woman of color.
Models wore an ombré lip under makeup artist Tia Hebron's direction. Bobbi Brown's lip pencil in Chocolate was drawn over the lips first, and then Telluride, a brownish-mauve lipstick, was patted on top. Models were also treated to Bobbi Brown's not-so-secret liquid highlighter that's set to land in stores next spring. Copper and creamy, it glided on top of the models' cheeks like a glowy mask.
A backstage veteran, Hebron said she has witnessed how the industry neglects distinct beauty needs for women of color. "I remember being a very young makeup artist and for one of my first shows I had a stylist who had this vision, and the vision was so not becoming to olive and rich skin tones. My voice was a little lower then, but now I feel more comfortable speaking up. I feel like an ambassador," she said.
In the backstage hair room, hairstylist Nate Rosenkranz accented each model's hair with woven configurations of seven gold bobby pins, Osakwe's favorite number. If the model had long hair, these pins were draped around the top of the hair, like a headband. The women were told to arrive with their hair washed the night before or the morning of, to show off their freshest, bounciest curls. Rosenkranz spritzed curls with Alterna's Dry Oil Mist to add a bit of shine, but for the most part left the hair untouched. "You can see the diversity of textures," he explained. "We wanted to show that off."