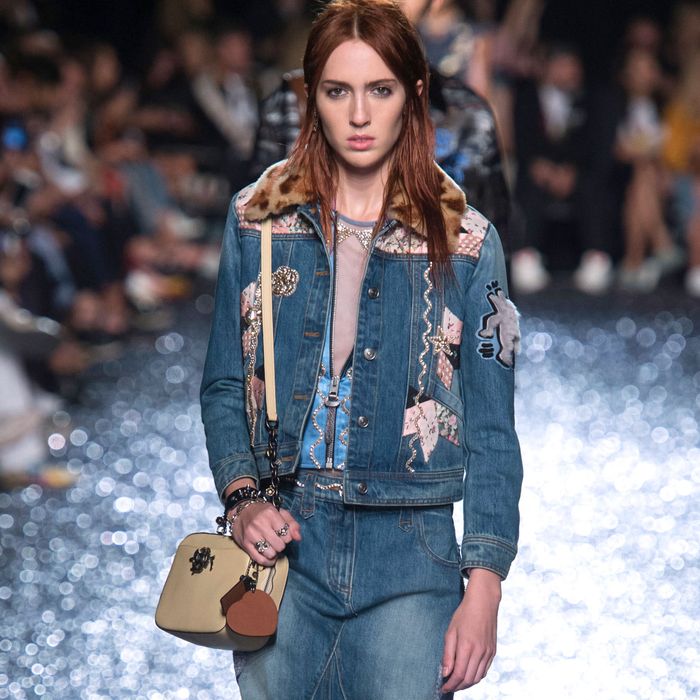 Photo: Alessandro Lucioni/Imaxtree
Model Teddy Quinlivan —who you may recognize from Saint Laurent and Prada runways, or campaigns with Oscar de la Renta — came out as transgender today, on Instagram and in an exclusive interview with CNN style.
Quinlivan, 23, told CNN that she "decided to reveal my trans identity because of the political climate in the world right now – particularly in the United States." She explained, "It's political, but I'm also doing it for myself. I was ready to come out, but I think the times we live in elevated the sense of importance and urgency."
She also released a short film via Instagram directed by Amber Grace Johnson where she and her mom discuss her lifelong knowledge that she is female.
"I always knew I was female like just in my soul, in my heart in my brain. I had to pretend to be male to appease everyone else," she said in the mini-documentary. "At one point I just stopped giving a fuck."
The fashion industry has made progress in accepting transgender people since Tracey Norman appeared on a Clairol box in the mid-1970s, with models such as Hari Nef and Andreja Pejic landing major campaigns and covers. But Quinlivan said in the video that her decision to not come out was "not only to protect my career, but it was also to protect myself from being hurt."
She told CNN she hopes one day there won't be distinctions between models and transgender models.
"If being transgender is something that gets attached to my name throughout my career, then it's for a worthy cause. But I look forward to the day when it doesn't matter."
She says repeatedly that she wants to be the hero she never had, as highly visible role models such as Laverne Cox and Janet Mock are fairly recent celebrities.
Per CNN, "Hopefully my story reaches people in the same way that the stories of Laverne Cox and Janet Mock have (already) reached trans people. There are not a lot of openly trans people in media, and I think it's really important to show people that not only am I trans, I'm (also) very successful and good at what I do."