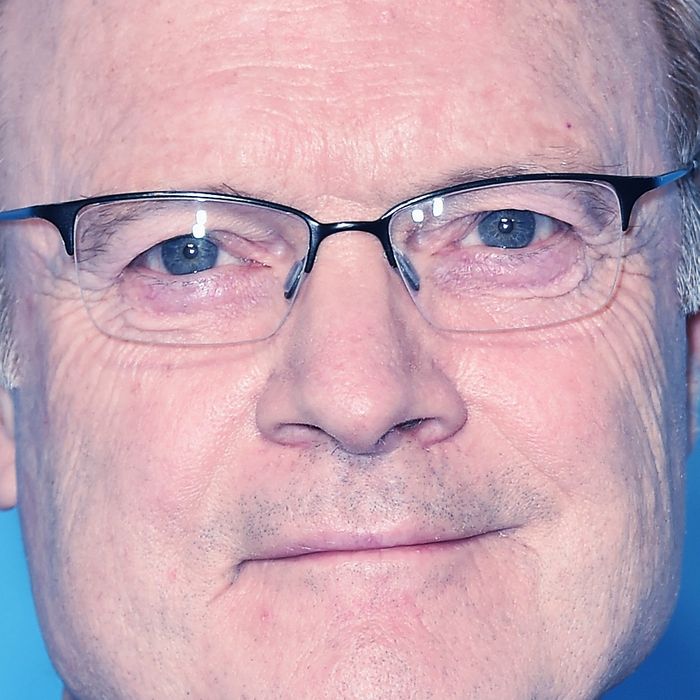 Lawrence O'Donnell.
Photo: Michael Loccisano/Getty Images
Lawrence O'Donnell has apologized after pulling a Bill O'Reilly on the set of MSNBCs The Last Word. On Wednesday, a video was leaked on the website Mediaite, which shows the anchor complaining about his earpiece, pounding on the desk with his fists, and shouting obscenities at his staff during a live show.
In the clip, which is reportedly from his August 29 broadcast, O'Donnell appears visibly frustrated with his earpiece.
"Someone in that control room is out of control," he complains, before adding, "Fuck. Goddamn it," and pounding his fists on the desk.
As the show goes on, O'Donnell becomes increasingly agitated, gesticulating angrily, shooing away a wardrobe assistant, and swearing under his breath. But the last straw comes when people begin hammering somewhere offscreen. After signing off for a commercial break, O'Donnell stands up and shouts:
STOP THE HAMMERING UP THERE. WHO'S GOT A HAMMER? WHERE IS IT? WHERE'S THE HAMMER? GO UP ON THE OTHER FLOOR. SOMEBODY GO UP THERE AND STOP THE HAMMERING. STOP THE HAMMERING. I'LL GO DOWN TO THE GODDAMNED FLOOR MYSELF AND STOP IT, KEEP THE GODDAMNED COMMERCIAL BREAK GOING. CALL FUCKING PHIL GRIFFIN [President of MSNBC], I DON'T CARE WHO THE FUCK YOU HAVE TO CALL. STOP THE HAMMERING. EMPTY OUT THE GODDAMNED CONTROL ROOM AND FIND OUT WHERE THIS IS GOING ON.
Later, slamming a pen on his desk, O'Donnell snaps, "Crazy fucking sound coming in my ear, this fucking stupid hammering. It just fucking sucks. It fucking sucks to be out here with this out-of-control shit."
On Wednesday night, the longtime anchor apologized for his behavior on Twitter, writing, "A better anchorman and a better person would've had a better reaction to technical difficulties. I'm sorry."
Watch the full clip of O'Donnell's tirade below, and watch a mashup of his meltdown and MC Hammer's "U Can't Touch This" here.