My induction into the cult of the domestic goddess took place when I was 25 years old. I had just moved into a two-bedroom apartment with my boyfriend, a roommate, a cat and some roaches. I was also working for Nigella Lawson's American publisher, which had most recently brought out her cookbook Forever Summer. This was my first real job out of college and my first time officially cohabiting with a partner, and I expended a lot of psychic energy trying to figure out how to seem more like the adult I assumed I now was. There may have been malt-liquor bottles in the recycling and an ashtray full of stubbed-out joints on the coffee table, but there I was in the kitchen, stuffing pinwheels of grilled eggplant with feta, chilies, and mint.
Nigella's mystique was so expansive and compelling that my own debauched domesticity could fit comfortably within it, if I squinted. In Forever Summer, she sang the praises of eating leftovers out of the fridge and of measuring inexactly, letting your senses and your instincts lead you toward meals that could be eaten drippingly from your fingers. I could do those things!
True, I was not, nor was I on a path to, becoming an hourglass-shaped Oxford-educated heiress with a storied romantic past. I did not have any houses or children. But when I served chocolate cupcakes enriched with Guinness to my dirtbag friends, I was transformed momentarily into someone better and more confident — a woman in her element, not a girl playing house.
Like millions of readers before me, I had been seduced by a powerful contemporary archetype: the woman who makes her living by making a very public, very desirable daily life for herself and her family. Domestic goddesses are not just chefs or cookbook writers who happen to be female; they must also perform domesticity. These women would have you believe that they cook for sensual pleasure and fulfillment, not for literal sustenance. They almost incidentally provide meals for their household and guests along the way, but that is also secondary. Tertiary — unmentioned, unmentionable — is the obvious fact that they are offering these idealized tableaux up for their readers' consumption, too. By deftly controlling the narrative, via memoiristic writing or obsessive life-documentation or both, domestic goddesses do more than teach their fans new ways to roast chicken. They use their charisma and skill to turn what has historically been a trap for women — the private, cloistered, boring kitchen — into a stage.
From my current perspective, this formative preoccupation sometimes strikes me as naïve and even a little bit disturbing. There is more than a whiff of Le Petit Trianon about thinking of domesticity as self-expression; for most of the domestic goddess's readership, cooking is still about survival, not fun. Cooking is also a tender trap, the kind that ensnares women into doing more than their fair share of the labor of running a household because after all, you like to cook, right? So it must not really be work.
Still, when I look back on the last decade and a half (i.e., my adult life), I remember it in terms of whatever goddess's feet I was worshipping at during that period — the recipes I made so many times I can never stand to make them again, and the dinners and parties where I tried to enact whatever vision of myself I was currently trying to perpetuate via chicken soup or lemon cookies.
Herewith, a brief autobiography in goddesses. It's a pantheon that's by no means exhaustive, because it's just the ones whose work I stumbled on at any given moment — some figures who might seem canonical to another worshipper just never made it into my kitchen, or haven't yet. I also tend to think of them as sortable into a handful of categories, which overlap and blend: the New York Intellectuals, the Sensualists, and the Homesteaders.
My friend Bennett recently praised a breakfast of fried polenta topped with poached eggs that I once cooked for him; I don't think I've ever felt more flattered in my life. Hearing that someone still thinks about a meal I served years ago made me feel like my fantasy of myself and the reality of my life aligned, for one fleeting moment. That breakfast was served in the apartment where I lived alone for the first, and so far only, time in my life.
I'm unreasonably nostalgic for that time and place; it was where I first discovered the essays and recipes of Laurie Colwin, and where my cookbook club first met to discuss her writing and eat her often strange food.
My Colwin period marked the beginning of my obsession with the genre of domestic goddess I think of as "New York intellectuals." These are the women who made me think it was possible, and even desirable, to write, cook, and write about cooking while raising a family in New York City; they made it seem like you could write in the morning while the baby napped, make your own bread, shop at urban greenmarkets, and entertain cultural critics at dinnertime, all in the same day. (In my actual life I think this only even sort of happened once; it involved serving Christian Lorentzen some stir-fry.)
A novelist who also wrote two books of food essays, Colwin had no formal culinary training, but her work has done more to shape the current state of food writing, especially online, than possibly any other writer I can think of. She wrote pithy, funny essays about food she liked to eat — period. She also was hip to things like "local" and "organic" food long before this was de rigueur, but her odder tastes were even more fascinating. She loved preserved black beans, oily eggplant and peppers, odd misshapen homemade breads — not just loved them, but loved them enough to painstakingly record exactly how she cooked them. Mixed with the weird stuff is a lot of very good stuff, too — her spinach-jalapeno casserole is the star of every potluck it graces, and the baked chicken she served at every dinner party till people started telling her not to was also a staple of my repertoire for many years. She died tragically young, and it's especially heartbreaking to think what unsparing, idiosyncratic things she'd have to say about the food people are cooking and serving today.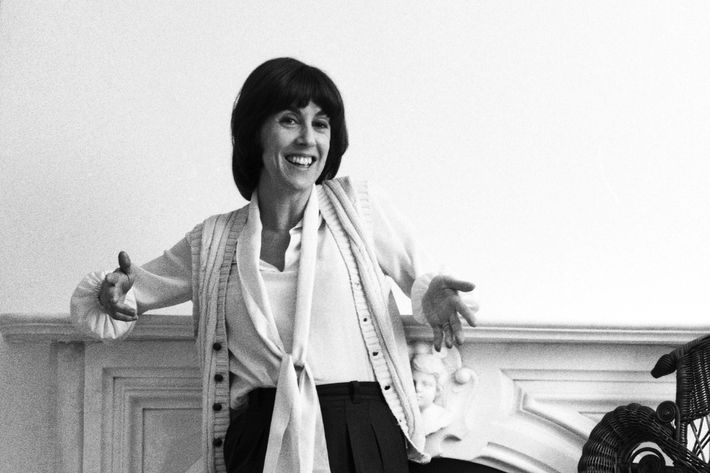 The other goddesses in this category are Ruth Reichl and Nora Ephron. "I had gotten to the point where I simply could not make a bad vinaigrette," the cookbook writer heroine of Nora Ephron's classic novel Heartburn declares, though it's less a triumphant cry than a moan of despair — while she has been cooking, perfecting her four-minute egg, and hosting a public TV show where guest Isaac Bashevis Singer makes noodle kugel, her husband has been having an affair. Still, the idea of getting to the point where one simply cannot make a bad vinaigrette is what stuck in readers' minds — as is the structure of the book, which ends each of its chatty chapters with a recipe for something inedible but intriguing, like chilled sorrel soup. Like her heroine, Ephron found herself cooking and entertaining in a way that would become, like most other things she did, wildly influential.
Before I ever lived in New York I felt like I knew it via Ruth Reichl's memoir of restaurant reviewing, Garlic and Sapphires. The whirlwind of exotic meals she described made the city seem like a mysterious wonderland that offered up bites of pure pleasure everywhere you looked (as opposed to a concrete jungle where for the first few years I would mostly live on yogurt and dollar slices). Born and raised in NYC by a mother who was an indifferent-at-best and poisonous-at-worst cook, Reichl went on to live in bohemian Berkeley just as Alice Waters's mesclun-lettuce revolution was sweeping California. She became a cook, then a restaurant critic, then eventually swapped coasts to write reviews for the Times. Later, she served as EIC of dearly departed Gourmet magazine for many years. Her total lack of self-consciousness about dipping into purple prose is her most endearing trait. She tweets each morning about her breakfasts in quasi-poetic fashion: "Edgy weather. Air damp, sultry. Clouds drift in uncertain sky. Not an animal in sight. Black coffee. Hot, chile-fried rice: the needed jolt." It would be easy to mock her (indeed, parody accounts exist for the purpose of doing so), but it's just as easy to respect her as you eat your instant oatmeal.
Then, there are the "sensualists" — women who, like Nigella and, lately, Chrissy Teigen, often seem to risk dripping butter onto their formidable bosoms as they convey a delicious bite to their mouths. They distinguish themselves from the intellectuals via richness, of all kinds. They are heiresses and moguls, and they do not stint on anything. If the Intellectuals' tales of satisfying dinners for one in a West Village studio apartment defined my twenties, the Sensualists — with their effortless beach picnics at their second or third homes — are the goddesses of my thirties.
Their foremother, in a way, might be Gael Greene. Greene was New York Magazine's food critic for 40 years, and she also wrote several books.
The one I've read is a novel called Blue Skies, No Candy and it features many scenes of people eating rich meals and then immediately having lightly kinky sex — impressive, if impractical. Greene's writing and her "insatiable" persona harken back to a bygone era of NYC, when people who weren't necessarily famous or foreign oligarchs or even particularly rich at all, lived and ate and partied in Manhattan.
Ina Garten gets to be in the sensualist category mostly for having "Barefoot Contessa" be her nickname and for adding so much butter to so many things. She started out as a purveyor of fancy foods in the Hamptons and gradually developed an empire of books and TV shows, which exist mainly to sell the cookbooks, which sell in the millions. Her focus is on entertaining, and on selling a vision of accessible rich-person party food.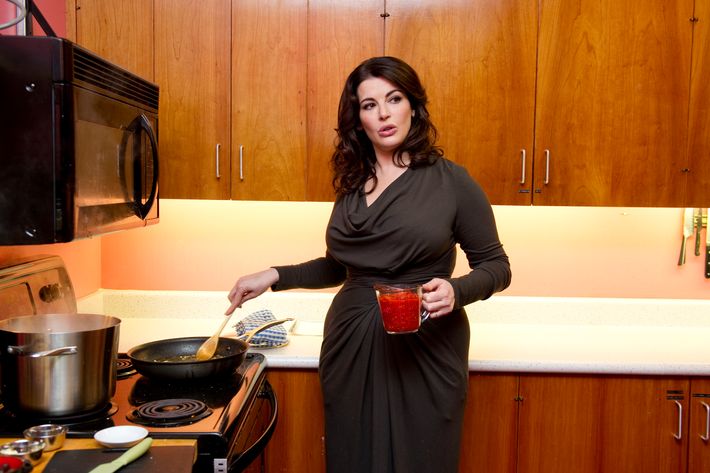 Nigella Lawson literally published a book called How to Be a Domestic Goddess, and as I mentioned earlier, her cookbooks had a formative effect on my young life. They are also mega-best sellers, though her star has dimmed slightly of late (though not as much as you might expect) in the wake of a messy divorce from mega-rich person Charles Saatchi. She is still, at 57, preternaturally beautiful and sexy, in an unconventional way — her face and body and complexion seem to belong to another time and place. She looks like a Whistler portrait of a society beauty, but with larger breasts. Her recipes also really work, despite their sometimes too-casual instructions. I've made the ricotta pancakes from Forever Summer and the Brussels sprouts with chestnuts from her Christmas cookbook dozens of times.
Another type of goddess, and perhaps the kind I relate to least, is the "homesteader." I'm thinking of the Pioneer Woman and her acolytes; people whose brand is that they moved to a farm and now they write blog posts full of affiliate links with long lead-ups to a recipe for slow-cooker lasagna. Maybe the appeal of the homesteader has to do with the desire to be in control — imagining that you can deal with whatever comes your way, whether it's an attack on NYC or a deer carcass to be butchered.
Their foremother, whose works I view with an appropriate level of frightened reverence, is Martha Stewart. I spend a slightly worrying amount of time thinking about how I might ride out an apocalypse at her Westchester estate, if she'd let me. Let's say there's a nonnuclear but otherwise devastating attack on NYC — all I'd have to do is get on a bike and somehow make it to Katonah. There, at the property most often featured on Martha's delightfully lo-fi blog, she keeps livestock and pets and runs a garden so extensive that it's really more like a farm. It would take a long time for the assorted staff members and my closest family and friends to run through the storehouses there. Maybe we never would! I really hope we wouldn't have to eat any of the pets, which include cats, dogs, horses, and peafowl. (In reality, I suspect Martha would sooner eat me.)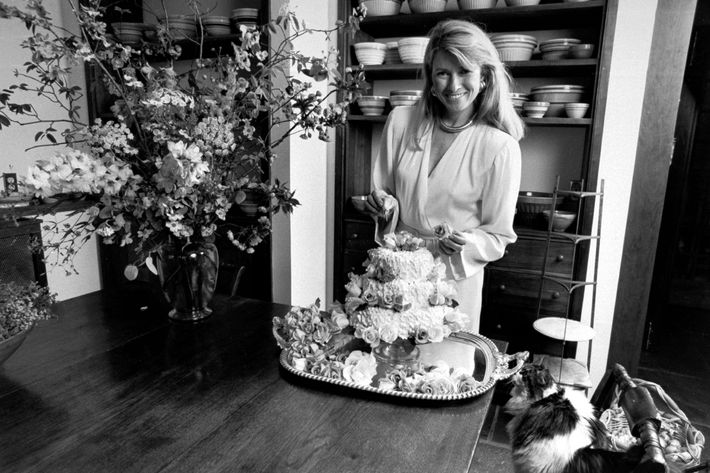 Martha is also the author of countless cookbooks, the editor-in-chief of an eponymous magazine, and the host of several long-running TV cooking shows, most recently a VH1 show co-hosted by her friend Snoop Dogg. She went to jail for insider trading in 2004 for six months, then after her release entered into the most high-profile and successful period of her career. She has branded product lines that range from housewares to literally houses. But the blog is really the best thing of all; I recommend spending time in the "My Pets" tag and really reveling in her posts about her peafowls' new trellis and her horse Banchunch's bath day. The HTML is always broken on the epic slideshows' photo captions and no one in her billion-dollar empire is brave enough to say anything about it, I guess.
There is something inextricably maternal in the domestic goddess archetype, and if you're cooking a certain kind of vegetarian food, the words "earth mother" come to mind. For me, the domestic goddess who's the most earth-mothery also reminds me most strongly of my literal mom: Mollie Katzen. They're the same age and have roughly the same haircut, and their cooking styles are so similar it's hard for me to tell where one ends and another begins. Katzen's classic Moosewood cookbook, with its tabouli page splattered and almost unreadable with use, still has a prominent place in my mom's kitchen. I have a copy too — and honestly, everyone should, though if you're buying it used make sure not to get any of the editions that came out during the fat/cholesterol-phobic '80s. If you're going to cook '70s-era vegetarian "health food," cover all those beans and tofu and bulghur-stuffed peppers with eggs and cheese as the goddess intended. Today's "wellness"-oriented food writers are all Mollie's children — yes, even Gwyneth Paltrow. This is the food of my childhood — and now, my child's childhood too, whenever I can muster the energy to actually follow a recipe.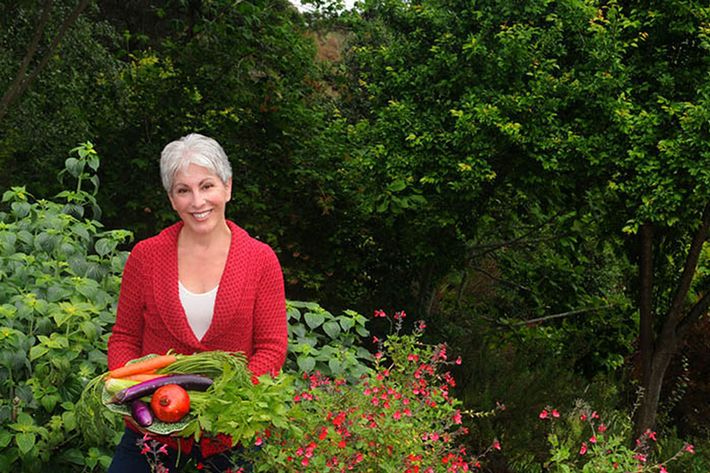 Literal motherhood looms large in my current domestic life. My son is two. Meal planning right now is about convenience, nutrition, and budget; friends sometimes join us for dinner but are subjected to the same homely fare we always eat. Thinking about the kind of meal that I used to spend days shopping for in advance, buying spices at one store and meat at another and vegetables at a specific stall at the farmer's market, makes me feel nostalgic but also preemptively exhausted. Why not just go to a restaurant, where they do all that for you?
And yet, whenever I'm too sad or brain-dead or burnt-out to read anything else, I still reach for the books and cookbooks that pulled me into the kitchen in my twenties. The meals they describe still enthrall me, even though I now know that my life will never live up to my fantasies.  A friend and I were recently talking low-level trash about a mutual acquaintance whose feed is full of the delicious meals she serves her guests at a seemingly ongoing dinner party. "I wish I could be like that," I finally admitted, and realized that I'm sad that performative domesticity turns out not to be my calling. It's not in my wheelhouse to be so scrupulous, or so organized, or so good at hiding the scut work that takes place behind everyone's scenes, even that Instagrammer's, maybe even Nigella's. Still, part of me aspires to be like the heroes of my youth: women who make every part of their lives, even dinner, a work of art.