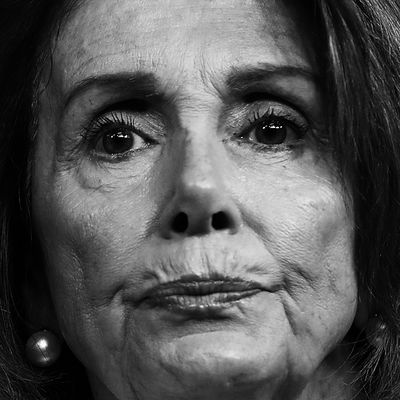 Nancy Pelosi.
Photo: Win McNamee/Getty Images
A week after blindsiding his own party's leadership by agreeing to a democratic proposal to raise the debt ceiling, President Trump has been negotiating with Senate Minority Leader Chuck Schumer and House Minority Leader Nancy Pelosi to reach a deal regarding the Deferred Action for Childhood Arrivals, or DACA. On Wednesday, Schumer and Pelosi attended a dinner in the Blue Room of the White House to discuss the fate of the 800,000 undocumented immigrants who were brought to the U.S. as children, and while they seem to have emerged with a tentative deal, Pelosi reportedly had to fight to make her voice heard. Via the Washington Post:
At one point, Commerce Secretary Wilbur Ross asked, "What exactly does the president get out of this deal?" As Pelosi, the only woman at the table of 11, tried to make her point — that the president gets the cooperation of the Democrats, which he will likely need on a host of issues — the men in the room began talking over her and one another. 




"Do the women get to talk around here?" Pelosi interjected, according to two people familiar with the exchange. 




There was, at last, silence, and she was not interrupted again.
Even without any further interruptions, the outcome of the dinner remains unclear. In a joint statement with Schumer and Pelosi that night, the president said, "We agreed to enshrine the protections of DACA into law quickly." But the next morning, he tweeted, "No deal was made last night on DACA. Massive border security would have to be agreed to in exchange for consent. Would be subject to vote."
Schumer and Pelosi said the president's tweets were "not inconsistent" with what they had discussed at dinner.
"We agreed that the President would support enshrining DACA protections into law, and encourage the House and Senate to act. What remains to be negotiated are the details of border security, with a mutual goal of finalizing all details as soon as possible."