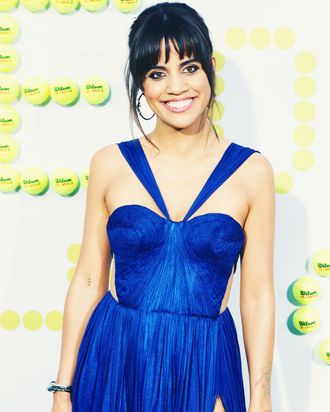 Natalie Morales.
Photo: Greg Doherty/Patrick McMullan via Getty Image
If you're the skeezy photographer who purposefully photographed Natalie Morales's vagina at the Battle of the Sexes premiere, you picked the wrong actress to mess with.
On Monday evening, Morales tweeted that a photographer contacted her with pictures of her "wardrobe malfunction" at the Battle of the Sexes premiere. The photos in question allegedly show inside of Morales's dress. Or, as Morales put it, "These are pictures they PURPOSELY took up my skirt TO GET A SHOT of my vag."
The rest of her original tweets read:
These are photogs who go to red carpets to take photos of women.. to what, embarrass them? Because they have bodies under clothes?" she continued. "So you're gonna come to an event that I've waited my whole life for, that I'm super proud of, to try and exploit my body? For your gain? Not that it would be ok at any time, but you know, this specifically, is a red carpet, so I'm there for you. There's a silent contract. I'm there to promote my movie, you're there to take pics you can sell. Pics I'm POSING for, that I've agreed to. Pictures of my face and body, covered in whatever way I see fit. I didn't pose for you to angle your camera up my skirt. And yeah, it's a high-ass slit because I like the way my leg looked & I wanted to get me some of that Angie look, but I wasn't showing you my bits. Also, JOKES ON YOU, I was wearing skin colored underwear so you can't actually see my bits. But if you could? I wouldn't be embarrased. But YOU should be. What a disgusting, horrifying job you have.



Morales followed up her post the next day, after requests for comment. Her longer response addressed the photographer, how paparazzi photographers treat celebrities, and how women as a whole are sexualized.
While being violated at a red carpet may not be a universal experience for women, being reduced to and exploited for having a woman's body often is.