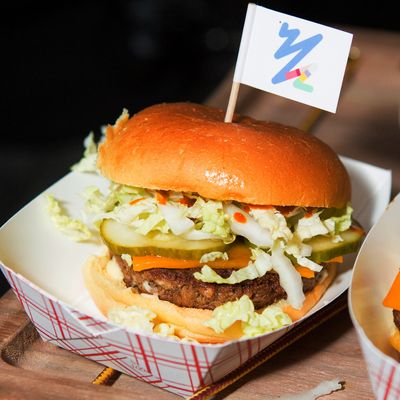 The Impossible Burger at Opening Ceremony.
Photo: Hagop Kalaidjian/BFA.com/Hagop Kalaidjian/BFA.com
As far as we're concerned, the best, biggest, juiciest trend at New York Fashion Week this season was hamburgers.
The week began with "beefcake" male models at Tom Ford serving beef patties, and ended with a classy Ralph Lauren Polo Bar burger. In the meantime, Philipp Plein offered his own, "limited edition" branded burger, and Alexander Wang, who arguably started the Fashion Week fast food trend, had Shake Shack to appease the crowd at his "guerilla" show in Brooklyn.
At the Opening Ceremony show, guests sampled New York's Impossible Burger — a veggie burger engineered to "bleed" just like meat. Talk about good dinner-party fodder.
Fashion and food connoisseur Aziz Ansari was in the crowd that night. He said that although he hadn't had an Impossible Burger before, Shake Shack had to be his favorite New York beef spot. "It's just so consistent," he said.
When we asked what his preferred Fashion Week food was, however, Ansari replied: "Wine." Noted for next year.
Below, we rated all the best burgers of New York Fashion Week in the name of journalism. Read on to find out their scores and see which ultimately racked up the most points.
1. Tom Ford's Beefcakes Serving Beef
Necessity: 5/10
The show "started" at 8 p.m.
Presentation: 10/10
Beefcake men serving beef. Genius!
Taste: 6/10
We were too busy ogling to taste, but rumor has it the Los Angeles designer brought In-N-Out to New York.
Total Score: 21

2. Alexander Wang's Shake Shack (and Doughnuts)
Necessity: 7/10
A consolation prize for waiting in the cold.
Presentation: 1/10
Some ended up smushed on the sidewalk.
Taste: 6/10
They were Shake Shack, and everyone likes Shake Shack. Little lukewarm, though.
Extra Points: 5
For doughnuts.
Total: 19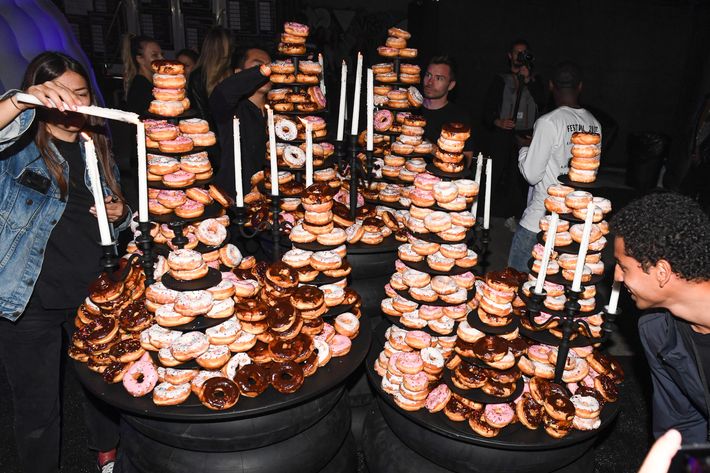 3. Philipp Plein's Branded Burgers
Necessity: 6/10
Another long, late night.
Presentation: 6/10
"Limited edition."
Taste: 4/10
Good stress food; bad taste.
Total: 16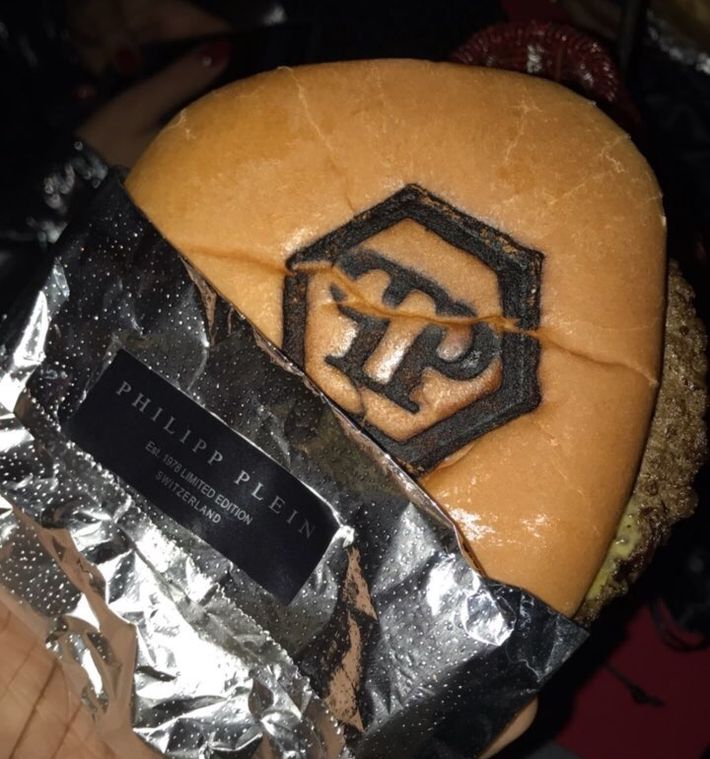 4. Opening Ceremony's Impossible Burgers
Necessity: 3/10
Dinner before a show; not necessary, but a nice touch.
Presentation: 5/10
Points for fun flags.
Taste: 7/10
The Impossible Burger is just that: It's vegetarian but it BLEEDS!!!
Total: 15
5. Ralph Lauren's Polo Burgers
Necessity: 6/10
After traveling two hours to Bedford for the show, guests definitely deserved dinner and dessert.
Presentation: 7/10
Dinner was served in Ralph Lauren's garage amidst his million-dollar car collection.
Taste: 8/10
At the Polo Bar uptown, the burger costs a cool $28 dollars, so it better taste good.
Total: 21
Winner: Tom Ford and Ralph Lauren
A classy tie for two classy, burger-loving dudes.