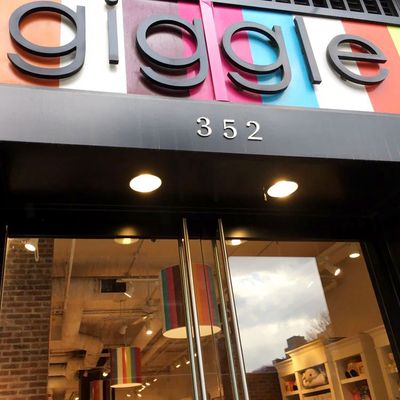 Giggle.
Photo: Courtesy of Yelp/Ozzie F.
Manhattan moms who can afford to spend $1,800 on a stroller are reportedly in a state of panic, as upscale baby retailer Giggle is preparing to close its last store in New York City.
As the New York Post reports, Giggle — a "posh" baby chain — quietly closed down its Soho and Upper East Side stores last week, and transported its remaining strollers, clothing, furniture, and bedding to its location on the Upper West Side. But according to documents filed in Manhattan state court, that store is about to go out of business as well — and moms are not happy about it. Per the Post:
As word of the store closures spread — moms and moms-to-be took to the UES Mommas Facebook page to rant — and to panic. Many of them had recently purchased expensive items from the stores, had their baby registry with it or were sitting on generous gift cards that might be worth nothing now.
One mom-to-be told the Post, "I have $1,000 in Giggle gift cards that I don't know what to do with." An Upper East Side mom told the newspaper that she recently purchased an $1,800 Bugaboo Donkey stroller for 25 percent off. But the stroller arrives in three shipments, and she's reportedly still waiting for the final one to arrive. Another explained that she still had $368 left on a gift card from her baby shower a year ago.
"I'm surprised that they would treat their customers this way in the end with zero information," the mom told the Post. She added that she tried to use her gift card at the retailer's other locations in California and Colorado, but that the stores were picked clean and she ended up just buying a $1,000 stroller on Craigslist. As the Post notes, Giggle is also closing its Denver, Santa Monica, and San Francisco stores. It's unclear whether moms will have a chance to use their gift cards at the other Giggle locations before they shut down, or if they'll also have to resort to shopping online.