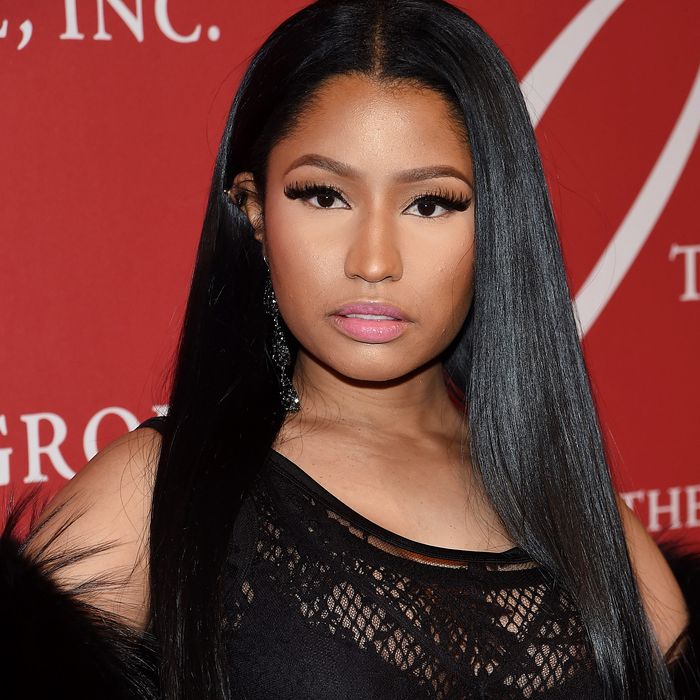 Nicki Minaj.
Photo: Jamie McCarthy/Getty Images
Besides Marc Jacobs, there are almost no shows during New York Fashion Week, or any fashion week for that matter, that start on time. In this way, the term "fashionably late" is very much a real thing, but Nicki Minaj set a new standard on Friday afternoon at the Spring 2018 Monse show, which took place at an indoor basketball court in Manhattan.
She was over 40 minutes late. Swish, swish.
This is what a power move looks like: making Paris Hilton, Sofia Richie, Kate Bosworth, all of New York's top editors, and even, uh, Minnie Mouse — all of whom were front row — wait patiently for you to grace them with your presence. Most celebrities are late. But Nicki Minaj was really late.
Friday was Minaj's first Monse show, which had a distinctly different vibe this season with sequin basketball jerseys and ripped jeans. (Last season's front row included Iris Apfel, Zosia Mamet, and Christina Ricci, so clearly designers Fernando Garcia and Laura Kim are looking to broaden their fan base.)
However, this was not Minaj's first front-row splash. At the Haider Ackermann show in Paris last season, she casually wore nothing but a pasty over her left breast.