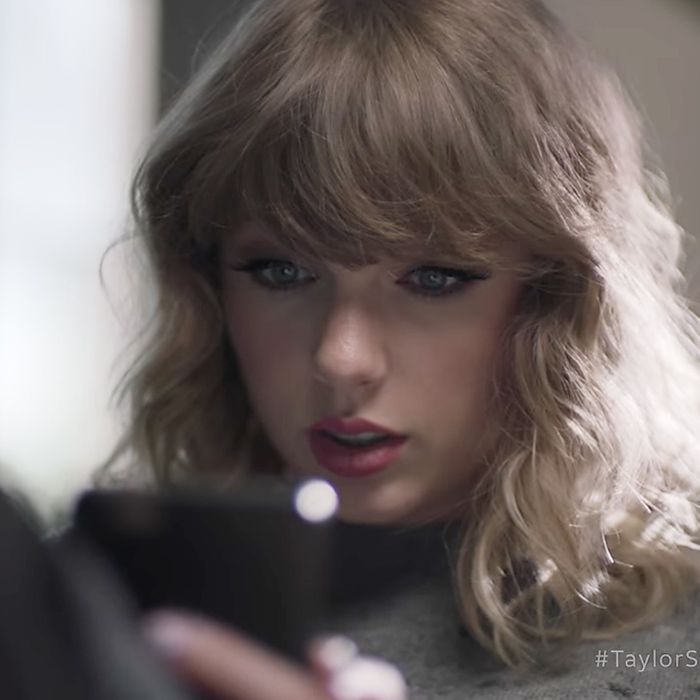 Jay-Z may be a business, man, but no pop star has arguably done more for capitalism than Taylor Swift. From Diet Coke to Unilever to the Big Apple itself, Swift has always been extremely canny about her corporate partnerships, and her most recent album release is proving to be no exception. In the lead-up to Reputation, you can pick up exclusive Taylor Swift "magazines" at Target, watch her ham it up with Andy Samberg in a new AT&T ad, and even see her face emblazoned on the side of a UPS delivery van. Here, a (semi) comprehensive list of Taylor Swift's corporate cash grabs:
– AT&T: Starred with Andy Samberg in a commercial for DirecTV.
– UPS: Emblazoned her face on their vans after making them her "official delivery partner."
– Keds: Face of their global rebrand.
– Apple Music: Lip-synced in a series of ads for the music-streaming service.
– Glu Mobile: Partnered on a mobile game.
– Elizabeth Arden: Created a signature fragrance.
– Target: Exclusive album releases and Reputation magazines.
– Diet Coke: Multipurpose brand ambassador.
– College football: Debuted "Ready for It" during a commercial break.
– ABC: Debuted another clip of "Ready for It" during a fall-TV promo.
– Ticketmaster: Partnered to let fans earn "boosts" that help them get tour tickets.
– Comcast Xfinity: Lead sponsor of U.S. tour dates.
– American Express: Teamed up with Amex Unstaged to create a "360 degree" immersive video experience for "Blank Space."
– Unilever: Brand partnership with Cornetto.
– New York City: Global welcome ambassador.