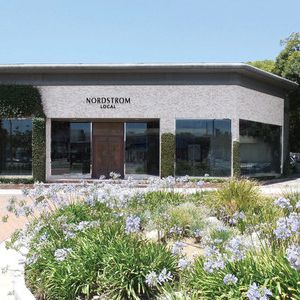 Nordstrom Local.
Photo: Adam Grutz WQ3L/Nordstrom, Inc.
Nordstrom is experimenting with a new kind of clothing store: one that doesn't stock clothes. This week, the retail giant announced it was launching Nordstrom Local, a line of small stores that will offer free consultations with personal stylists, manicures, a tailor, and a fully stocked bar, but won't carry any merchandise.
The first Nordstrom Local will open in West Hollywood on October 3. At 3,000 square feet, it is almost 50 times smaller than traditional Nordstrom locations, which are around 140,000 square feet. Instead of wandering through row after row of merchandise, customers can consult with a stylist and order the clothes online to be delivered to the store that same day.
"Shopping today may not always mean going to a store and looking at a vast amount of inventory," Shea Jensen, Nordstrom's senior vice-president of customer experience, told The Wall Street Journal. "It can mean trusting an expert to pick out a selection of items."
Nordstrom is the latest company to try to draw online shoppers into physical stores. Online retailers like Warby Parker, Bonobos, and Rent the Runway have all opened showrooms, and Amazon has opened seven brick-and-mortar stores across the country, in addition to the nearly 500 Whole Foods locations it recently acquired.
"That's the big question on everybody's minds: How do you create a hybrid between shopping online and in store?" Milton Pedraza, chief executive of the market research firm Luxury Institute, told the Washington Post. "Nobody has figured it out just yet, so the stakes are very high."