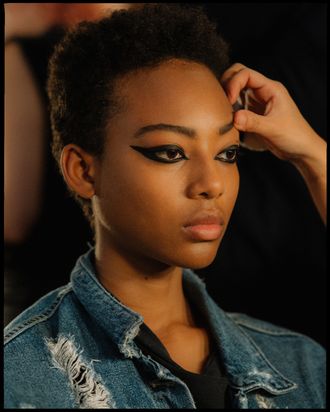 There's always Marc Jacobs. In a season of quiet makeup and hair looks, here he comes to show us that it doesn't take much — just some steady hands and trusty black eyeliner — for beauty to feel exciting.
Backstage, every makeup artist was given the task of drawing one of eight variations on a 1960s-eque cat eye. Some had pointy inner corners, some had winged corners, others had corners with double liners, and some had just an underline, but all were dramatically beautiful, unapologetic versions of a strong black eyeliner look, loosely inspired by 1960s Harper's Bazaar covers.
The show started at 6 p.m., but at noon makeup artists were already taking their time to precisely draw on the cat eye for each model. They began at the waterline, using pencil eyeliner (Marc Jacobs Beauty Fineliner with Blacquer and Highliner in Blacquer) to draw from the inside out, then line underneath the eye. Rounder eye shapes follow the natural curve of the top lashline, while those with flatter eyelids got a straight-across line. Slow, methodical strokes of liquid eyeliner (Marc Jacobs Beauty Liquid Eyeliner in Blacquer) went over everything to deposit the truest black color.
Each makeup artist also had dozens of pointy Q-tips dipped in makeup remover to sharpen edges and clean up smudges, because this was not a 5-minute-dash-it-on kind of look. Each cat-eye took about 30 minutes, give or take.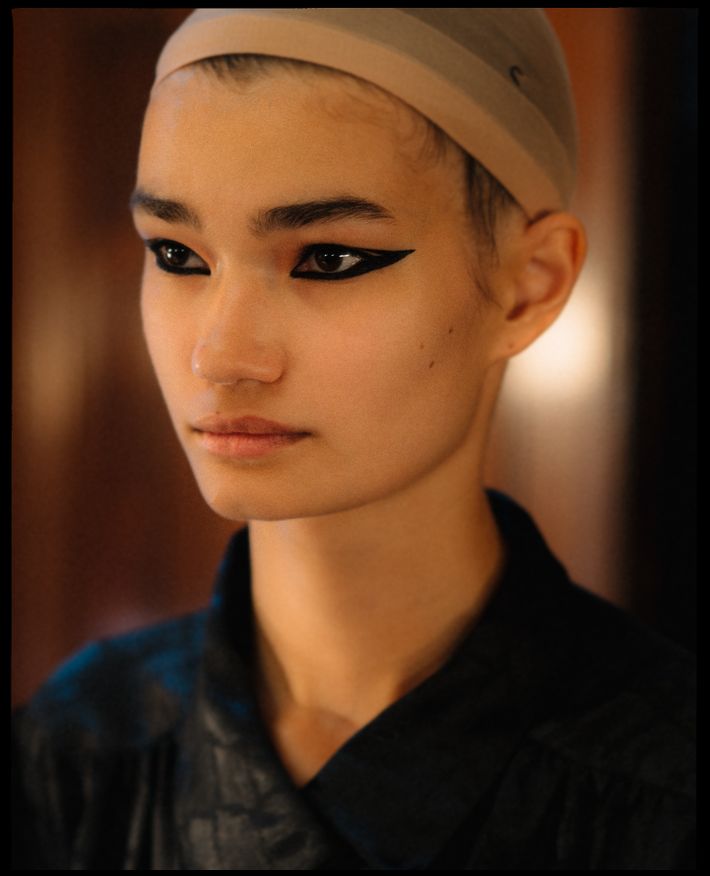 Makeup artist Diane Kendal personally chose and tailored each model's eyeliner look, so while there were technically eight looks, about 50 different versions walked the runway. Making the eyeliner decisions came naturally to Kendal, but her advice to those at home is to make slight modifications depending on your eye shape.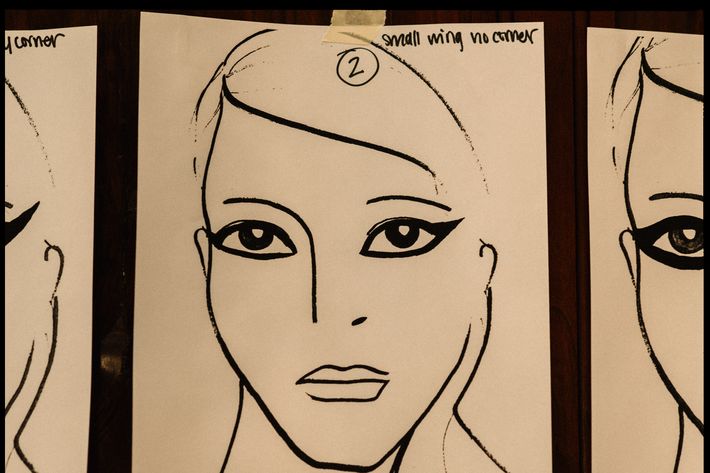 "If your eyes are more close-set, don't do the inner eye corner points, or that will exaggerate them. With rounded eyes, you can make the outer corner a little thicker and extend it out further for a more elongated eye. And for those blessed with a naturally almond shape, they can do the inner and outer corner. But a general rule for doing an elongated outer line is to not extend beyond the eyebrow. Keep it within a good distance."
The mix of pencil and liquid liner textures helps lock in the durability of the look, Kendal explained. To keep the look modern, she used minimal foundation and a natural, touchable nude (Marc Jacobs Beauty Le Marc Liquid Lip Creme in Slow Burn 458).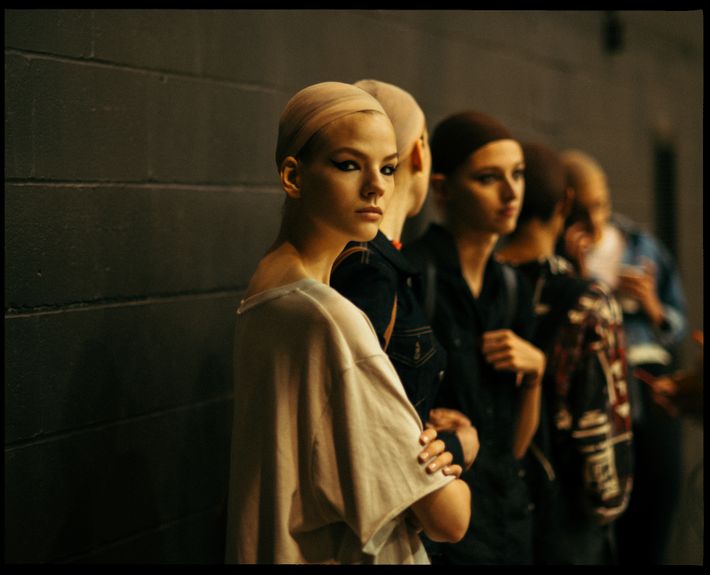 With the focus on the cat eyes and groomed brows and head wraps by Stephen Jones (a late 60's Diana Vreeland kind of era), hair stylist Guido Palau had a relatively relaxed day. "My job was to get rid of the hair," he laughed. Each model was given a doobie wrap of sorts, with hair blow dried, tightened, and flattened to the head in a circular pattern using Redken's Hardwear Hair Gel.
Manicurist Jin Soon Choi used six shades of Marc Jacobs Polish so new that they don't even have names yet, coordinated to match the colors in the collection. "Marc always wants something different, so he thought up a grown-out manicure, but perfect-looking," she said. Each models' nails were given a tiny half-moon of no polish to go with their glossy manicures of cherry red, peach, coral, slate gray, dahlia, or black. Like last year, Jacobs continues to prove that the best beauty is when it isn't standardized, and you make your own choices.