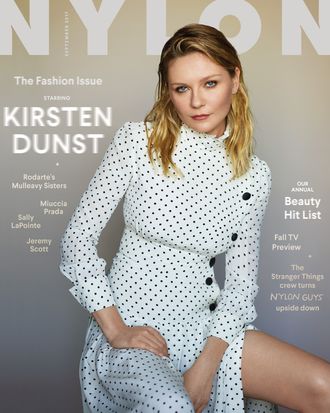 Nylon magazine will no longer publish a print edition, WWD reports. The fashion publication's October print issue will be its last, and Nylon will be digital-only moving forward.
The magazine's staff learned about the closure on Thursday afternoon, and Nylon Media executive chairman Marc Luzzatto said in an announcement that its 12-member print staff would be laid off "effective immediately," according to WWD.
"As a result of the restructure, there will be about one dozen layoffs effective immediately. We would like to thank those employees for their dedication in keeping Nylon continuously ahead of the curve," Luzzatto said in the announcement. "As platforms emerge and change, our voice, content and brand keep getting stronger, as do our array of marketing solutions."
WWD notes that rumors that Nylon's print edition would fold had been making the rounds for quite a while. Nylon Holdings Inc. was sold to FashionIndie.com back in 2014, and by the next year, Nylon Guys folded its print edition and 13 staff members were cut.
Shifting its focus to digital, Nylon will apparently place an emphasis on reaching young women through video, an influencer program, and its internal creative agency. "Nylon Studios and its hypercreative team have a deep understanding of our Millennial and Gen Z audience, and creates highly impactful integrated campaigns for the industry's most iconic brands," Jamie Elden, president and chief revenue officer of Nylon Media, told WWD.