See Every Princess Diana Riff From the Off-White Spring 2018 Collection
As Virgil Abloh announced on Instagram this August, he was inspired by the many looks of Princess Diana for his Off-White spring 2018 collection, which he presented a few months after the 20th anniversary of her tragic death. On Thursday at Paris Fashion Week, his runway show truly lived up to this promise, and even took it a step further.
Out of the 37 looks that walked, a majority of them could be traced back to specific outfits that Diana wore during her short 36 years of life. There were obvious references, like the polka-dot print that called out a certain polo-match outfit or the billowing tulle gown that resembled Diana's wedding dress. Naomi Campbell closed the show in jogging shorts, which Diana often made headlines for wearing while exercising. Abloh also included clutch bags bearing the names of publications that Diana had a love/hate relationship with, like People, Time, and Life.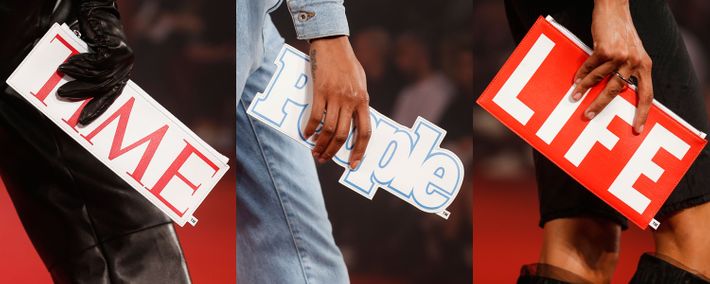 But then there were subtler details, like the mismatched gloves that Diana wore to the America's Cup Ball in 1986, sunglasses hanging from the neck, or a tie tucked into a belt. In a Netflix documentary on Diana's death that came out this summer, one of the most striking, distinctly relatable clips featured Diana nonchalantly kicking off her heels before entering a mosque. In Abloh's show, two models carried their heels down the runway, opting for sneakers instead.
Overall, the collection was a touching homage, as well as a thoughtful reinvention of some of the most photographed looks ever. See every riff from the collection, below.