When I was 19, I took a cruise to Alaska with my mom, dad, and a high-school friend. It was actually my worst trip ever. My college boyfriend dumped me via phone on the first day. While my family and traitor friend did things like view majestic glaciers, pet sled dogs, and eat Alaskan-king-crab legs, my cruise activities were crying in the shower, hanging precariously over balconies desperately trying to get my Blackberry to pick up a signal, and making everyone as miserable as I was.
Still, I hold it dear to my heart. Riding that floating buffet of soul-sucking heartbreak meant that for a little while, at least, I had managed to one-up Oprah Winfrey — who, as of the beginning of this year, had somehow never been on a cruise, or to Alaska.
Fortunately for Oprah, 2017 is (by proclamation of Oprah) Oprah's "Year of Adventure": 365 days of her living her best life through challenging yet exhilarating travel experiences, all documented in the pages of O, The Oprah Magazine. So far this mandate has taken her to the Grand Canyon with Stedman, hunting for truffles in Umbria, and yachting with the Obamas in Bora Bora. But Oprah decided that Bora Bora with the Obamas wasn't enough — she needed more. She needed that cruise to Alaska. And in her infinite magnanimity, Oprah wanted to share this experience with her fans. So she plotted course from Seattle to Juneau to Sitka to Ketchikan and back, offering special Oprah programming for a rollicking seven days on the high seas. This summer, Oprah set sail, bringing her BFF Gayle, a selection of gurus, a few O Magazine editors, and the roughly 2,000 Oprah megafans who booked passage on the official, inaugural O, The Oprah Magazine Adventure of Your Life Cruise.
I suspect my mother has never forgiven me for torpedoing our big trip to Alaska all those years ago, and I know for a fact she's really never forgiven me for going to the 2013 Oprah Arena Tour without her. My mom has been following Oprah since Oprah was just an anchor in Baltimore and is her "biggest fan." This is how we have found ourselves in a Seattle hotel room, preparing to board the H.M.S. Oprah, a.k.a. a seven-day Holland America Cruise around Alaska. We embark with missions. She: determined to meet Oprah. Me: curious if seven days aboard the S.S. Self-Help will radically change my life. Both of us determined to "have a nice trip" and not to murder each other as we shared this adventure with the Oprah superfans. O-nchors away!
In addition to the standard passport check and bag scan at the cruise ship terminal, all passengers boarding the boat have a mandatory photo opportunity with a fake O, The Oprah Magazine cover featuring Oprah looking resplendent in a white gown.
"All Aboard! Live your best life in Alaska!" the magazine commands everyone who cheeses sweatily in front of it.
"See, mom? I promised you would meet Oprah!" She doesn't laugh. We ascend the gangway.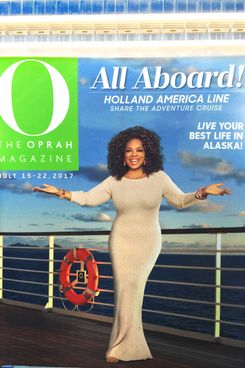 The first thing to do onboard is to acquaint ourselves with our room and our neighbors. Apparently, my mom has already met one woman she doesn't like, Rhonda. I find Rhonda gregarious. My mom thinks she's too loud. Mom's also found out we're living two floors down from Oprah's suites, and that Oprah herself won't actually get on the boat until we arrive in Juneau.
We consider the week's itinerary, and decide in advance what we'd like to do. Over the next seven days, in addition to "off-board excursions," there are onboard Oprah's Book Club meetings, Weight Watchers–friendly food seminars, presentations from Oprah's cabal of thought leaders and soul fluffers, and limitless chances to talk to other Oprah megafans about how much we love Oprah. A few lucky people who were able to buy tickets in the 12 minutes before they sold out will enjoy an intimate dinner with Oprah. We were not those people. Mom's excited for the book club, and for me to figure out how to get her into that dinner, nudge nudge.
Setting out to meet the people I'll be spending the week with, I grab an O-specialty cocktail and settle at a table behind four women in matching purple, glittery This is your moment. Own it! T-shirts. Patsy and her three daughters all look the same age and all love to go dancing in clubs ("My mom twerks!" one daughter says, either in total awe or in total horror.) They all went to the Live Your Best Life tour and have decided to dedicate their biannual girls' trip to this cruise. They were going to go to Greece, but, well, they're Oprah's biggest fans.
This is a genre of conversation I expect I will have every 15 minutes for the next week. I'm already tired, but I'm also excited? It is exciting to be here. There's a buzz in the air. This ship will run not on gasoline but on hopes and dreams and sisterly bonding and life-universe-energy faith. We'll never need to refuel! Gayle, dressed in an O-logo visor and an ombré bodycon dress that looks like the sunset, hoists a pale green O flag in the air. The engines start.
Not only does the flag-raising Champagne ceremony mean we're officially cruising, it also means the special O-shop is open for business. There's a small stampede down to the store, which sells a selection of Oprah's Favorite Things (foot creams, snacks, jewelry, soap).
"Hey! Can you guys get in a photo?" a producer asks me and a woman with graying blonde bowl-cut. We're buying the same mint-green Corkcicle bottle and white baseball cap, so naturally, a photo op! The entire experience is being extensively documented.
I ask my Corkcicle friend why she's come on this trip. "Well, I'm Oprah's biggest fan!" she answers, and explains how she really just felt like she was meant to be here. "Like even this moment, you and me, brought together, buying the same stuff! That's meant to be!" As she's talking she reaches into her tote bag and pulls out a big pink stuffed wand with the words Magic Is Everywhere embroidered on it. She squeezes it, and it makes a tinkling noise as she waves it over my head. "Angels are everywhere, you know!" she says. "Can you see the angels between the two of us?"
I decide it would be more enjoyable to risk my life by joining the crush of women trying on Chico's than to stick around and pretend to see angels. So I attempt to get some pants. I once survived a mosh pit at a Rage Against the Machine show, and that was less scary than trying to grab Chico's stretch pants in my size. All of a sudden there's a loud scream, and sobs from a shopper who got a charley horse. She fell in the middle of the Chico's section and is writhing on the floor in tears. People are not fucking around. They'll risk anything for affordably priced and comfortable separates beloved by Oprah.
I am now drunk, back in our room, wearing a two-piece Chico set and my new Oprah hat. I just bought those things. I also got some foot cream, a plush blanket, and the gummy candies Oprah swears by. Eventually everything but the gummies will be at the bottom of my closet, but in this moment I am certain I need it all. My mom bought a necklace, and somehow missed the entire Charley Horse Incident. Shopping, to her, was very pleasant. She was given chocolate.
That night our room attendants leave us a journal and a pen. Tomorrow, says a little pamphlet on the bed, is the first day of the rest of your lives!
Today is an "at sea" day, which means we're stuck on the boat. You can look at that as either "I'm trapped on a floating prison," or "I get to stay forever on a floating wonderland!" I awake for at 7 a.m. for my first "Just Breathe" guided meditation, where I learn that perception is reality. I've yet to decide if I perceive Prison or Wonderland. After meditation, I have a light breakfast of just one waffle and a pastry, and make small talk with Gayle in the cafeteria. Captivity has its perks.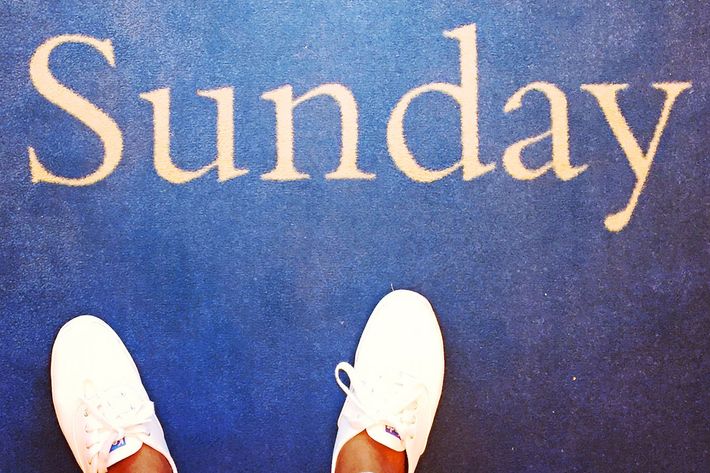 I learn from the daily printed schedule that today there will be two talks: Gayle will moderate a Q&A with Angela Davis, and then the O, The Oprah Magazine team will explain how all those magazine covers featuring only Oprah get made.
Around 3 p.m., about 200 or so fans gather in the auditorium for our first official presentation of the trip. People are sipping cocktails and laughing — it's like spring break!
"Ugh, there's that woman," says my mom, digging her elbow into my side and gesturing toward Rhonda, her enemy. Mom notes, with narrowed eyes,  that Rhonda has already charmed her way into better seats than ours. The lights dim. My mom pulls out the journal Oprah gave us last night, eager to take notes.
"Who is that?" My mom hisses, indicating to the stage. Standing next to Gayle is a very fit, very attractive black woman clad in head-to-toe Nike spandex.
"That's Angela Davis!"
"I thought it was Angela Davis, like … Angela Davis of the civil rights movement." My mom says, visibly disappointed, and closes her notebook. Sometimes her faith in Oprah is astounding. But, if anybody could get a septuagenarian radical on this boat, I suppose it would probably be Oprah. The Angela Davis on stage, however, is both Oprah's favorite SoulCycle instructor and Beyoncé's favorite SoulCycle instructor, and she forces the whole auditorium to do some exercises to Katy Perry's "Firework."
After that, Gayle King tells us about the best (the 15th-anniversary issue where Oprah is covered in Swarovski crystals) and worst (Oprah in a high-necked white blouse and hat). O Magazine covers. It's very educational!
Here's what I learn:
- When Oprah was a little girl she dreamed of owning six trees. Now she has 4,000.
- Gayle doesn't drink and once tried to have a girls' night where she served fruit punch, but Oprah prefers sipping tequila.
- Adam Glassman, Oprah's stylist and the fashion director of the magazine, is currently stuck on a glacier trying to pull together Oprah's Alaska cover shoot.
Then Gayle opens the floor to questions from the audience. I say "questions," but everyone present has a pretty loose understanding of that concept. They just want to share and share and share. One woman tears up saying how she cruises all the time, and this is the first time she's seen such diversity on a ship. (There are a ton of black people. Also the crowd feels significantly younger, though just as female, as I expected. There a lot of husbands getting a seven-day nap.) Another woman tells Gayle that she walked down the aisle to the Oprah theme song. Another woman talks about how she was fired from her job as a bus driver three months ago, and she really needed this trip. A woman from Australia stands up and rambles about stalking Oprah. She is probably joking. "I'm not an ax murderah," she says; she just had a gift to give Oprah.
"Does anyone have an actual question?" Gayle asks, helpfully demonstrating what a question is. Things end shortly thereafter.
Mom and I are in a great mood when we go to dinner. I had worried that self-help would get exhausting, but today I choose to see inspiration everywhere. This Oprah boat has already taught me the greatest lesson — I cannot get off of it, therefore I just have to accept it. I see a woman who is really leaning into the ship of blessings: she's ordering both the lamb and the duck! I feel so inspired, I decided to have a real conversation with my mom over dinner.
But then the couple next to us interrupts to ask if we're part of the "Oprah people." They are not. Apparently there are about 100–200 people who booked tickets on this cruise before Oprah took it over. We have a conversation that goes something like this:
Wife: I hate Oprah!

Husband: We hate Oprah! This cruise is so boring because all of her activities are taking over the ship. Also, we voted for Trump!
The last part really was just like that.
What happens at night on a cruise? Often, after dinner, people head to the BB King Club to drink and dance. Everyone onboard is always talking about "what went down at the BB King Club." "You gotta go!" they'll say, like it's the new Bungalow 8.
Gayle is leading a trivia game tonight, and in the course of a word-association challenge, I am asked to guess how Gayle would complete a sentence. The sentence is "Where should I hide the …" My instincts say that the answer is salami, but I talk myself out of telling a dick joke in front of an audience and Gayle.
Later, Gayle tells me that she too thought salami, and I should have just been raunchy. We end the night dancing to "I'm Every Woman."
And tonight! We get a visor. Tomorrow so bright we gotta wear a visor. Thanks Opes.
I again awake for Just Breathe meditation. I have found the gym the easiest place to have "me" time, which is hard to do on a trip with your mom.
A few words about my mother: She moms and nags and pokes and prods and stares too long and huffs and sighs audibly when things and people annoy her and is never quiet. (I'm so sorry if you overheard her say she didn't like you, Rhonda.) She's decided that Randi, the O Magazine director of publicity, is basically her personal concierge, and keeps asking her if she can meet Oprah. I'm mortified.
Sometimes I thank the lucky stars my mom is in robust health and I rarely have to think about her mortality, because I can act like such a little shit sometimes. And on this trip, I do. I snip and snarl and sulk and roll my eyes and hurt her feelings. I've had a hormonal breakout, so my chin is covered in acne and everyone thinks I'm 19, which means my regression to a moody and sullen teenager is complete. It's just like my Alaska Heartbreak cruise all over again. We are both being nicer to other people than we are to each other, and my dad and brothers send worried texts every few hours to make sure both of us are still alive.
But then she realizes a Nars lipstick she bought isn't the right color for her and she gives it to me. She also remembered to bring Q-tips for me — I always forget. And everyone we meet on the boat loves her. She's already friends with all three of Gayle's sisters and is getting such good gossip.
My mom's the reason I've been Oprah-indoctrinated in the first place. And truly, these are really her people more so than mine. She too carries three tote bags everywhere we go even though we're never more than 100 yards from our room. She doesn't like the ocean or boats or traveling without my dad, but here she is, an independent woman, clinging to my arm every time the boat rocks, because Oprah inspired her to try something new. When she was worried we might fight the whole week, she just reassured me and herself that Gayle and Oprah fought the whole time they were on their road trip around America, but they still loved each other, like we love each other.
I've also taken to drinking at any hour of the day I want to, sitting on the balcony and looking at things — mostly open water and ice and the occasional whale. Today my balcony-sitting pays off, because I see Oprah arrive on the boat. A white SUV pulls up, a few Louis Vuitton suitcases materialize, and then Oprah, dressed in all white, walks up the gangplank, waving to a cheering crowd. She's here.
TOMORROW REALLY IS THE FIRST DAY OF THE REST OF OUR LIVES.
I don't know what's different: maybe it's because it's OPRAH DAAAAAAAAAAAAY. And in addition to OPRAH DAAAAAAY, it's also Glacier Bay Day, so before we go listen to Oprah, we get a few hours to stand on various decks and look at a huge glacier and drink complimentary mulled wine. My mom got a tip that Oprah and Gayle would be viewing glaciers on the eighth-floor deck, so I head that way.
"Oh my god, your energy!" It's Shannon, one of the twins I keep encountering. They take this opportunity to introduce themselves.
"I'm Shannon!"
"And I'm Shelia!"
"We're twins!" They say in unison.
"I can just tell by your smile you're someone I should know," Shannon tells me, and takes my arm as we walk towards the outside deck. Shannon and Sheila are in their late 40s, have been watching Oprah since they were teenagers, and still have VHS tapes of every episode of her talk show. Shannon gestures to a man posted outside the ship's VIP club: "That's Oprah's security guard." Oprah's security team already has the twins flagged, and diverts Oprah away from them every time she's on the move, Shannon explains proudly.
At 1 p.m., my mom and I attend Oprah's talk. It goes without saying that Oprah's an incredible speaker: she has this rich baritone and knows how to tell a story with pacing and emotion. A half-hour in, Oprah remarks on how cold the auditorium is. I spot an older, white woman all the way in the back stand up. This is her moment. I see it in her face. She's thinking, I can help Oprah like Oprah helps all of us, if I just give her my sweater. She starts walking down, eyes fixed on Oprah, arm outstretched, a cardigan dangling from her hand. It's like a dream. I wonder if security will tackle her.
No tackling: Oprah just declines.
I used to watch Oprah's talk show and I remember her being very relatable. All of the books and gurus and spiritual guidance relied on understandable concepts: love yourself, accept yourself, take care of yourself, and good things will come to you. I bought a lot of the books, and still use The Secret when I'm stuck in traffic trying to get to the airport on time. (Thanks Opes!) But these days it's not just live your best life, here's some caramel corn, let's go truffle hunting; she's talking about vibrational energy. Oprah has leveled up.
Here's some fun stuff I learned, though:
- She loves to drink. Sometimes she says her prayers drunk on wine.
- She just discovered Auntie Anne's while she was on set for A Wrinkle in Time. Ava DuVernay introduced her to the pretzel-wrapped hot dog. She'd never had one before, and now she loves them.
- Oprah's not nice; she's kind. (She declared it! I'm just repeating it.) She explains to all of us that she's generous, but "you can only be in my face for so long." I imagine that makes it difficult to be on a ship of 2,000 people who are dying to be so far in your face they actually meld into it.
At the end, Gayle moderates a quick Q&A, and Oprah spends a lot of the time tearing up about how much she loves Gayle. I get it. Gayle is a down bitch. This whole cruise she's been working and talking and remembering people and dancing at the BB King Club.
"The most important thing I can tell you," Oprah says "is to find your Gayle."
After the talk, I ask my mom who her Gayle is. "Oh, your father!" she says without hesitation.
I thought she'd say me.
Especially because I have orchestrated the most amazing day for her — she gets to meet Oprah, because I did it. To be clear, we will not be attending the special Oprah dinner. But we do get to wait in line for the pre-dinner photo opportunity.
The line of about 100 people is full of mother-daughter pairs and sister-sister pairs. The mother (early 60s) and daughter (early 30s) in front of us are wearing matching white dresses with crinolines and doing vocal warm-ups. I hope this means they are going to sing when they meet Oprah. We aren't allowed to give Oprah physical gifts, but nobody said anything about the gift of song.
Finally, it is our turn, and someone — I don't even know who, because my brain shuts off — leads me and my mom onto a step-and-repeat, and we're blinded. Is it the studio lighting? No: it's the cosmic glow of Oprah, who is now three feet in front of us.
Her hair is curled perfectly; her skin is unreal. She smells like hope. My mom and I are struck dumb. Someone has to speak. Fine, I think to myself, I can do it!
Me: GUH




Mom: You look tired! You must be tired!




Oprah: Oh no, I'm a pro. What is this, 100 people? I talk to more people than this just about every day!
Oprah helpfully guides us into a pose, me on one side of Oprah, my mom on the other. Oprah claps me on the back to fix my posture, says "smile," and we all grin. Oprah's grip on me is firm and bracing. It's like I don't need bones, if Oprah's arm is around me. My mom shakes herself out of her daze and remembers to tell Oprah that she's been watching her since she was a newscaster in Baltimore. Then, our moment over, we're gently pushed aside.
Afterward we eat a steak dinner and can't stop talking about how perfect Oprah's skin was.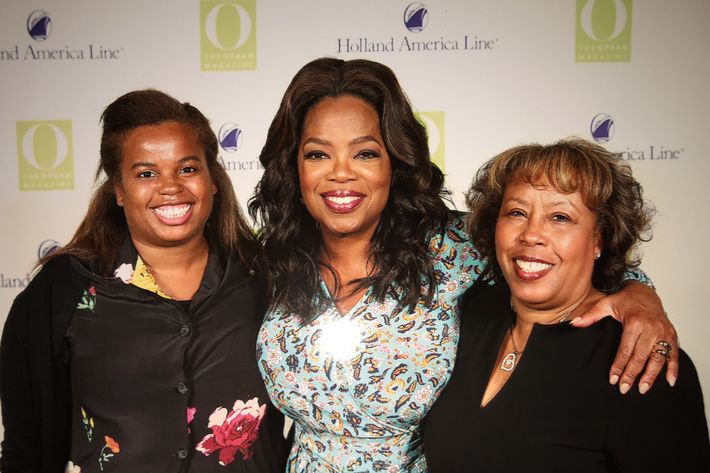 All of Sitka, a beautiful town known for its totem-pole forest, is ready for Oprah's arrival. The bus driver who takes us into town remarks that they had been waiting for us for so long. We are famous! My mom hears Oprah might be at the visitor center. The visitor center says Oprah was supposed to go buy some jewelry at a jewelry store nearby. The jewelry store says she might be over at the town bar; they put up a welcome sign for her.
In one of the local jewelry stores, the one Oprah didn't go to, a woman named Cheryl with feathered auburn hair forces me to pay $5 for her book, Pivotal Moments. Cheryl explains that she's written this book about a woman named Chanel who moves from Florida to Alaska to find herself. (Cheryl also moved from Florida to Alaska.) Anyway, she had a dream that Oprah invited her onto her show to talk about the book, so could I please get the book to Oprah?
Back onboard, I eat two egg-salad sandwiches while my mom tells Rhonda — they're friends now — about meeting Stedman's sister, who is also onboard. "I told her that Stedman was so lucky to have Oprah, but she said back that Oprah was very lucky to have Stedman. I just told her that the blessing was each other. But, I know the truth."
Sadly, I am unable to deliver Pivotal Moments. Sorry Sitka. Sorry Cheryl. Oprah got off the boat in Sitka and flew home. We, however, are still here.
The day-of-the-week elevator carpet tells me it is Thursday, but it could have told me it was Sathursfriday and I never would have questioned it. I'm fully adjusted to O-Time — not even cruise time. I don't even know what my face looks like anymore. Mom, too, is ready to go home. Oprah left. Why are we still here? has become one of the three conversations we repeat throughout the day.
At this stage, everyone has left: Gayle is gone. Oprah is gone. It's just the ambassadors left behind. India Arie merch has now overtaken Oprah's merch in the O-shop. The big boat rumor is that India Arie, who has canceled her afternoon seminar, said she got off board, but really she's just not coming out of her room. The meditation session was basically empty this morning. People are so desperate for any O-ssociation, they keep asking me if I'm related to Oprah, or Gayle, or Angela Davis. (The white people on this ship need to get it together.) Mom has all but abandoned me for Adam Glassman. Glassman loves her because she knows how to tie a scarf, and she loves him because he pronounces booty "bootay" and taught her the secret to a good photo: Say YAY! Right before the camera goes off. Here's what that looks like: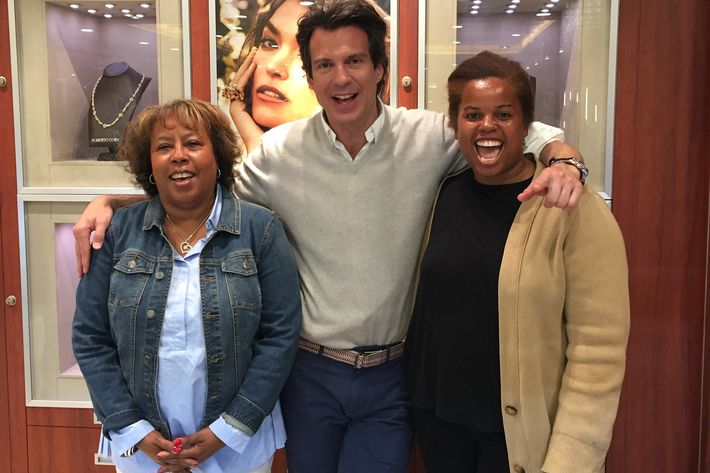 I spend one last night getting my groove on at BB King. It's much less fun without Gayle dancing, but her assistant Joseph makes sure everybody dances to Beyoncé, so she's taught him well.
Shannon calls me over to a booth, and we chat for a bit. She got to go to the dinner, and reports that Oprah made everyone take two rounds of shots. I am beyond jealous. Shannon tells me that she's had the same picture of Oprah on her phone for seven years, and that she just recently lost her Gayle; she's pretty sad about it. That's why she ended up coming to the cruise with Sheila, who is her twin, but not her Gayle.
She tells me I should manifest a job at O Magazine. I love Shannon and I'm sad she doesn't have a Gayle, so don't have the heart to tell her I have a job. I ask her detailed instructions for how to make a vision board to manifest my dreams. For example, if there was, say, a specific man I wanted to date, could I manifest that simply by keeping a vision board in my bathroom?
"Oh my god yes!  I manifested my husband, and my first child. You radiate love, so it shouldn't be a problem. You're so young though, you should really focus on your career. How old are you?" she asks.
"I'm 31."
"Oh no. No, no, no. You can't wait. You should get serious. Start manifesting now. Also consider freezing your eggs."
A thing I hate about trips in general and especially ones that are really geared toward self-improvement, is that you're tempted to think you can really change your life in seven days. That, because on this short trip, where you rose each day and meditated (those mats were empty by day four) and journaled, you'll do it when you get home. I told myself I'd probably lose a few pounds, finish a few books, and develop a bunch of good habits to take back to the mainland. We want to believe we can change our lives rapidly, and it isn't true. It feels like a mean trick — and I like self-help.
At the end of our journey, there is a slideshow of cruise memories, and people got to stand up and say their favorite parts. Most people were happiest to have met Oprah. Second to that was drinking glacier water. After that it was making new friends. Nobody talked about feeling like a new woman, or committing to meditation.
My mom and I didn't kill each other, though, and at some point stopped snapping at one another. I think that means we successfully shared the adventure.
Case in point: On the flight home, we chatted a bit about the trip. And she thanked me for taking her. "I still can't believe we didn't get into that dinner, though." When she said that I didn't snip at her, but I did roll my eyes and pretend to fall asleep. I think that's progress. On the cruise, we learned that a glacier moves just 0.5 meters a year.