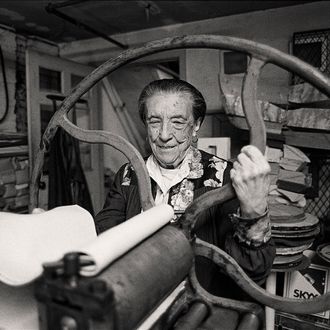 Louise Bourgeois at the printing press in the lower level of her home and studio on 20th Street in New York, 1995.
Photo: Mathias Johansson
For seven decades, French sculptor Louise Bourgeois created art that often explored the female form, from sexuality to motherhood. After her death at age 98, in 2010, New York Magazine's art critic Jerry Saltz recalled the "perversity" of her work, forged with "grace" and "tenacity" as she struggled with memories of her psychologically abusive father. Bourgeois processed those emotions with a groundbreaking approach to abstract, visual metaphors — in sculptures, drawings, paintings, prints, and installations. The Museum of Modern Art is featuring a retrospective of her work in the show "Louise Bourgeois: An Unfolding Portrait."
The exhibit includes 265 prints, 23 sculptures, nine drawings, and two early paintings, selected by Deborah Wye, a longtime friend of Bourgeois and a former chief curator of MoMA, along with curatorial assistant Sewon Kang. Bourgeois depicted women trapped in spirals, images of breasts, and pregnant bodies. One hanging bronze sculpture, known as the Arch of Hysteria, shows a headless, naked figure arching its back. The piece subversively responds to Freud's psychoanalytic interest in women as hysterical and female sexuality as dysfunctional, by sculpting a curved female body as a male form (her male friend, Jerry Gorovoy, posed for the original mold). Bourgeois also used images of spiders to convey women as powerful and honor her mother, whose strength and intelligence Bourgeois likened to a spider.
MoMA's newly acquired collection includes some 3,000 prints, a lesser-known aspect of Bourgeois's work, which she continued to create every day in her 80s and 90s. Click ahead to see works in the exhibit.
"Louise Bourgeois: An Unfolding Portrait" is on view at the Museum of Modern Art until January 28, 2018.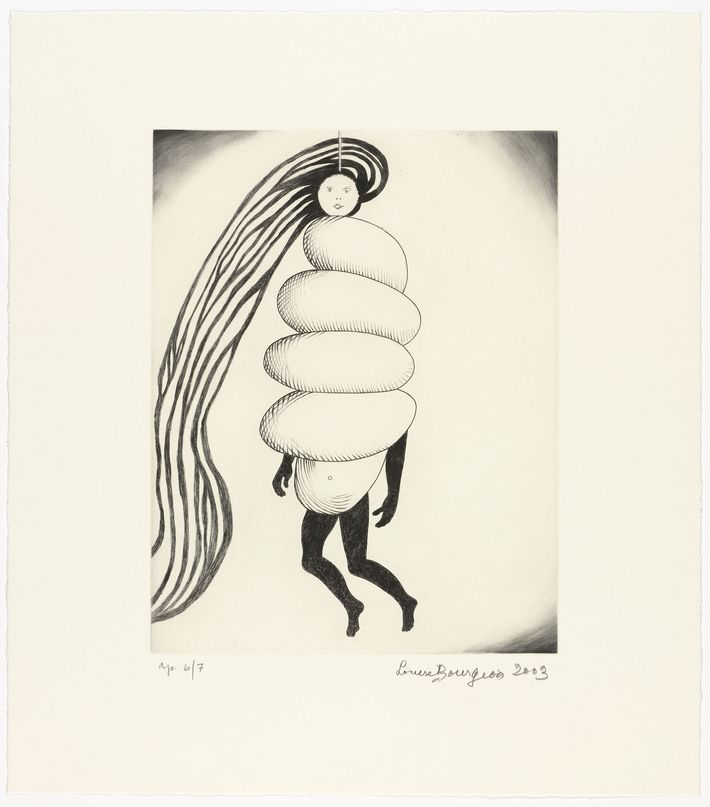 Spiral Woman, 2003
Drypoint and engraving. Sheet: 17 x 15″ (43.2 x 38.1 cm).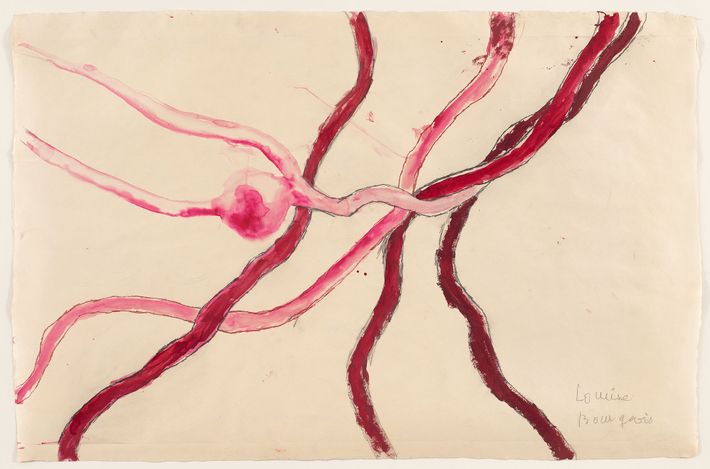 No. 8 of 14 from the installation set À l'Infini, 2008 
Soft ground etching, with gouache, watercolor, pencil, and colored pencil additions. Sheet: 40 × 60″ (101.6 × 152.4 cm).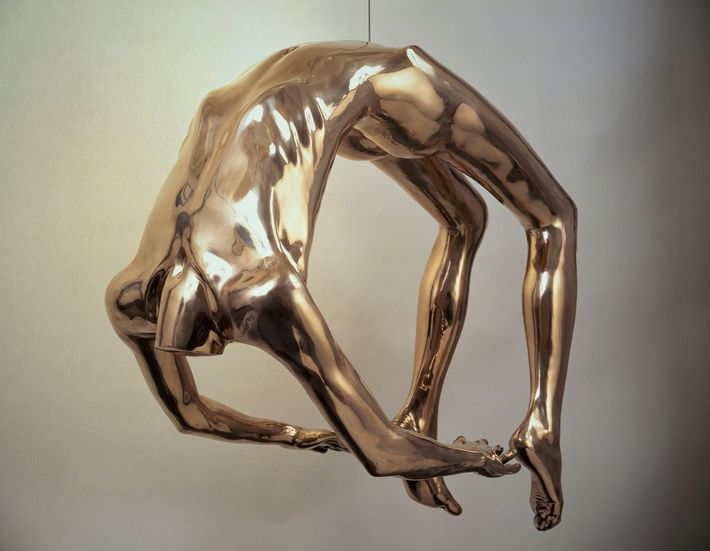 Arch of Hysteria, 1993 
Bronze, polished patina. 33 x 40 x 23″ (83.8 x 101.6 x 58.4 cm).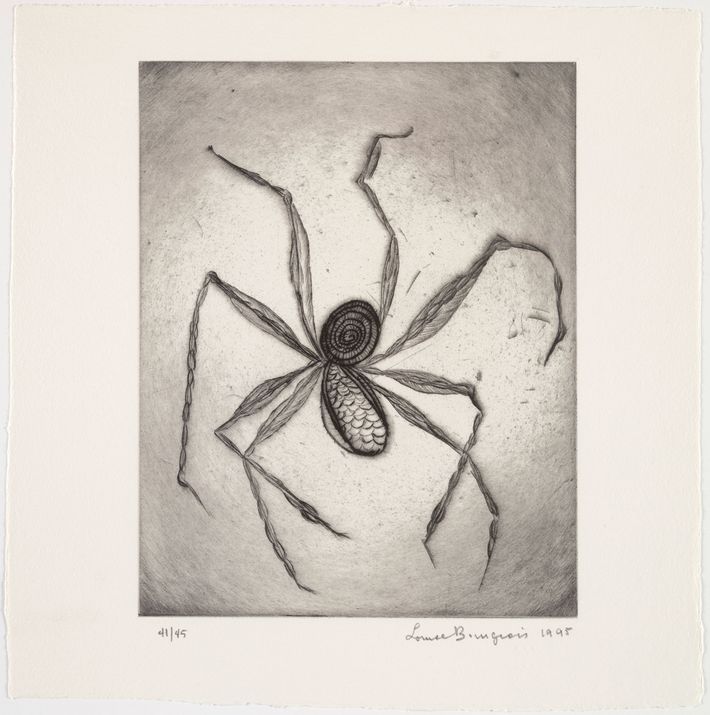 Plate 8 of 9 from the illustrated book  Ode à Ma Mère, 1995
Drypoint. Page: 11 13/16 x 11 13/16″ (30 x 30 cm).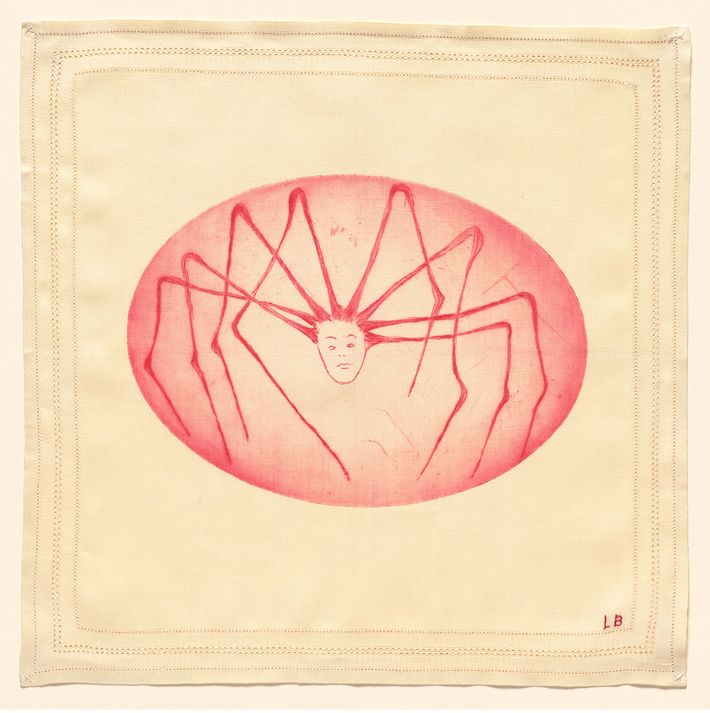 Spider Woman, 2004
Drypoint on fabric. Sheet: 13 1/2 × 13 5/8″ (34.3 × 34.6 cm).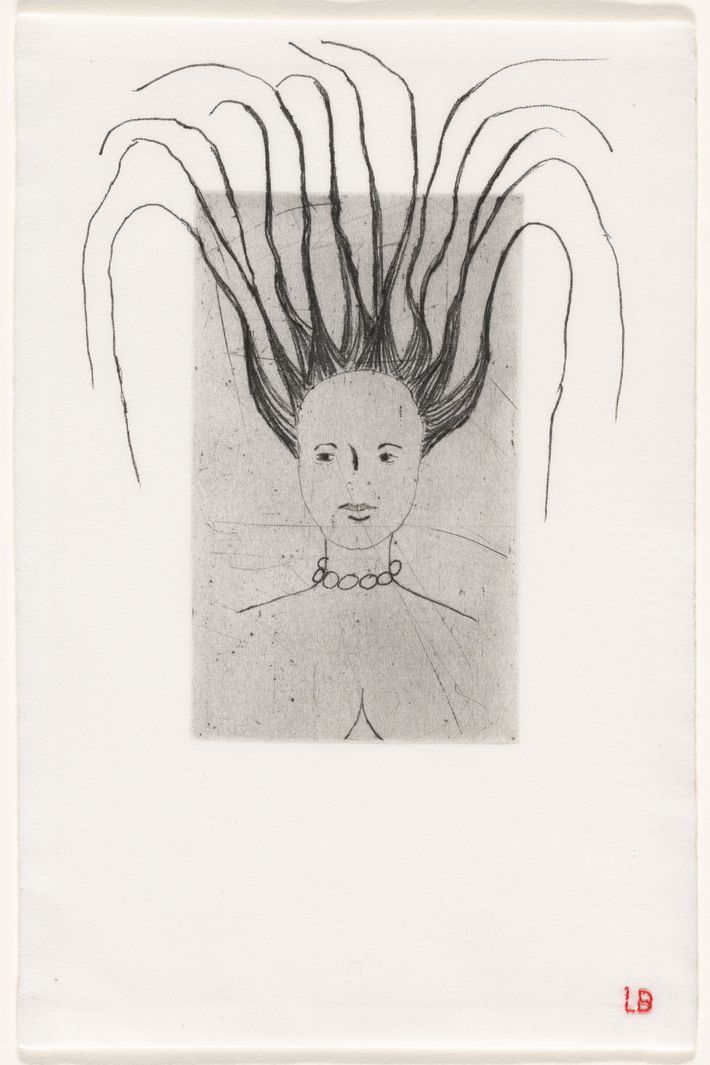 Femme, 2006
Drypoint, with hand additions, on fabric. Sheet: 10 1/4 × 6 1/4″ (26 × 15.9 cm).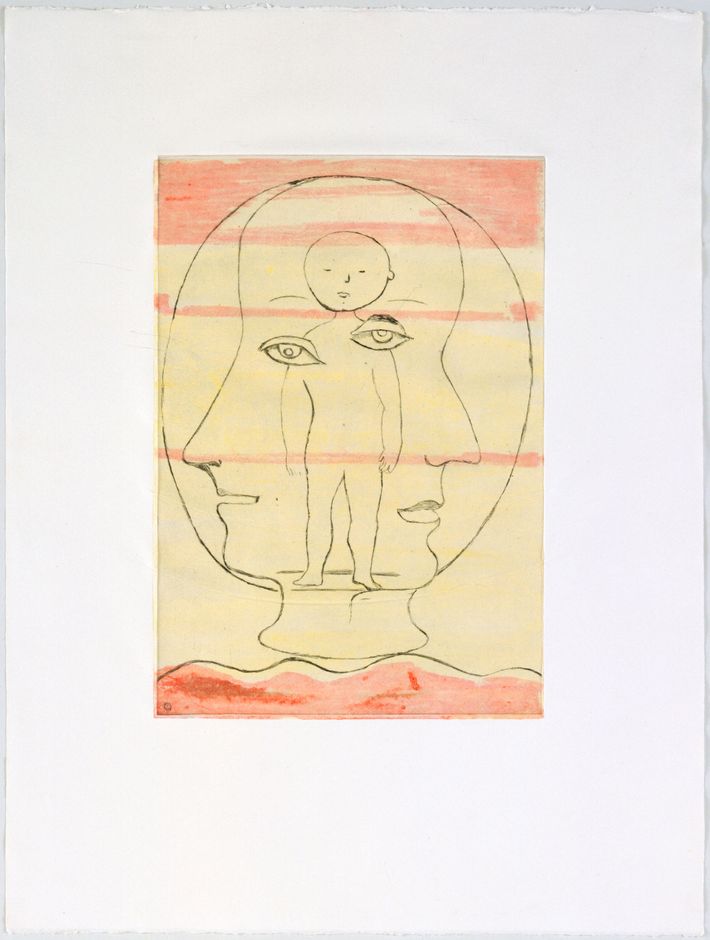 Self Portrait, 1990
Drypoint, with hand additions. Sheet: 26 x 19 11/16″ (66 x 50 cm).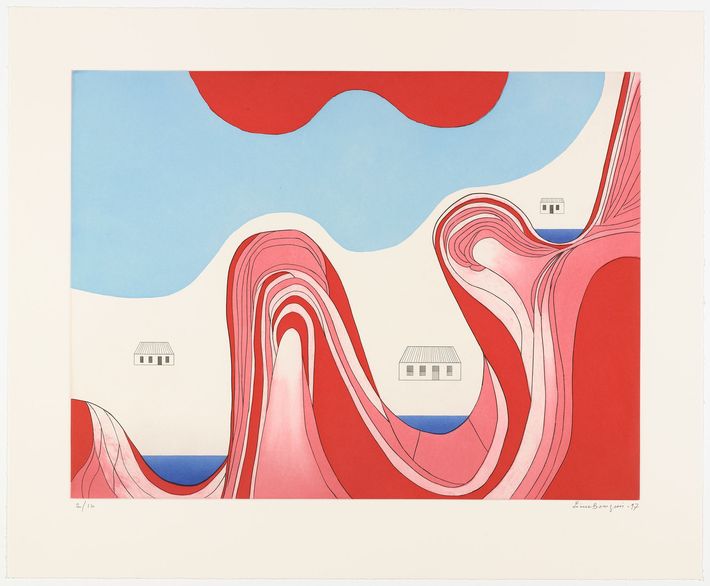 Lacs de Montagne, 1997
Engraving, etching, aquatint, and drypoint. Sheet: 23 13/16 x 29″ (60.5 x 73.7 cm).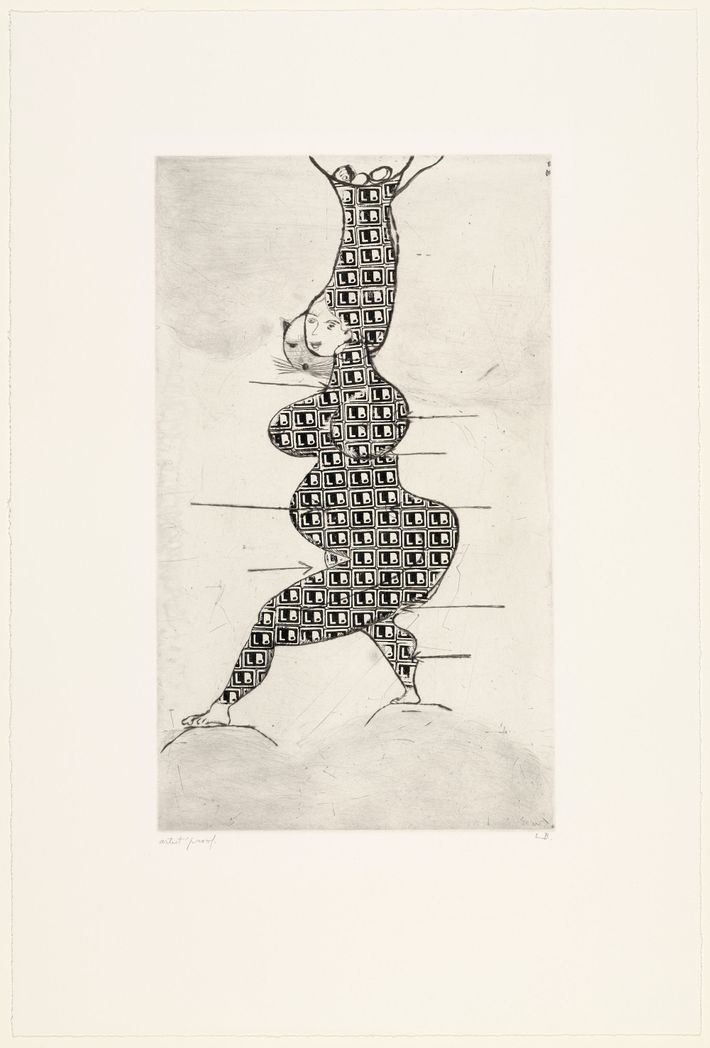 Stamp of Memories II, 1994 
Drypoint, with metal stamp additions. Sheet: 25 3/8 x 17 1/8″ (64 x 43.5 cm).