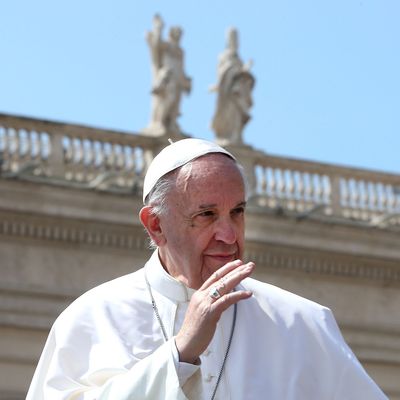 Pope Francis.
Photo: Franco Origlia/Getty Images
Good news for therapy-goers everywhere: It turns out we're just like the pope.
Pope Francis used to go to therapy back when he was 42 (he's 80 now), according to a new book. His psychoanalyst was a woman, and he visited her weekly for six months to "clarify some things," the Associated Press reports.
The revelation about the Pope's therapeutic past was published by Italian daily La Stampa on Friday, pulled from a soon-to-be-published book of his conversations with French sociologist Dominique Wolton. Apparently, Pope Francis thought his therapist was "a good person" — and she was merely one of many women who had a positive influence on his life. "Those whom I known helped me a lot when I needed to consult with them," he said.
However, Pope Francis is apparently no longer in therapy, as he told Wolton. "I feel free. Sure, I'm in a cage here at the Vatican, but not spiritually. Nothing makes me afraid." Clearly.