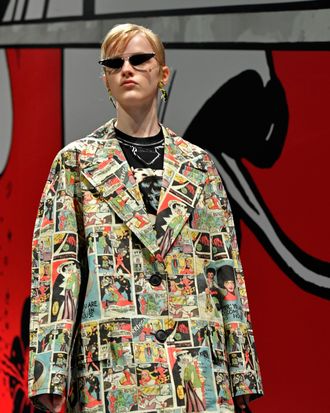 Prada Spring 2018.
Photo: Andreas Solaro/AFP/Getty Images
Rather than presenting looks that say "feminism," across the front, Miuccia Prada lets the artwork and inspirations for her women's clothing do the talking. For her spring 2018 show, which showed on Thursday at Milan Fashion Week, the designer collaborated with eight female illustrators who depict women in their own "uniquely empowering way," for a collection inspired by comics, as the show notes read.
In addition to the work of Brigid Elva, Jöelle Jones, Stellar Leuna, Giuliana Maldini, Natsume Ono, Emma Rios, Trina Robbins and Fiona Staples — which spans from manga to punk to sci-fi — Prada also delved into the archives of Tarpé Mills this season, the creator of the first female action-hero, Miss Fury.
This was not the first time Prada has referenced the world of comics; the brand's spring 2018 men's collection also featured illustrated storyboard prints. And for spring 2017, Prada was inspired by the Fellini movie, City of Women, commissioning portraits of Old Hollywood glamazons by the artist who made the Barbarella posters.
Whether it's movies or comic books, Prada's clothes write their own stories, and the women who wear them thrive in worlds of their own making. The show on Thursday made this potently clear. A mashup soundtrack of Lana Del Rey, Nina Simone, and grunge rock played as models ranging from Kaia Gerber to a Sinead O'Connor look-alike walked the runway in deconstructed suits, punk baby-doll dresses, and of course, looks covered in illustrations. Studded librarian bags, key-chain necklaces, and origami hats were the styling of a devious mind.
As a whole, the Prada spring 2018 was Riot Grrrl meets bookworm; alternative clothes and music for the alternative girl living in an alternate world.