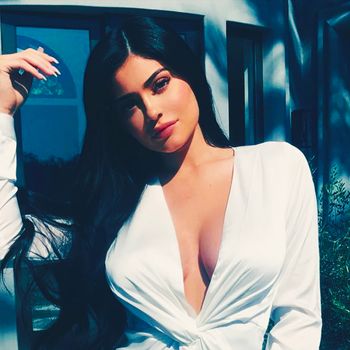 Kylie Jenner.
Photo: @KylieJenner/Instagram
Pregnancy rumors did not slow down Kylie Jenner this weekend. The 20-year-old, who is reportedly expecting a baby girl with her boyfriend, rapper Travis Scott, spent the weekend as any Kardashian might — at a wine safari in Malibu followed by a night out in Vegas.
On Friday, Jenner celebrated the birthday of best friend Jordyn Woods at the Malibu Wines Safaris where visitors taste local vintages while hanging out with zebras, camels, and giraffes. The friends celebrated with lots of cupcakes and Jenner's gift of a brand-new Mercedes.
Then, last night, Jenner was spotted going through a back entrance to the T-Mobile arena to attend her boyfriend's show at the iHeart Radio Festival in Vegas where DJ Khaled, Chance the Rapper, and Demi Lovato were also performing.
Although Jenner's pregnancy rumors have been all over the news this weekend, in an interview with the Cut in Milan, Kylie's mother, Kris Jenner, was unfazed and neither confirmed nor denied the news. But the momager did stay on message: "Something happens every single day. You never know what is going to break at any moment."