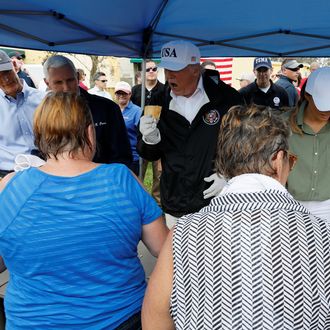 Sure.
Photo: Jonathan Ernst/Reuters
President Trump visited Naples, Florida, on Thursday to meet with those affected by Hurricane Irma. Wearing the same Trump store USA hat that he's taken to accessorizing with, he greeted fans, encouraged people to take sandwiches, and apparently decided it would be good optics to pretend to eat one himself.
According to a press pool report, he also complained about the plastic gloves being too small:
Trump paused to try to put on thin white plastic gloves but struggled. His hands were apparently too, uh, large.




"They're too small," Trump said.
This is the second time this month during which the president has attempted to refute the long-running rumor that he has tiny hands … while taking part in disaster-relief efforts. In early September, he visited with victims of Hurricane Harvey at Houston's NRG stadium and claimed his hands were "too big" for the plastic gloves.
Sure they are.