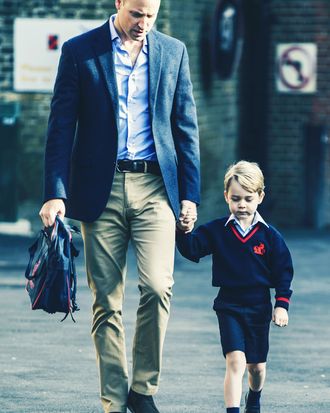 Prince William and Prince George.
Photo: Richard Pohle - WPA Pool/Getty Images
Prince George was escorted to his first day of school at Thomas's Battersea in London on Thursday by his father, Prince William.
The young royal was pictured walking hand in hand with his dad on his way into the school, while appearing to be a tad nervous. He was then seen rubbing his eyes out of exhaustion — just like any other kid getting accustomed to waking up early for school — before dutifully shaking hands with a member of the school's administration.
Prince George's mother, Kate Middleton, had also planned on escorting the boy prince to school, but unfortunately had to miss out as she is pregnant with her third child and experiencing severe morning sickness, Kensington Palace said in a statement.
The prince's new navy-on-navy uniform with red accents — and matching bag — may be chic, but we'll always have fond memories of his adorably tiny bright-blue backpack from preschool.