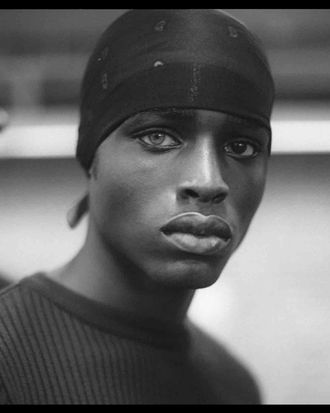 Mekhi Alante Lucky.
Photo: Biel Parklee.
Mekhi Alante Lucky — a.k.a. Prison Bae — made his New York Fashion Week debut tonight during the Helmut Lang show, wearing a black jacket, leather boots, and a ripped white top.
The OG hot felon, Jeremy Meeks, made his runway debut at Philipp Plein last year. Similarly, Lucky was discovered after his mug shot went viral. Meeks and Lucky share a modelesque razor-sharp jawline, but Lucky has the added benefit of heterochromia, a condition that makes his irises two different colors, like David Bowie or Kate Bosworth.
Lucky was arrested last May for speeding in North Carolina, and signed with St. Claire modeling agency in mid-August. Less than a month after he signed, he was walking in the Helmut Lang show in front of Diplo.